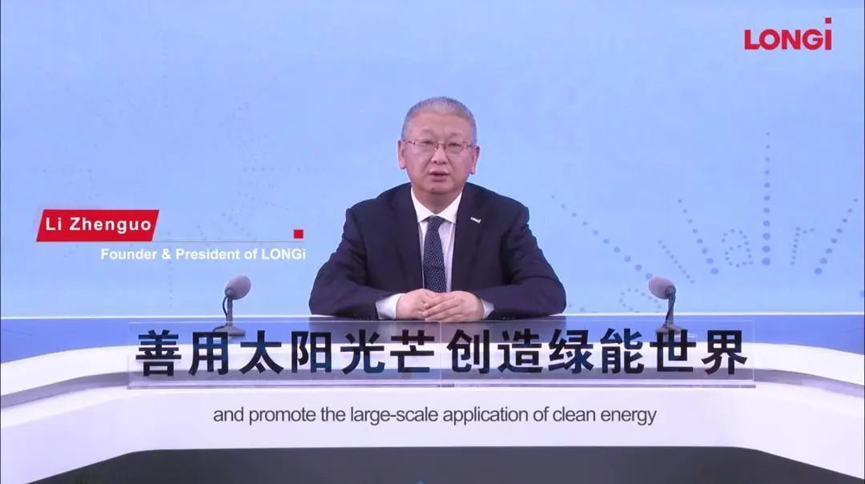 Li Zhenguo, founder and president of LONGi Green Energy Technology, has given an online address to  the 8th World Conference on Photovoltaic Energy Conversion held in Milan, calling for the PV industry to focus on technological innovation to support its sustainable development. "At the crossroads of the global energy transition, every decision we make now has a bearing on the future for a habitable planet," Li began.
"As the world's fastest growing renewable energy source, photovoltaics will continue to increase its share of the energy mix and play a key role in the process of energy transition, helping to achieve the goal of global carbon neutrality," he continued.
Driven by climate related action and energy transformation, the world's installed photovoltaic capacity needs to reach 1,500-2,000GW by 2030 to effectively support global energy transition. "Ongoing product renewal will bring huge stock replacement, creating a 'Terawatt Class' sustainable market," Li added.
"In the face of the arrival of the 'Terawatt Era', the PV industry should return to its main focus of conversion efficiency enhancement, increasing R&D investment on new cell materials and technologies, laying a foundation for scientific and technological innovation, committing to reducing costs and increasing benefits, improving the industry's competitiveness and promoting the large-scale application of clean energy," Li continued.
"Over the next decade, the c-Si cell will remain the mainstream technical route for the industry but, to achieve a cell conversion efficiency of above 28% it will be necessary to possess an in depth understanding of the factors that affect efficiencies in order to effectively control these," Li went on.
Noting that a potentially huge demand for green hydrogen will create significant development opportunities for the PV industry and further reduce the cost of PV energy, Li, firmly believing the combination of green electricity and green hydrogen to be a powerful future weapon against climate change, concluded: "With the continuous cost reduction of photovoltaic energy, the PV-EC route is expected to become the cheapest method for green hydrogen production."