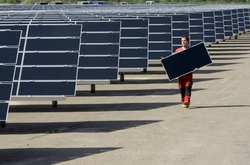 Spain's National Commission for Markets and Competition (CNMC) announced this week that it has officially approved PV company juwi to develop a 450MW PV project within the country.
The installation, which would be developed near Mula in the region of Murcia, will be developed on an area spanning 1,088 hectares, according to news outlet El Pais. The mega project will require an investment of US$506 million and once completed will generate more than 750,000,000kWh annually.
According to EL Pais, the Mula PV project will be the largest in Europe upon completion. The installation's construction will not be able to begin until Spain's Ministry of Industry also gives its approval.
The 450MW PV project was initially approved by Spain's Ministry of Environmental Affairs back in September 2015. Once the installation begins its design phase, it is expected to create 200 jobs. Around 1,000 jobs will also be created during the construction phase of the project.
Spain will hold this year's second renewable energy auction of up to 3GW before the summer, but the parameters of the tender, which led to wind power wiping the floor of the first auction, look to set to remain.