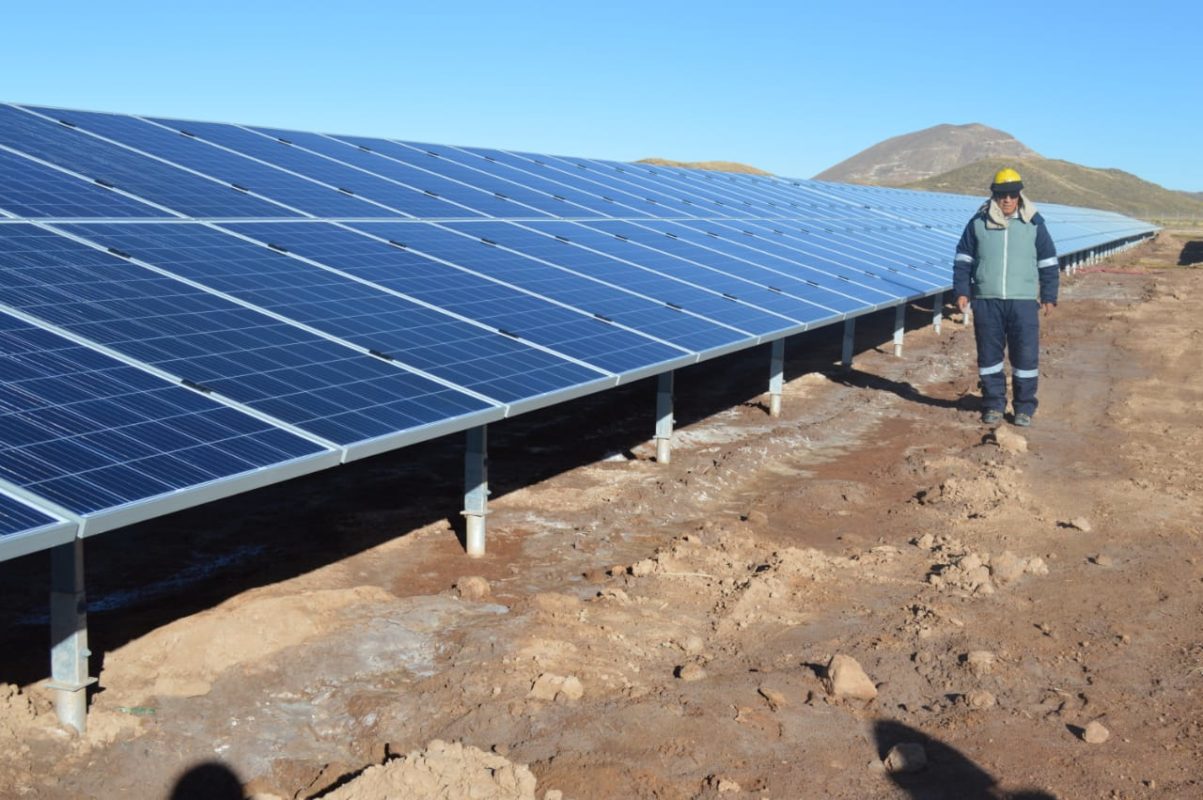 Large-scale projects have made headway in the neighbouring states of Bolivia and Chile, with milestones reached for panel installation and grid infrastructure.
Bolivia's Energy Ministry said this week the first 50MW phase of a 100MW project near Oruro, a plateau city west of the country, is nearing completion.
Having recently inspected the site, Oruro governor Víctor Hugo Vásquez noted 57,300 panels have been installed by EPC TSK Group, down from the 151,000-plus total the 100MW complex will boast.
The Ministry expects the first 50MW batch to be fully deployed by late August or early September. Work will now focus on the installation's electricity links.
The scheme in the Caracollo municipality will require US$39 million in investment. Most (80%) is French development money, while the EU (15%) and Bolivia (5%) will supply the remainder.
The Oruro PV scheme is being described as Bolivia's largest to date. Earlier projects include a 60MW installation in the Potosí department, connected to the grid last September.
Grid moves for new Atacama duo
Across the border, in Chile's Atacama desert, developer Mainstream Renewable Power inked an agreement for the connection of a 293MW PV pipeline to the power grid.
The deal will see the 170MW Rio Escondido and 123MW Valle Escondido linked via a 220kV transmission line built by Transelec, a monopoly which claims to have connected 64% of Chile's renewables so far.
The line will span over 55km and dispatch power from the duo to Transelec's Cardones substation, with some 180 transmission towers built along the way.
The projects, which Mainstream is working to deploy in Atacama's Tierra Amarilla, are designed to feature a panel count of over 550,000 (Rio Escondido) and 382,000 (Valle Escondido).
The installations mark the first Chilean PV foray for Mainstream, which manages a 10GW portfolio of wind and solar across Latin America but also Africa, Asia and Europe.
The Atacama duo will join an already busy PV scene in the South American desert, with projects by Sonnedix (171MW) and Solarpack (123MW) making strides in late May.