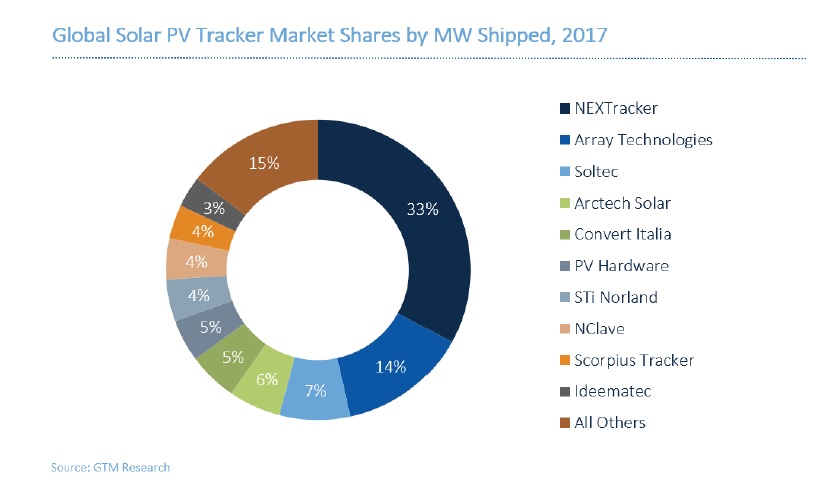 According to a new report from market research firm GTM Research, solar tracker systems market in 2017 increased by 32% to a record 14.5GW, led surprisingly by Latin America.
GTM Research noted that the rapid pace of solar installations in Mexico and Brazil were behind the region beating the US for PV power plants using trackers as both countries deployed over 1.5GW of tracking systems in 2017.
Scott Moskowitz, senior analyst at GTM Research and author of the study said, "Mexico and Brazil are two of the fastest growing solar markets in the world, each accounting for over 1.5 gigawatts of tracker shipments in 2017. The U.S. utility-scale market was significantly stunted last year due to tariff uncertainty, so it took a backseat to Latin America."
As a result, NEXTracker, which has manufacturing facilities in Brazil and Mexico solidified its market share leadership, accounting for 33% of all trackers installed, with its nearest rival, Array Technologies accounting for 14% of installations.
The leadership position held by NEXTracker was further highlighted by the fact that after Array Technologies none of the other top 10 ranked tracker suppliers came close to a 10% market share, according to the GTM Research report.
"Fundamentals in the global utility-scale solar industry are excellent, and trackers are an obvious choice in most developing solar markets," added Moskowitz. "We expect 30 percent growth in 2018, with shipments approaching 20 gigawatts."
However, GTM Research noted that despite the continued strong growth in tracker adoption expected, consolidation in the industry was also expected to continue as supplier margin compression made it increasingly harder to provide profitable growth.
GTM Research cited the acquisition of tracker firm Exosun by steel manufacturing giant ArcelorMittal after Exosun entered bankruptcy in France earlier this year to illustrate the challenges facing tracker suppliers to the solar industry.