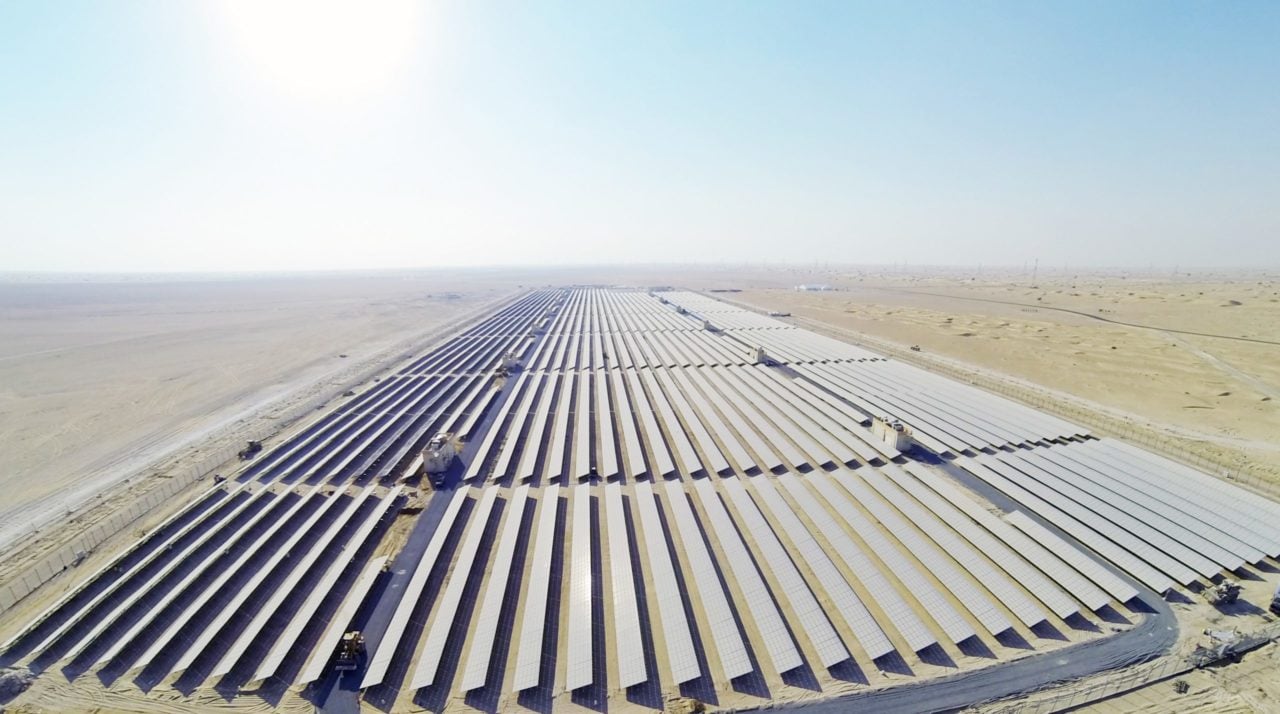 The MENA region has a solar PV pipeline of 4,050MWac for this year, according to a new report by the Middle East Solar Industry Association (MESIA).
The highest capacities of this figure come from the 1.2GW Sweihan project in the UAE and 1.5GW under the second round of the feed-in-tariff (FiT) regime in Egypt.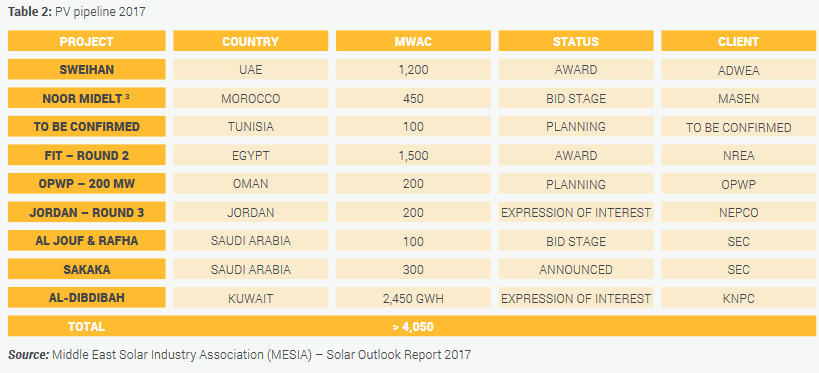 Combining both Solar PV and CSP projects, MESIA has calculated a grand total of 5.7GWac In the MENA region of projects at various stages of development.
885MWac operational
3,618MWac under execution
1,300MWac under tender
Wim Alen, secretary general of MESIA and senior vice-present Business Development – Middle East, South & Central Asia, and Turkey, at ENGIE, said that 2016 was a record-breaking year for solar in the Middle East.
The world-record low tariffs below US$0.03/kWh on Dubai Electricity and Water Authority's (DEWA) 800MW Phase III project from Masdar, attracted worldwide press attention. More attention then came in September 2016 when prices hit US$0.0242/kWh for Abu Dhabi Water and Electricity Authority's (ADWEA) Sweihan project.
Alen said: "These low prices have changed the perception of policymakers and industry leaders."
MESIA said that these records kick-started more large-scale progress in the Middle East last year especially in Saudi Arabia, Kuwait, and Jordan and they are expected to drive even more large-scale project announcements and executions in 2017 in other countries such as Oman and Tunisia. Furthermore, low LCOE's are expected to continue.
In terms of individual countries, Egypt is aiming for 2,650MW of PV capacity in operation by 2020. Morocco will have 600MW of PV in operation by 2019, while Jordan has 540MW of PV projects under construction and is set to award 200MW during 2017.
In the UAE, 800MW at the Mohammed bin Rashid Al Maktoum Solar Park will be delivered over three phases by 2020 and Abu dhabi has already tendered out a minimum 350MW at Sweihan.
In Saudi Arabia, a 100MW PV project is being tendered in the north, while in Oman, an RfP for 200MW of utility-scale PV projects is expected to be launched by mid-2017.
Pakistan has 300MW under construction at the second phase of the project Quaid-e-Azam Solar Park (QASP) in Punjab.