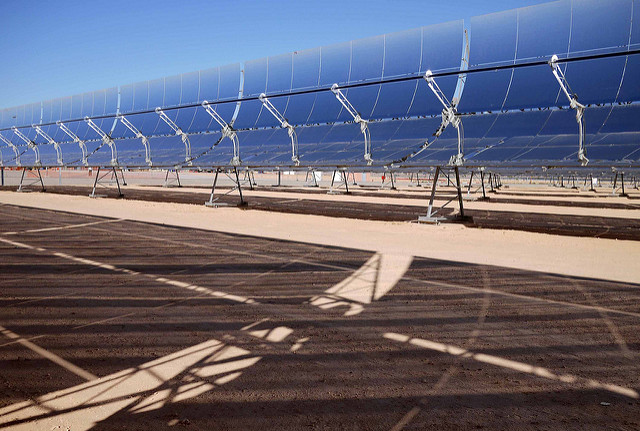 The Moroccan Agency for Solar Energy (MASEN) has shortlisted five consortia to take part in the bidding for the first phase of the Noor Midelt solar power complex, which includes hybrid solar PV and concentrated solar power (CSP) plants.
The first phase includes separate plants, each with 150-190MW CSP capacity and a minimum of five hours of thermal storage, alongside a PV component.
The capacity of the PV component, which is expected to provide daytime generation, is left to the bidders' discretion, but cannot exceed night-time net capacity from CSP by more than 20%.
The complex will be located on 3,150 hectares of land, expandable to 4,106 hectares, 20 kilometres north of Midelt in northern Morocco.
The selected firms were:
ACWA Power Consortium: International Company for Water and Power Projects, General Electric Company
EDF Energies Nouvelles Consortium: EDF Energies Nouvelles, Abu Dhabi Future Energy Co. PJSC – Masdar, Green of Africa, Sener Ingeneria Y Sistemas
ENGIE Consortium: International Power S.A (Engie), Nareva Holding, SolarReserve, Solaire Direct
Innogy SE Consortium: Innogy SE, Belectric, Ferrostaal Industrial Projects
JGC Consortium: JGC Corporation, Abener Energia
On 10 November 2016, seven applicants submitted their proposals to be pre-qualified. Masen will soon issue Request of Proposals (RFP) to the consortia.
680MW of solar, out of Masen's 2GW by 2020 Noor Solar Plan, have already been launched by Masen in Ouarzazate, Laayoune and Boujdour.
In April, ACWA Power broke ground on the 72MW Noor Ouarzazate IV plant – the first phase of the Noor Solar Plan.