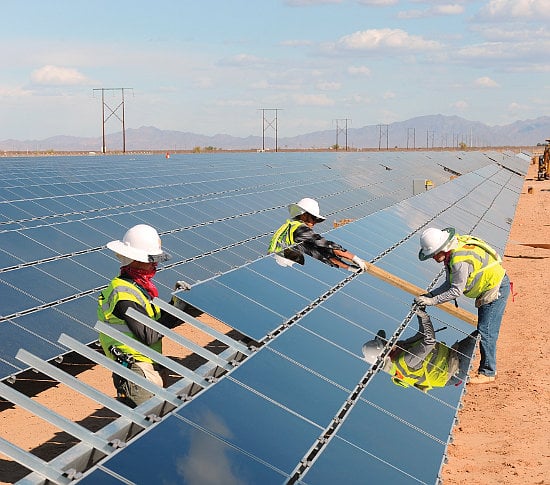 The US Energy Department's National Renewable Energy Laboratory (NREL) has highlighted continued PV system cost reductions in its latest quarterly report, 'US Solar Photovoltaic System Cost Benchmark Q1 2016'.
The NREL study noted that modelled costs to install PV systems continued to decline in the first quarter of 2016 in the US residential, commercial, and utility-scale sectors.
Costs declined quarter-on-quarter by 6% for residential system installs and 4% for commercial rooftop systems in the first quarter of 2016, compared with the fourth quarter of 2015.
However, the largest cost declines were modelled in the utility-scale sector, which achieved cost reductions of 20%.
NREL noted in the study that the significant cost reductions quarter-on-quarter were due to "the large difference between Q1 2015 and Q1 2016 in the utility-scale sector is caused by amplifying economies-of-scale impacts on EPC contractor and developer costs".
According to NREL, this was due to 'more aggressive economies of scale applied on EPC and developer costs to reflect labour productivity, construction logistics, bulk price, and discounted developer overhead for larger systems'.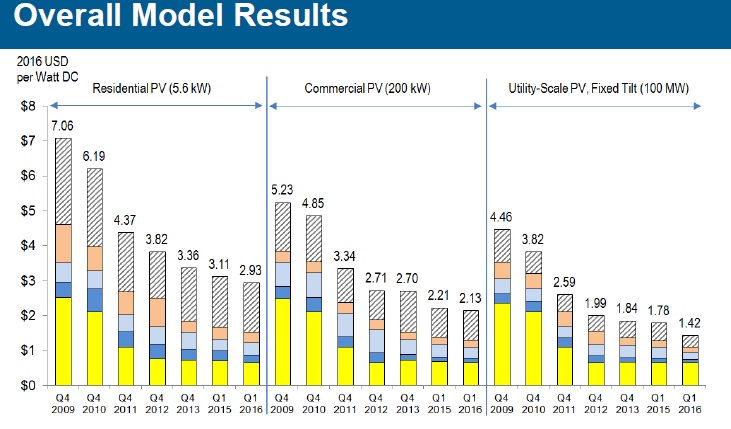 The study showed that costs fell to US$2.93/W (per watt) of direct current (Wdc) for residential systems, US$2.13/W for commercial systems, and US$1.42/W of direct current for utility-scale systems for fixed-tilt utility-scale systems, and US$1.49 Wdc for one-axis-tracking utility-scale systems.
"The continuing total cost decline of solar PV systems demonstrates the sustained economic competitiveness of solar PV for the industry across all three sectors," said NREL Senior Analyst and Project Lead, Ran Fu.
Of course the NREL study takes time to produce and does not yet reflect the significant PV module price declines seen since the end of the second quarter due to weak end-market demand in China and overcapacity returning across the supply chain.
The full technical report can be downloaded here and the presentation here.