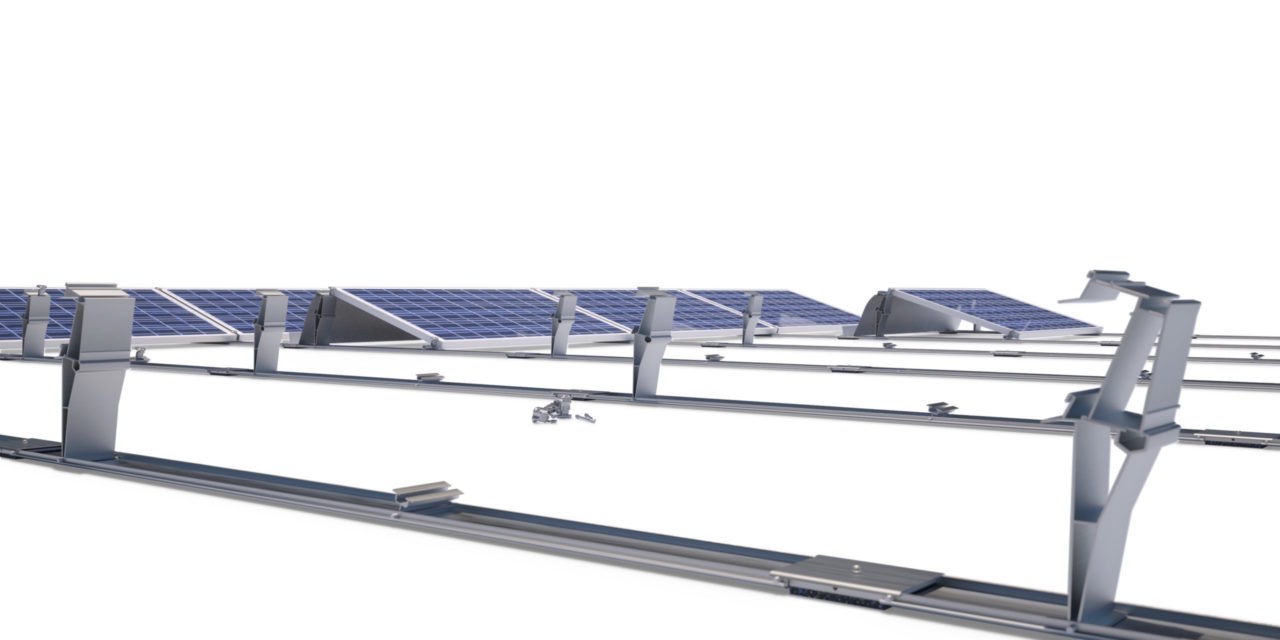 Renusol is introducing its new ballasted flat-roof mounting system FS10-S and FS18-S for mounting south-facing photovoltaic panels. It requires few components and uses especially short rails, making the system price-efficient and quick to install. As it has little surface area exposed to the wind and is equipped with wind deflectors, minimal ballasting is required, making the new mounting system especially suited for commercial and agricultural buildings with lightweight roofs.
Problem
Renusol is increasingly emphasizing simple mounting systems that can be installed very quickly reducing time and costs for PV rooftop systems. A key aspect is the need for an innovative screw joint that works without a nut, meaning that fewer movements are needed. Since the rails are delivered pre-punched, there is also no need to take cumbersome measurements on site, which decreases installation errors.
Solution
All standard framed solar modules can be mounted with the new system. The FS10-S system mounts PV modules at a 10 degree angle, while the FS18-S mounts at an 18 degree angle. Short rails with lengths of 1.38 m and 1.73 m are used with the FS10-S and FS18-S, respectively. Both sizes are easy to transport and maneuver on the construction site. The remaining system components also offer easy handling and storage – an advantage for wholesale customers. The short rails are joined with connectors, making it possible to compensate for unevenness in the roof. In addition, slots in the rail connectors compensate for temperature expansions, which could otherwise lead the PV system to shift on the roof.
Applications
The new mounting system is suited for commercial, industrial, agricultural and residential buildings with bitumen, concrete, foil and gravel roofs.
Platform
There is no need to penetrate the roof membrane in order to safely fix the system on the roof. Instead, pavers or concrete slabs are placed in the channels of the wind deflectors. Renusol offers a ten-year product warranty. Suitable for standard 60 cell panels. Recommended module width FS10-S: 950-1050mm / FS18-S:975-1010mm .
Availability
January, 2016 onwards.