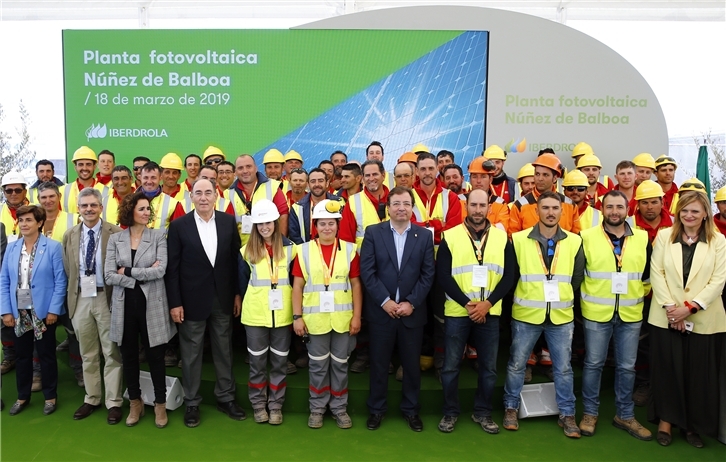 Iberdrola's efforts to add gigawatts worth of Spanish renewables within years are set for a boost after construction of a 391MW PV plant got underway this week.
The utility giant shared plans to add 2GW in solar and wind in the Extremadura region alone by 2022 as the first panels were laid out for the Nuñez de Balboa project in Usagre (Badajoz province).
The facility, billed as Europe's largest PV project to date and Iberdrola's most significant, will require around €300 million in investment. Equipped with over 1.4 million PV panels across a 1,000-hectare site, the facility comes with maximum grid-connected capacity of 391MW.
Its entry into operations, slated for September 2020, should see it supply enough power to meet the needs of 250,000 people. The electricity will be transferred to the neighbouring 400kV Bienvenida substation, and then acquired – via PPAs – by bank Kutxabank, telecoms firm Euskaltel and food distributor Uvesco.
"This renewable mega-facility will become the spearhead that will consolidate the leadership position of Extremadura, Spain and the EU in the transition to a more sustainable energy system," said Iberdrola chair Ignacio Galán at this week's kick-off ceremony, attended by Extremadura president Guillermo Fernández Vara.
The planned Extremadura boost by 2022 comes amid a broader push, revealed by Iberdrola in February, to commission 10GW of Spanish renewables by 2030. Nuñez de Balboa aside, other plants in the region – 328MW Ceclavín and 150MW Arenales, among others – should help it reach the milestone.
Iberdrola is the latest to go down the PPA route in the Spanish PV landscape, gradually embracing the zero-subsidy approach. Investors Smartenergy and Aquila and developer BayWa r.e. are some of the players carving out a slice of the Iberian market in recent times.