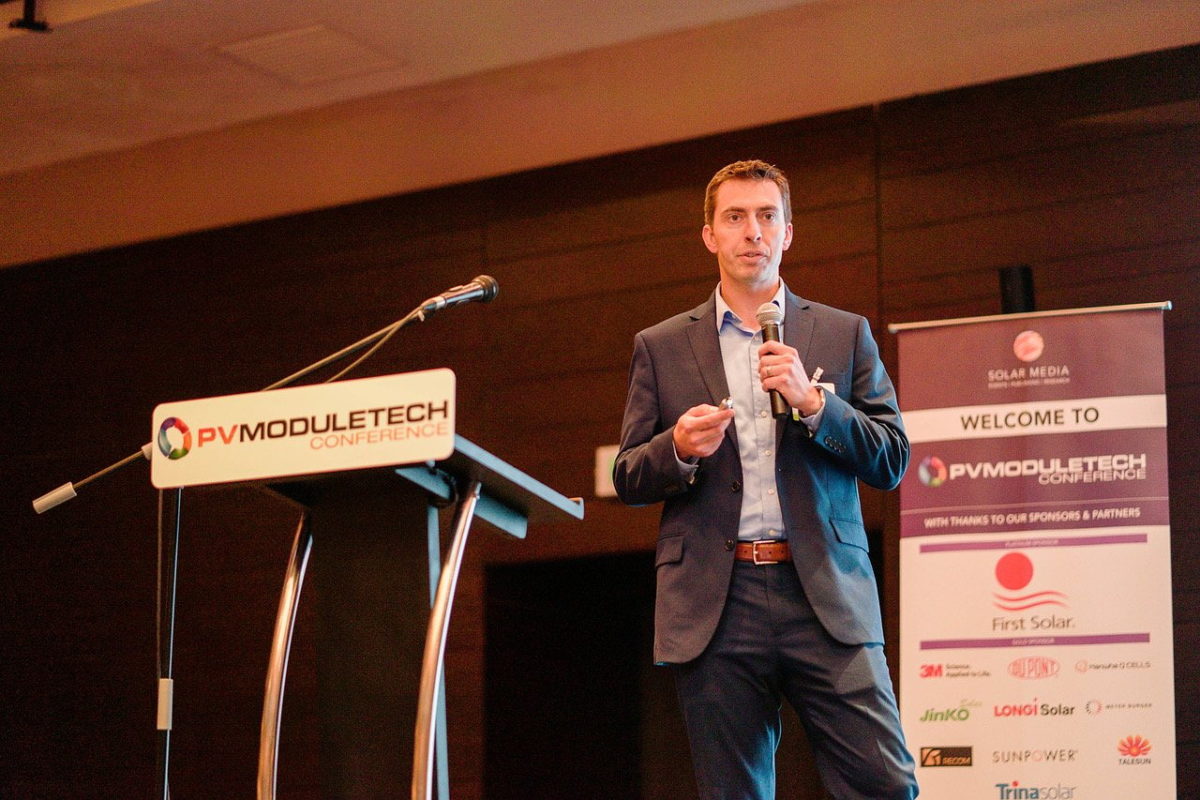 The agenda for the forthcoming PV ModuleTech 2019 conference, to be held in Penang, Malaysia on 22-23 October 2019, has just been announced by PV-Tech, and can be viewed on the Agenda 'tab' through the link here.
Once again this year, PV ModuleTech is shaping up to be the go-to event to learn which module suppliers are the ones being consistently chosen for large-scale global PV projects. The event is now firmly established in the PV events calendar, and the session topics reflect the new trends in module assembly, factory auditing, inspection and related due-diligence studies.
This article reviews the topics and speaker line-up for PV ModuleTech in October 2019, and highlights key issues that attendees can expect to understand better, ultimately leading to more informed decision-making by global EPCs, project developers and asset-owners.
Opening talk to reveal much-needed module company health rankings
In the past couple of years, I have tended to limit my own contributions on-stage to moderating most of the 2-day event, while adding various inputs as and when needed.
This time around at PV ModuleTech 2019 – and in recognition to increasing concerns raised by asset owners and investors today – I have decided to deliver the opening talk at the event. The extended 45 minute presentation will effectively outline the results of a five-year period of in-house research at PV-Tech across more than 100 leading PV module suppliers.
The scope of the talk will be based upon detailed analysis that considers the key factors underpinning module supplier and technology choice for global PV projects within the industry today, and going forward; and crucially, how investors and developers can properly assess which companies have the lowest risk profile.
Leading module suppliers on show with latest module technologies and field data
A key part of PV ModuleTech is to have content and technology-led presentations by the major global PV module suppliers, which represent a small percentage of the 300-plus module makers that exist in the PV industry today.
In fact, it remains true that when module selection for institutional-driven PV projects are considered, there are only about 10-20 module suppliers that end up on any given buyers short-list. As the projects get larger (100MW plus), then the grouping shrinks to below ten normally.
Indeed, many of the companies showing on various 'Tier-1' lists have never supplied any meaningful large-scale PV projects, and may never, due to limited capacity availability or to a fundamental limitation from an investment-risk perspective. The PV industry really needs to move to a far more sophisticated and meaningful metric urgently.
The module suppliers speaking at PV ModuleTech 2019 this year are from the 10-20 large-scale providers of global PV projects today, including JinkoSolar, First Solar, LONGi Solar, Hanwha Q CELLS, Risen Energy, Talesun, Jinergy and Seraphim.
With the audience at PV ModuleTech 2019 largely comprised of decision makers from downstream segments (developers, EPCs, investors), it is therefore hugely important that module selection processes use current metrics from the top 10-20 module suppliers, in addition to knowing what is likely to be supplied by this grouping going into 2020.
Talks from the above-mentioned module suppliers feature across the two days of PV ModuleTech this year, with bifacial supply again being a hot topic for the conference, as explained more below now.
Bifacial modules; the road from curiosity to niche to commercially-practical
As soon as rear side Al-BSF passivated cells were phased out of the industry by the so-called PERC method, bifaciality (by way of rear-side availability for light absorption) simply became a natural option for any PERC-based product. Indeed, the only thing that has held back every module being double-sided (or bifacial) was the established backlog of monofacial (and often low-cost p-type multi modules) already being specified for global projects.
Bifacial also came at a time when project economics was seeing a massive boost purely from ASP erosion, and the investment community was more than happy to have IRR's met through an established, low-risk offering (as p-multi has been for the past decade).
However, once PERC became the 100 GW manufacturing capacity segment it is today, bifacial product was then seen as something that could only boost site yields (and IRRs): the only question being how much, and show-me-the-data!
Over the past couple of years, sessions at conferences and workshops on bifacial module technology have tended to be somewhat academic or aspirational-led, broadly characteristic of any niche market offering. Often, downstream companies have left with more questions/worries than they had in the first instance!
With two years now of projects (some tens of MW in size, or more) globally, and the unexpected (but most-happily-received) windfall arising from the 2019 US Section 201 exclusion for bifacial imports, bifacial is set to be everywhere in 2020, even on residential rooftops where the advantage is next-to-zero!
The industry in the past was happy to use generation models that had tilt and latitude/longitude inputs, alongside degradation forecasts, as a means to predict kWh/kW outputs. Many of the models for this were desktop study driven, and essentially ran off datasheet numbers. However, when the surface is a factor (as of course it is for bifaciality) then this type of computerised modelling stops.
The replacement has yet to be established within the industry, and the questions continue to come from site investors and asset owners in terms of how to model accurately bifacial yields over the lifetime of the investments.
This neatly frames the bifacial session focus at PV ModuleTech 2019, with many module makers now able to show meaningful field data over a multi-year time period. The conference will also feature key findings by the likes of NREL and PV Evolution Labs, in terms of field performance and reliability testing.
Manufacturing quality still dependent on production equipment, material-choice and third-party agency approval
Another major part of PV ModuleTech involves the contributions from factory auditors, test/inspection/certification bodies, and independent engineers. In fact, the event is now the only global PV event structured around the contributions from these organizations.
Sitting in the middle of the value-chain between module producer and site investor/builder, these third-party agencies are the stamp-of-approval for large-scale PV investments in terms of checking the product, the manufacturing processes and the shipped modules.
Speakers from Clean Energy Associates and Kiwa Group are among several that will be on stage at PV ModuleTech this year.
Module equipment and material availability continues to see advance
Increased throughput of higher-efficiency modules has been a key feature of the PV industry in the past few years, and this is often coming from the use of more advanced production equipment and material selection.
Contributions will be provided this year from Meyer Burger, 3M, DuPont, DSM and Mondragon, with a focus on new innovations that will see first market introductions during 2020.
Technology-transfer still a key enabler for Asian module fabs
Getting new module-based processes into mass production for many of the Asian PV producers still relies upon successful technology-transfer projects. Research institutes have been featured heavily at PV ModuleTech during the past couple of years, with many likely to return in 2019 such as CEA-INES based in France.
Still options to contribute to 2019 PV ModuleTech agenda
With 3 months left until the event in Penang on 22-23 October 2019, we are in the final stages of firming up the remaining topics and speakers for the event. Anyone wishing to offer contributions or sign up to attend (our early-bird rate is open until the end of this month, July 2019), should contact us ASAP through the options at the event website here.