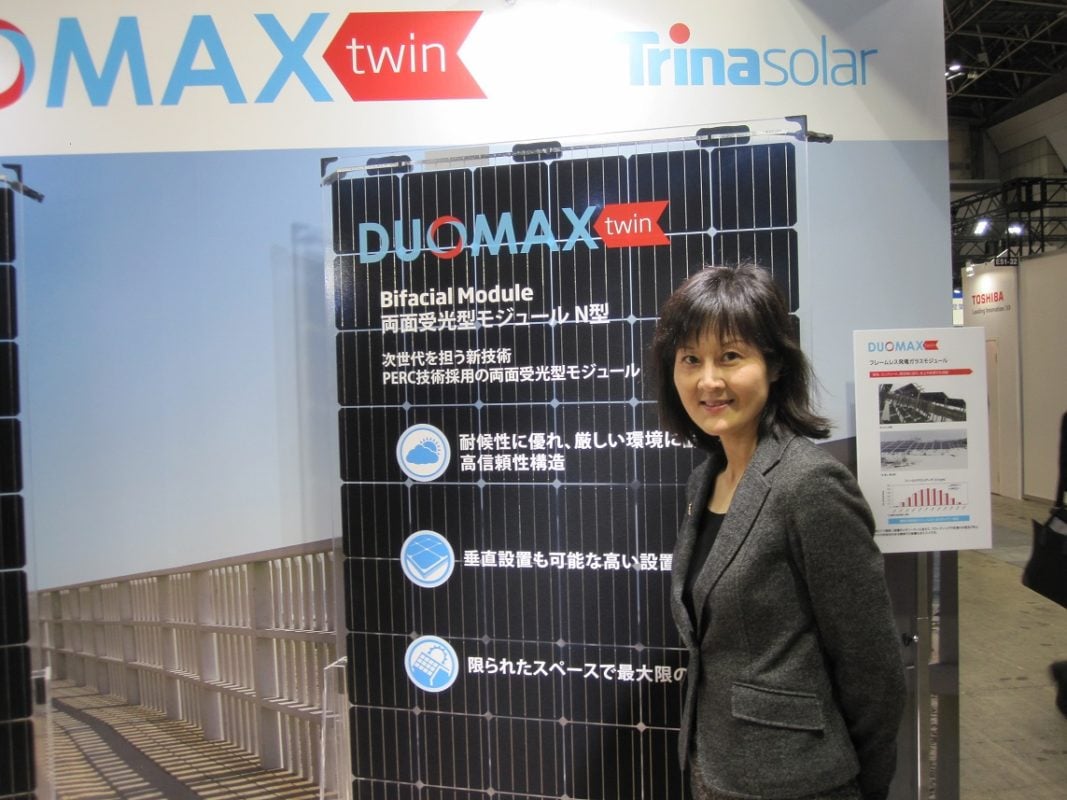 In every maturing market for solar PV, thoughts start to turn away from generating raw kilowatt-hours and being paid handsomely through feed-in tariffs (FiTs) for them. Instead, sensible thinking focuses on generating power where and when it is actually needed, whether that be through on-site self-consumption or injecting it into the grid at the times of day when it is most needed, using batteries. In Japan however, this trajectory has been transparent and accelerated over the past five years that the FiT has been in existence (since July 2012).
"When we had ¥42 (US$0.37) /kWh FiT, the business was so easy, people who knew nothing about PV could run PV businesses, but now those amateurs are not able to control the situation. Those who can manage the situation correctly can run business. Others have already left the PV industry," Yoshio Sekiguchi, a technical expert at local, vertically integrated PV company Looop, says.
Over and over again, at last week's PV Expo trade show in Tokyo, PV Tech heard that those that will survive in Japan's PV market will be the ones in it for the long haul.
On a product level, you could see this in the fact that the domestic likes of Looop and China's Trina Solar were offering glass-glass modules, boasting ever-tougher materials and longer lifespans. In Looop's case they were offering the industry's longest warranties – 30 years – for their 'Nextough' modules, while Trina Solar was promoting the maximum yield factor of their bifacial modules at the show. Indeed, there were several domestic and international makers showcasing bifacial modules, showing that squeezing out every drop of power from limited space is getting more and more important.
Overall trends
Market analysis expert Izumi Kaizuka of research firm RTS PV says this year's PV market in Japan is likely to total around 8.6GW. Although figures released of module shipments by the Japan Photovoltaic Energy Association (JPEA) only come up to around 6.4GW, Kaizuka says the JPEA statistics do not include Tier 3, Tier 4 makers, or many instances of large conglomerates like Marubeni buying directly from Chinese makers.
Kaizuka says that despite the absence of precise data, some trends become apparent from looking at the market: market volumes are down from the 10GW+ early years of the FiT, and manufacturing volumes are down for Japanese module makers.
In all, the mass market for PV in Japan could have peaked in 2015, especially where 'megasolar' was concerned, on which RTS' Kaizuka and Trina Solar Japan's director Ye Chen were in agreement.
Two of Japan's largest module manufacturers, Kyocera – with around 1.4GW of capacity – and thin-film stalwarts Solar Frontier, were this year not even represented with stands at the show, although their products were on display on the booths of distributors. The pair have elected to focus on their overseas activities for the time being, Kaizuka explained.
"In Japan, based on historical records, the peak of the solar industry was 2015 and 2016. Everybody says the same thing, it's going to slow down a little bit until 2020 to absorb all those projects that have already registered and keep stable market size after that," Trina Solar's Ye Chen says.
"[The] market majority after that will come from commercial and residential rooftops."
RTS PV's Kaizuka believes that going forward, Japan's market will streamline down to around 5GW of new demand per year, even if as much as half of a 50GW+ pipeline of already-approved projects is cancelled, as has been widely reported.
This year's first tenders for large-scale solar (projects over 2MW) could be a 'wait-and-see' process for many developers, who may choose not to get involved just yet, nonetheless an existing backlog of higher FiT projects will sustain the market for some time to come, Kaizuka says. Furthermore, while the FiT drops this year to ¥21, this is still much higher than in comparable markets like Germany (US$0.06/kWh). According to Looop sales representative Rihan Kimura, system prices have fallen so much in Japan that the IRR's for projects have actually slightly risen from around 5%-6% to 6%-8%.
Self-consumption future and batteries
As we already explored in a news item last week, Japan's move towards a self-consumption based solar market has lead to the likes of Toshiba, Sharp and Panasonic focusing firmly on the Zero Energy House (ZEH) concept, with higher efficiency modules taking pride of place. Foreign players like LG and SunPower who also make high efficiency modules will continue to aggressively target this market too, Izumi Kaizuka says, while it will be "harder to sell high volumes of cheap modules into the megasolar (2MW+) market".
Masaaki Shibata, a 20-year veteran of the Japanese renewables industry and president of consulting group and developer Eiwat, says batteries are another next logical step, for large-scale as well as rooftop solar. His company is involved with deploying US-made Aquion non-toxic, non-flammable 'saltwater electrolyte' batteries into Japan and according to Shibata, if Aquion's initial tranche of 10 projects in Japan this year go well, regional power companies, which also govern Japan's grid network, could give the ok for a further wave of batteries. As well as allowing for greater self-consumption, the batteries could also remove the curtailment risk from PV plant output, which has been seen as a barrier to investment in some of the more saturated grid areas.