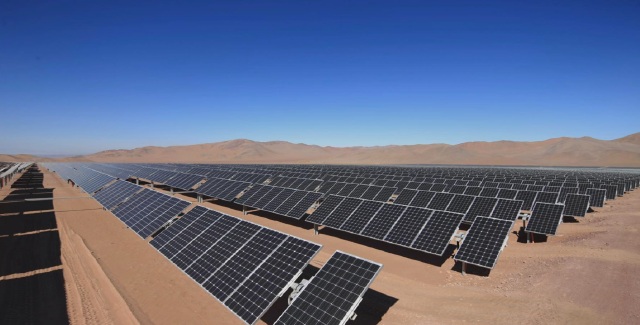 Major renewable energy provider SunEdison may have cut its rate of growth due to financial concerns but the slowdown did not manifest itself in reporting third quarter financial results.
SunEdison reported record project completions in the third quarter of 640MW, exceeding guidance. Total project completions in the first nine months of 2015 total 1,317MW. The company had 1,048MW of project completions in 2014.
Project activity remains at its highest level with 2,004MW of solar PV projects under construction and 880MW of wind projects, bringing the total under construction to 2,884MW. This compares to 1,853MW under construction in the prior quarter.
The company said that its project pipeline stood at 7.9GW, having added a further 500MW to its backlog in the quarter that totalled 5.5GW.
Management noted in its earnings call that its target was to complete over 15GW of projects in the "coming years".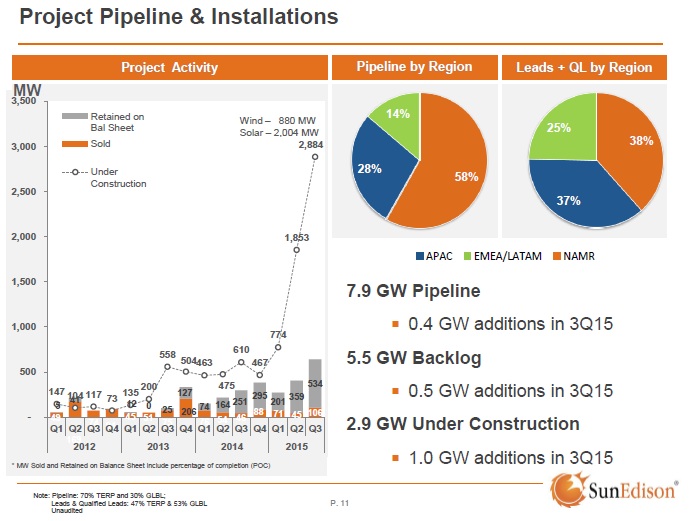 A total of 534MW was retained on its balance sheet in the quarter, slightly higher than previously guided, while third-party sales increased significantly to 106MW, compared to guidance of 50MW to 70MW, indicating a shift away from retaining projects and generating much-needed revenue.
However, in line with its slowdown in the pace of project completions, SunEdison guided 2.15GW to 2.25GW of project completions for the full year, double the previous year but down slightly from previous guidance of 2.1GW to 2.3GW.
Retained projects were expected to be in the range of 1.61GW to 1.68GW, while third-party project sales would be in the range of 540MW to 565MW, almost double previous guidance of 260MW to 300MW.
According to financial analyst Mahesh Sanganeria of RBC Capital markets, the reason for the higher third-party sales projection was due to 'the dislocation in the current yieldco market'.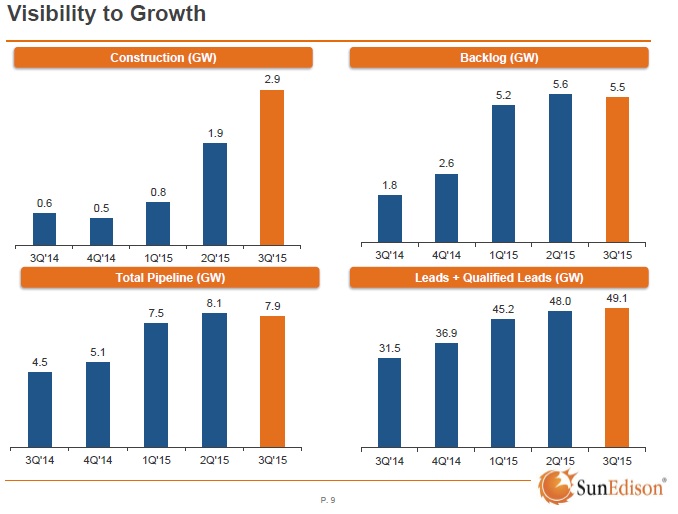 Financial results
SunEdison reported revenue for the third quarter of US$476 million with US$138 million of margin (15%), or the equivalent of US$0.26 a watt of margin.
TerraForm Power, SunEdison's US projects yieldco, reported revenue of US$153 million an EBITDA of US$126 million, and cash available for distribution (CAFD) of US$71 million in the third quarter.
TerraForm was said to have acquired 34MW of contracted solar power plants from SunEdison located in the US.
Yieldco TerraForm Global reported revenue of US$29 million and an EBITDA of US$24 million. CAFD was US$24 million in the third quarter.
Ahmad Chatila, SunEdison chief executive, said: "During the third quarter, we continued our track record of execution within the development business by delivering over 600MW, more than double versus the prior year. In addition, we made the difficult, but necessary decision to optimise our organisation in the face of the current market conditions within the yieldco space. These changes will not only set up the business for long-term success, but also should position the development business to generate positive cash flow in mid 2016."
In 2016, SunEdison expects total project completions to be in the range of 3.3GW to 3.7GW.