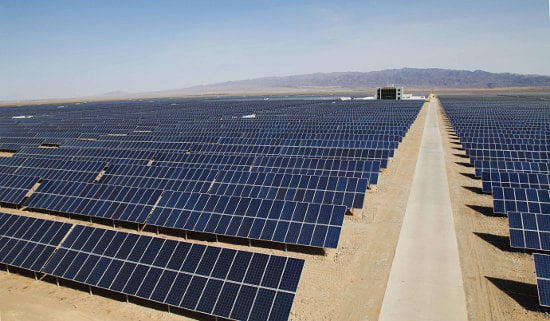 China-based PV energy provider (PVEP) United Photovoltaics Group reported a 58% increase in revenue for 2016, driven primarily by the addition of 415.4MW of new PV power plants under ownership.
United PV ended 2016 owning and operating a total of 31 utility-scale PV power plants in China with a total capacity of 1,291.4MW. The company also owns distributed power plants, comprising of standalone rooftop solar plants (including 100MW of 'Top Runner' projects) as well as combined PV with agricultural facilities.
The company reported 1,345,830MWh of total electricity generated by its plants in 2016, up 56.5% from the previous year. Solar power plants located in Inner Mongolia and Qinghai contributed approximately 38.7% and 23.2% of the total electricity generation respectively, compared to 39.8% and 36.1% respectively in 2015.
United PV reported revenue of RMB998 million (US$144.8 million), up from RMB631 million in 2015. EBITDA was RMB841 million (US$122 million), up from RMB480 million. EBITDA margin was 84%, up from 76% in the previous year. Gross profit for the year was RMB382 million (US$55.2 million), up 2% from the previous year.
United PV also noted that it had developed its Global Smart PV Cloud Management Center in 2016, which was designed to improve the overall operating efficiency of its power plant assets. As a result, United PV started its own operations and maintenance (O&M) services on several power plants, which were said to have helped EBITDA margin gains in 2016.
The company is expanding outside China, having acquired six PV power plants in the UK, totalling 82.4MW in January, 2017 and has ambitions to grow its business in Europe, Japan, Australia and the US.