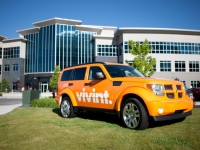 Residential solar company Vivint Solar announced Monday that it has extended the term of the availability period for borrowing under its aggregation credit facility by three years to March 2020 — with the final maturity of the facility set for September 2020.
The facility, which originally began in September 2014, has offered debt capital to Vivint Solar for new residential PV customers and installations until Vivint has aggregated the contractual cash intake from those projects into pools that support long-term debt facilities.
The aggregation facility includes the option to hedge interest rate risk as the company borrows against new solar systems and borrow up to approximately US$375 million on a revolving basis.
Bank of America Merrill Lynch stands as the structuring and administrative agent, ING serves as the documentation agent and Deutsche Bank is the swap coordinator under the credit facility.
Thomas Plagemann, chief commercial officer and head of capital markets at Vivint Solar, said: "We are pleased to be able to extend this critical borrowing facility that enhances our capital availability and security with the support of Bank of America Merrill Lynch and the rest of the lender group. Our strengthened financial position provides greater financing flexibility to meet our strategic growth objectives."