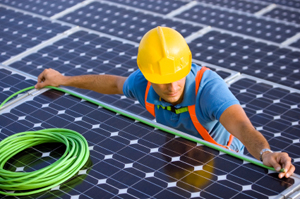 PV developer 8minutenergy Renewables has signed a power purchase agreement (PPA) with the Southern California Public Power Authority (SCPPA) for the 191MW Springbok 2 solar farm, located north of Los Angeles in Kern County, California.
The plant, located on 283 hectares of abandoned farmland, will supply renewable energy to more than 110,000 homes in southern California. 8minutenergy began developing the project in 2011.
The Springbok 2 project, which will use an advanced tracking system, is expected to reach commercial operation in Q4 2016. It is also expected to create around 300 direct and 400 indirect jobs during construction, according to the company.
8minutenergy chief executive Martin Hermann, said: "8minutenergy is enjoying tremendous momentum and has established itself as the leading independent solar provider in the US with 1,400MW of contracted projects. We broke ground on the Springbok 1 project as scheduled, and we're pleased the Springbok 2 project is following close behind right on schedule."
SCPPA signed the agreement on behalf of its participating member, the Los Angeles Department of Water and Power (LADWP).
Michael Webster, LADWP executive director of power system engineering and technical services, said: "Developing the Springbok 2 solar project is a critical step toward creating a clean energy future for Los Angeles and meeting our renewable energy targets of 25% by 2016 and 33% by 2020. We are very pleased the agreement has been achieved and the project is moving forward,"
8minutenergy announced earlier in July that it had started construction of the 137MW Springbok 1 Solar Farm.