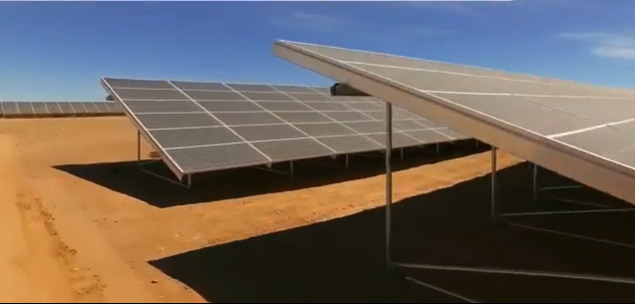 Acciona has witnessed a relatively buoyant first nine months of 2019 across its entire operations, tripling its installed solar portfolio year-on-year amid plays in Europe and America.
The latest update by the Madrid-headquartered giant shows company-wide revenues dipped by 2.6% between the first nine months of 2018 (€5.42 billion or US$5.97 billion) and the same period this year (€5.29 billion or US$5.8 billion).
Acciona partially linked the minor year-on-year turnover decline – which was more marked, at 5.6%, within the Energy division – to the "lower contribution" of the 405MWp Puerto Escondido solar project it built in Mexico last year.
Acciona's results show most profit-related metrics were up between January-September 2018 and the same period this year. EBITDA, the firm reported, climbed from €883 million to €933 million (US$974 million to US$1.2 billion), with EBITDA margins rising from 16.3% to 17.6%.
The January-September 2019 attributable net profit of €213 million (US$235 million) was above 2018's when Acciona excluded last year's asset sales – including thermal solar plants – from the analysis. When these activities were included, the €213 million number represented a 3.9% drop.
According to the update, Acciona's accumulated investment reached €982 million (US$1.083 billion) in Q1-Q3 2019, of which €346 million (US$381 million) went to new renewables in America. Net debt jumped 19.2% year-on-year, from €4.33 billion (US$4.78 billion) to €5.17 billion (US$5.7 billion).
Solar plays in Latin America, Egypt and the US
The ups and downs with Acciona's financial indicators emerged as the firm posted a year-on-year boost to its global portfolio of solar PV. At 1.138GW, the firm's installed capacity PV records as of September 2019 were almost triple the 386MW reported in September 2018.
The update shows Acciona's installed solar portfolio remains minimal in Spain – with only 3MW in up-and-running capacity, compared to the 4.7GW of wind and 876MW of hydro it has rolled out in the country – but has, in turn, solidly grown in Latin America and North Africa.
While Acciona's 46MW of installed solar in Portugal remain unchanged from 2018 to 2019, its Chilean portfolio of 246MW rose to 308MW. At 405MW, however, it was Acciona's Puerto Escondido solar project in Mexico's Sonora State that produced the bulk of the 2019 capacity jump.
The firm's other solar growth markets this year include Ukraine – where 99MW is now installed where none was last year – and Egypt, which now boasts a 186MWp PV trio Acciona co-owns with Swicorp at the major solar complex of Benban.
According to the results, Acciona's project pipeline going forward reaches 9GW across all energy forms. On the EPC front, the firm is now eyeing a backlog of around €8 billion (US$8.82 billion) in projects it will deliver via its Construction, Industrial and Water subsidiaries.
The Madrid group has now set its sights on the US as a major solar growth avenue. About three weeks ago, the firm signed a deal to acquire a 4GW renewable pipeline – 3GW of it solar, the remainder energy storage – from IPP Tenaska.