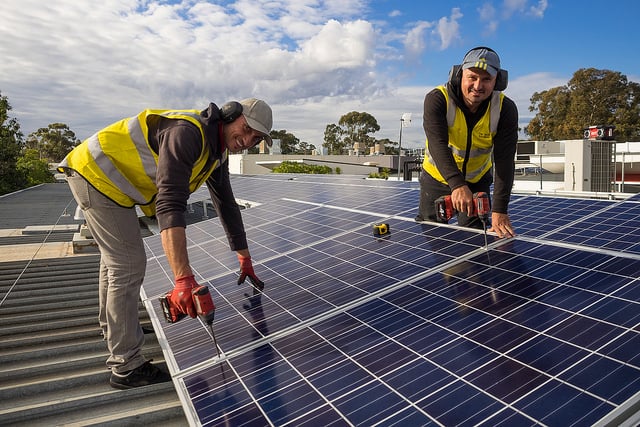 The Victorian state government in Australia aims to fast-track connections to the grid for rooftop solar installations, under the impending National Electricity (Victoria) Further Amendment Bill 2015.
If passed, the law will result in tighter timeframes for electricity distributors to make connections to the grid and these new times would align Victoria with national standards. This could in turn reduce connection waiting times for solar by up to 55 working days, according to Reece Turner, consumer campaigner at campaigning group SolarCitizens.
Victoria has more than 277,000 homes with solar installations, which are most common in low-income suburbs, where consumers are attempting to lower their electricity bills.
Reece said: "This new law will allow households to join the solar revolution quicker than ever. It will deliver on the government's promise to protect the interests of Victorian energy consumers, while reducing electricity costs and growing clean energy for the state."
Reece added: "We urge parliament to pass this law and help ensure a bright future for solar in Victoria."
He also said the bill would build on the changes the Victorian government made to the National Electricity (Victoria) Act last year to stop discrimination by retailers against solar owners.
Last May, the Labor Party in Victoria called on the federal government to remove legislation that prevents individual states from setting their own Renewable Energy Target (RET). Disappointed with the Tony Abbott government announcement that the nation's RET will be decreased to 33,000GWh by 2020, down from 41,000GWh, Labor wanted to reinstate Victoria's own target (the VRET) to support jobs and industry.
NSW lacks net metering planning
In related news, SolarCitizens has criticised the New South Wales (NSW) state government for its apparent lack of planning in preparation for a transition to new net metering arrangements. The new scheme involves the rolling out of smart meters along with a halt on the feed-in-tariff of AU$0.6/kWh at the end of the year.
However, Turner claims that the NSW government's lack of action in detailing how the meter programme will roll out across the state could lead to increased prices for solar homeowners during the transition. Meanwhile new smart meters may cost up to AU$700.
Turner added: "It is not clear whether all solar homes can be fitted with new devices before the AU$0.6/kWh feed-in price expires at the end of the year."
He added: "It is debatable whether there are even enough electricians and meters to deal with this whole-of-state transition. Any solar home left without a new meter will lose access to their solar power and be left paying more for non-solar electricity from the grid."
New South Wales was the only Australian state to experience a significant increase in volumes of sub-100kW PV systems in 2015, with most other states contracting, according to the latest figures from Australia-based solar consultancy SunWiz.
In other news, the latest figures from Australia's Clean Energy Regulator have also revelaed that Australia had 1,517,576 rooftop solar systems (4,756 MW) as of the end of February this year.
PV tech recently interviewed Nigel Morris, chief executive at solar firm RoofJuice Australia, to discuss how Australia reached 5GW of solar overall and some of the political challenges ahead.