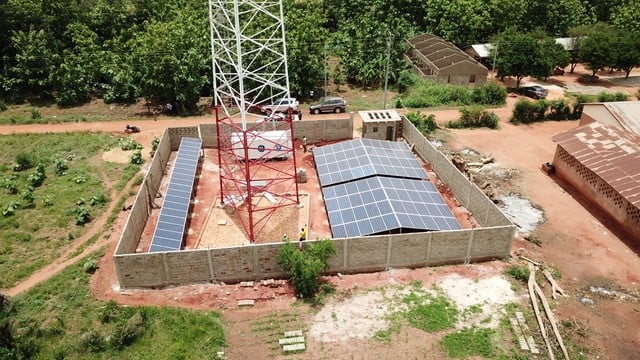 BBOXX has installed a new, wide-ranging off-grid system in Togo that stands as part of the company's Tomorrow's Connected Community initiative.
The new scheme was rolled out in the rural village of Sikpé Afidégnon in Togo, following its inauguration by Faure Gnassingbé, President of the Republic of Togo.
The entire village, which is comprised of 300 houses and 4,000 people in the southern area of the country, will be powered by PV-generated electricity, including streetlights, households, schools and small shops. The community can also access other utility products and services, such as clean cooking solutions, internet services and water pumps.
BBOXX implemented the off-grid system in Togo alongside EDF, which holds a 50% stake in BBOXX Togo, under the brand "BBOXX avec EDF". The system is run on a micro-grid developed by General Electric to meet higher energy consumption needs, as well as BBOXX's solar home systems to power households and SMEs. All services offered at the site are operated through BBOXX Pulse, the company's digital management platform, which manages customer service and product maintenance using data and predictive analytics.
Mansoor Hamayun, CEO and co-founder of BBOXX, said: "Tomorrow's Connected Community demonstrates our ability to supply electricity and other essential utilities to not only individual households, but to entire communities and businesses. By working with partners, we can truly deliver a decentralised and digitalised future in the developing world at scale. We have shown what can be possible and we look forward to rolling this "community of the future" out across other locations globally.
"This launch equally demonstrates our commitment to managing rapid urbanisation and meeting United Nations Sustainable Development Goal (SDG) 11 to create sustainable cities and communities – in addition to the other 10 out of 17 SDGs to which BBOXX is also contributing. This marks an important stride towards our vision of achieving 100% electrification for the first time on the continent and beyond."
Marc Ably-Bidamon, Togo Minister of Mines and Energy, added: "The concept of "Tomorrow's Connected Community" demonstrates further collaboration between the digital economy, technology and energy sectors. Thanks to the energy supply provided by the telecom towers, the inhabitants of the village now have access not only to electricity, but also to internet and additional value-added services.
"Our vision and top priority is to provide access to electricity for all by 2030, while using environmentally friendly means. This is why we put a particular emphasis on solar energy. Thanks to the combination of different technology that include solar kits and mini-grids and the extension of the current network, our ambition is to increase the electrification rate of Togo to 50% in 2020, 75% in 2025 and 100% by 2030."
BBOXX Togo has undergone rapid growth over the past year. Once servicing 1,000 households in April 2018, that number has skyrocketed up to 12,000 as of April 2019.