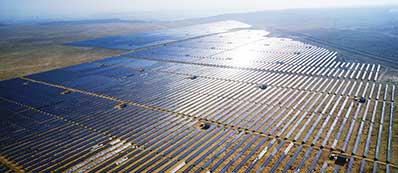 China installed a total of 9.65GW of solar PV capacity in the first quarter of 2018, a 22% increase over the prior year period, according to China's National Energy Administration (NEA).
The official breakdown of installations included 7.68GW of distributed solar capacity, which increased by 217%, compared to the prior year period.
In contrast, utility-scale installed capacity declined 64% to only 1.95GW in the first quarter of 2018, compared to the prior year period.

Asia Europe Clean Energy (Solar) Advisory Co, (AECEA), which issued a statement on the NEA released figures at a NEA press conference on April 24, had previously forecasted around 7.5GW of installations in China in the first quarter of 2018.
AECEA also noted that further improvements had been made on grid curtailment issues, notably in the autonomous region of Xinjiang and province of Gansu, where the curtailment levels had been above 20% throughout 2017.
The decline in utility-scale installations had already worked through to some of the publically listed companies, heavily dependent on the utility-scale sector, such as 'Silicon Module Super League' (SMSL) member, GCL System Integrated, which had warned of losses for the first quarter of 2018, due to a decrease in the demand.
In contrast major PV Inverter manufacturer Sungrow Power Supply had announced that it expected its first quarter 2018 financial results to include a net profit increase of between 50 to 70%, compared to the prior year period. This is due to its broad product portfolio that covers utility-scale and DG market.
AECEA said that despite the increase in Q1 2018 installations it still expects full-year total installations in China to reach in the range of 40GW to 45GW, down from NEA figures of 53.5GW in 2017.
.