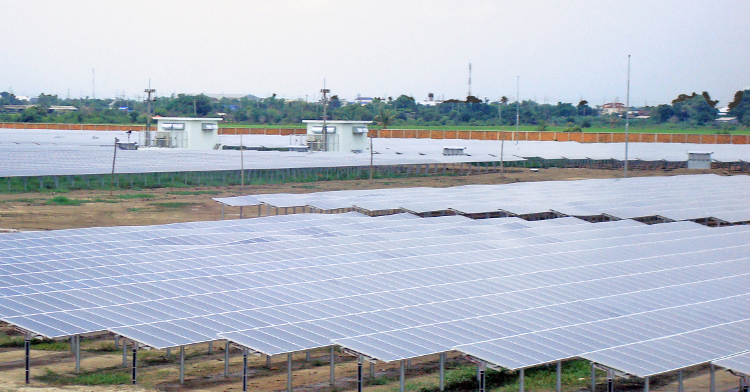 The CEO of Germany-based solar firm Conergy has claimed that solar farms in the Philippines could be losing thousands of kilowatt hours and millions of pesos per year due to poor operations and maintenance (O&M) and a lack of skilled technicians and real time data analytics.
Southeast Asian markets face slow repair times, spare part shortages, overgrown vegetation and heavily soiled modules, the company has said.
Conergy CEO Alexander Lenz added: "We believe some of the Philippine's solar farms can perform much better than they do today, so we are making an investment in the operations and maintenance side of our business. Solar farms in the Philippines have tremendous potential. But like any asset they need to be cared for. We believe some Philippine farms may be losing thousands of kilowatt hours and millions of pesos per year. This is an issue we can fix in partnership with solar farm operators."
As a result, the firm has announced an update to O&M unit, by adding more staff and round-the-clock plant monitoring capabilities, after its market analysis found waning productivity of solar projects in the Philippines and the ASEAN region at large.
The company has also built an APAC monitoring centre in the Filipino capital Manila.
A Conergy release noted that some farms producing up to 100,000kWh in their first year, can drop to as low as 60,000kWh in their second year, a 40% decrease due to operational issues.
"We know that this type of scenario is common within the solar industry in the Philippines and Southeast Asia and can be fixed with a proactive approach," added Steffen Hesche, Conergy VP of O&M.
Conergy Asia, the Asian arm of Conergy, was acquired by two private equity funds, Tennenbaum Capital Partners (TCP) and Goldman Sachs BDC (GSBD) in August this year.
Conergy claims to have served as the EPC contractor and O&M service provider for approximately 0.5GW of solar plants in Asia Pacific, with operations in Singapore, Japan, Australia, Thailand, the Philippines, Myanmar and Germany.
O&M starts to come to the fore as markets mature, but at the Solar and Off-Grid Renewables Southeast Asia (SORSEA) conference last week, the emphasis was still very much on how to get capacity deployed.