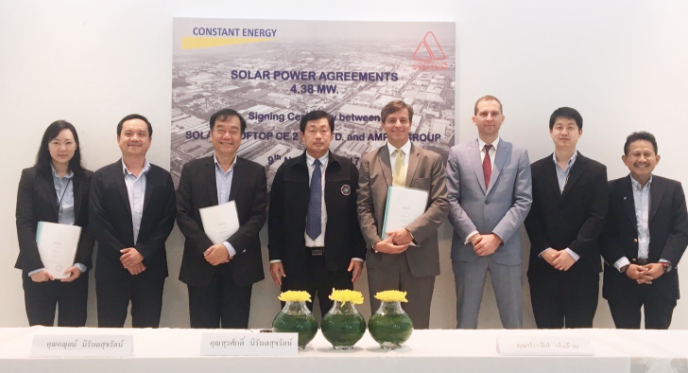 Constant Energy has signed power purchase Agreements (PPA) with Thailand-based automotive firm Ampas Group for 4.38MW of rooftop solar projects to be installed across seven manufacturing plants at the Bangpoo Industrial Estate.
Power will be supplied directly from Constant Energy's rooftop PV systems to Ampas. At present, it is not possible to export excess power from such systems to the grid in Thailand.
Franck Constant, president of Constant Energy, said: "Since the beginning of the year, our company has executed several long-term PPAs, with some assets that are already operational. We look forward to investing more in Thailand, with its track record of liberalized and resilient private power sector. The corporate PPA such as these ones with high credit, stable off-takers, are a growing part of our company's power sale business, providing long-term clients with renewable, predictable and competitive electricity."
The seven PV systems have already been designed while licensing and permitting are on-going.
Constant Energy has already completed a PV plant at the Schneider Electric factory in the same industrial estate in August this year.
At the Solar and Off-Grid Renewables Southeast Asia (SORSEA) event this week in Bangkok, Constant predicted that one third of all renewable energy PPAs in the region would be corporate in the next 3-5 years, with many delegates pointing to a significant surge in demand from MNCs in the ASEAN region.