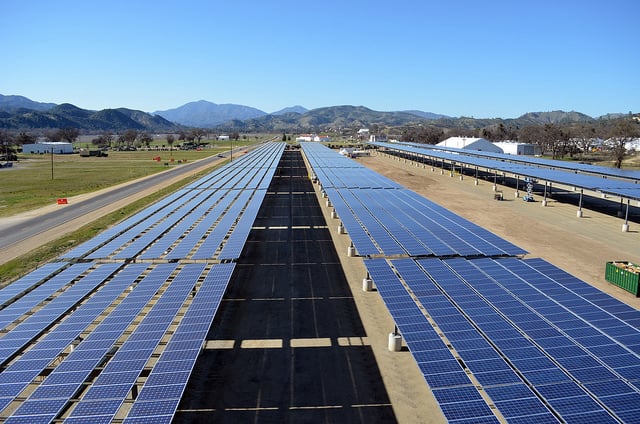 Solar in Minnesota jumped 80% in the first three months of this year, with the state now harnessing almost half a gigawatt of installed capacity.
Solar growth in the first quarter nearly doubled the state's 2016 total capacity, and much more is expected to come online by the year's end, according to state commerce commissioner Mike Rotham.
"Solar is already a bright spot in Minnesota's energy picture, and it's getting even bigger and brighter," said Rothman. "Minnesota is enjoying dramatic solar growth from residential, commercial, community solar and utility-scale projects. This solar growth is being driven by both innovative public policies and market forces, as solar becomes more and more cost competitive. What used to be called alternative energy isn't alternative anymore. It's mainstream."
Indeed, Minnesota is one of the leading states when it comes to community solar; an up-and-coming market segment that GTM Research has forecast to reach 500MW by 2019. Further, the state is home to what will be the single largest solar facility in the Midwest upon completion – the 140MW North Star project.
Rothman added: "Solar provides positive results for both our environment and our economy. Solar jobs in Minnesota increased 44% in 2016, with nearly 4,000 Minnesotans now employed in the industry. Solar presents our state with a tremendous opportunity for a clean, sustainable and job-creating energy future."
According to data compiled by the Commerce Department, Minnesota added 203MW of new solar capacity in Q1 2017, compared to the cumulative 207MW during all of 2016. Overall capacity now stands at 447MW – enough to power around 63,000 homes – growing from just 1MW in 2009. More than 800MW is projected to be reached by the end of the year.
Minnesota's solar growth has been coming from a combination of residential and commercial rooftop, community solar and utility-scale projects. Over the past six months, much of the Aurora Solar project – 100MW spread over 16 sites – also has come online. A 62MW solar farm in Lyon County owned by NextEra Energy was completed in January. But much of the new generation in 2017 will come from many smaller community solar projects currently under construction.
Rothman attributed the state's clean energy policies and federal incentives as drivers for Minnesota's solar growth. For example, in 2013, Minnesota passed the Solar Energy Standard that requires investor-owned utilities (IOUs) to obtain 1.5% of their electric power from solar by the end of 2020, rising to 10% by 2030. If projections are met, Xcel Energy will likely exceed the state's 1.5% Solar Energy Standard by the end of 2017 – three years ahead of deadline.
"Solar power in Minnesota today is where wind power was 10 to 20 years ago," said Rothman. "Wind now provides nearly 18% of Minnesota's total electricity generation. Solar has the potential to grow even faster and larger in the years ahead. The classic Beatles/George Harrison song says it best: Here comes the sun."