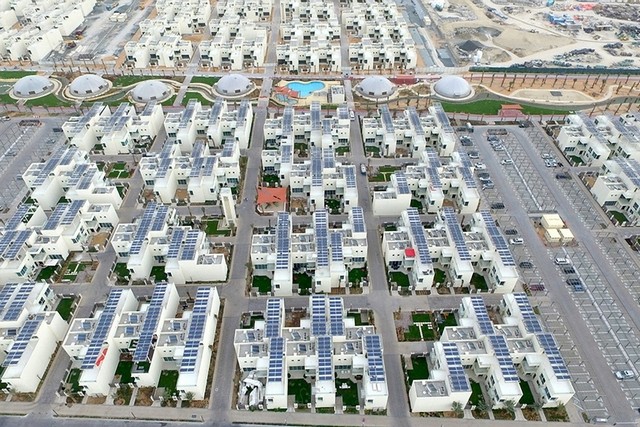 A 10MW 'Sustainable City' has been switched on in Dubai, with Trina Solar panels helping it to meet all of its power needs from clean sources.
The Sustainable City comprises 500 residential villas, a 170-room hotel, mosque, school, swimming pool and an equestrian club and track and has been billed as one of the largest sustainable cities currently operating in the Middle East.
Solar is a significant contributor to its power demand, however specially-designed panels had to be used because of Dubai's harsh climate and environmental conditions.
Trina's Duomax panels – 40,000 of them – were selected because of its frameless design which limits dust accumulation, and its dual glass feature which makes the panels more durable.
The solar array is expected to produce as much as 16GWh of power each year.
The install has been phased with just over 24,000 panels connected to date in what Anwar Zabin, chief executive at City Solar, described as a "momentous milestone" for the project.
The remaining panels are to be connected at a later date.
Helen Li, president for Asia Pacific and Middle East at Trina Solar, said: "The Sustainable City is a ground-breaking initiative in ensuring that the city's growth and development continues responsibly. With Trina Solar's supply, a significant portion of the residents' energy needs are being met for a cleaner, lower cost, and more sustainable future."