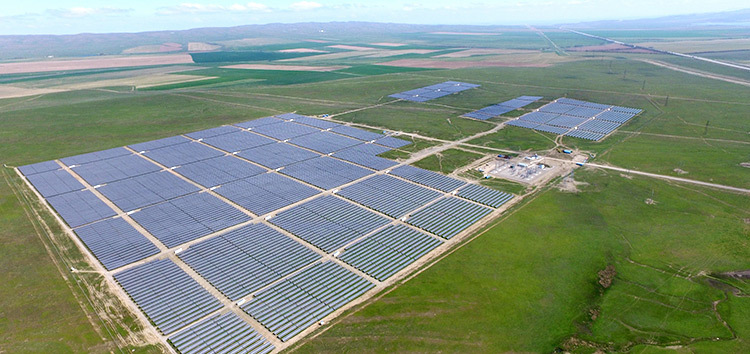 The European Bank for Reconstruction and Development (EBRD) is financing a second solar park in Kazakhstan following the 50MW Burnoye Solar 1 established in April 2014.
The second park, known as Burnoye Solar 2, is also 50MW and will be located in the Zhambyl region. Once combined, the two parks will create one of the largest renewable energy generators in eastern Europe and largest in Central Asia, according to the bank.
The EBRD will provide a loan in Kazakh tenge equivalent to up to US$44.5 million with a tenor of up to 15 years. Such long-term local currency financing is currently not available in the country. The project is being financed in partnership with the Clean Technology Fund (CFT) who is providing a US$10 million loan for up to 20 years. The remainder of the project cost, expected to be up to US$80 million, will be invested by the owners of the future solar park.
Coming as part of a comprehensive investment of US$200 million for renewable energy frameworks in Kazakhstan, Burnoye Solar 2 is a step towards a cleaner energy transition for the country; which is still more than 70% dependent on coal for its energy production. Burnoye Solar 1 and 2 are expected to neutralise carbon emissions from 30MW of domestic coal-fired plants, and displace 150,000 tonnes of carbon dioxide annually.
Burnoye Solar 2 will be built by the same investors as the first stage of the solar park: Samruk Kazyna United Green Energy, a joint venture between UG Energy Ltd, and Samruk-Kazyna Invest, a division of the sovereign wealth fund.
"Kazakhstan needs more projects like Burnoye," said Nandita Parshad, EBRD managing director for Energy and Natural Resources. "I am proud that we are signing it just as vital discussions about clean, secure and affordable energy in the region kick off at the high-level Ministerial Conference on Energy, part of the Astana Expo 2017. Following the success of Burnoye Solar 1 this second project is a demonstration that Kazakhstan is truly a part of the global renewable energy revolution that is happening right now."
To date, the EBRD has invested €7.3 billion in Kazakhstan, of which €1.7 billion is invested in sustainable energy and resources. In 2016 Kazakhstan became the EBRD's second-largest country of operations by volume. Investment is expected to continue at a high level in 2017.