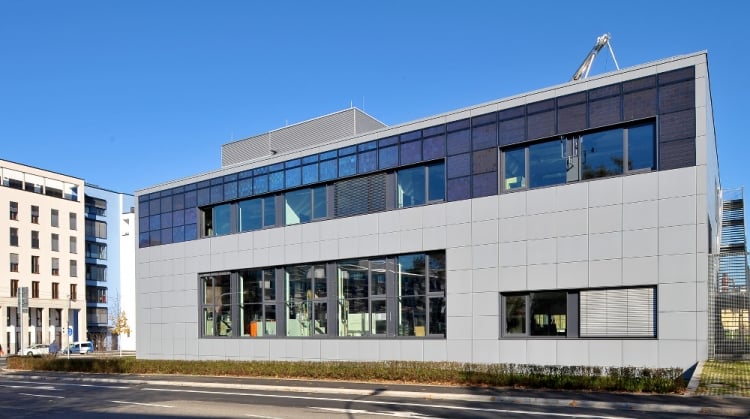 Stringent energy efficiency rules for buildings would make it "almost a no-brainer" to integrate PV at the time of construction and would "change the whole cost equation", solar analyst Finlay Colville has said.
Speaking to PV Tech at the Intersolar Europe trade exhibition this week, Colville commented that he had seen more discussion on how to stimulate the BIPV market in Europe in a couple of days at the show than he had ever seen at a solar trade show.
"There's been more discussion about it in two days here than I've heard in five years," Colville said.
Policies, including those being driven by Brussels at the heart of the European Union (EU) are being considered that could implement energy efficiency goals across the continent. This would include putting BIPV on new buildings and PV arrays on existing rooftops, where applicable.
"It changes the whole cost equation and then it's part of the overall building cost but then directly linked to the energy efficiency targets of the building. If those targets are hard and firm and you have to do them, then it almost becomes a no-brainer that you have to integrate solar at the time of the build along with a bunch of energy-saving measures."
Specialist adhesives supplier convinced of 'definite trend'
PV Tech also spoke with Roberto Rivas, a representative of Swiss-headquartered specialty chemical adhesives supplier Sika. The company provides solutions in concrete, waterproofing, flooring and several other areas for industries including construction, manufacturing and renewable energy, with a turnover of more than US$5 billion last year across the group.
Sika was showcasing a number of products including adhesives to fix PV panels in place, with special glues to fix PV to glass in BIPV applications one specialty area. The company is confident that BIPV as a concept is growing in popularity and could, especially if promoted by policies and if wins can be made in cost reduction, Rivas, who is a senior business development manager, said.
"We see a clear market trend to introduce more BIPV in construction of new buildings. First, due to new regulations, we will see in the next [few] years, PV panels integrated in buildings, in roofings but also in facades," Rivas said.
"We are really convinced about that."
Rivas said that while his company is not involved in designing BIPV panels or PV systems, it works closely with those segments of the solar industry and sees that cost reductions could be made in a number of areas. He said it should still be possible to make reductions in both the cost of material and the process of integration of PV.
Manufacturers no longer 'chasing for a market that isn't there'
While Rivas touted his own products, in particular the prospect of using specialty adhesives over nuts, bolts and clamps in fixing a PV system into place as part of a building's facade, streamlining both production and labour costs over time, Colville appeared to agree with several of the Sika man's assertions and explained how the European market had got to this point.
"There's probably more interest to look at other segments within Europe, because a number of the other ones are not the low hanging fruit there: for the quick residential installations, large-scale ground mount on the utility side.
Because a lot of that is going through a downturn lack of funding, then I think people are looking at where solar can fit in on the energy efficiency side, on the commercial rooftop side and I think BIPV is actually getting more visibility."
Originally, BIPV makers were often companies that had not been successful in other segments of the PV industry, hoping that there would be a "magical market" with higher ASPs (average selling prices) that would mean European makers did not have to compete on price with cheaper, mostly Chinese-made PV panels.
"Every time they looked for that market it wasn't there," Colville said.
"It's a market that's really fragmented and really needs a strong policy in place to drive people to integrate solar at the time they do their new builds."
According to Colville, although bespoke BIPV solutions tailored to high-end construction projects might remain expensive, being designed on a project-by-project basis, other BIPV designs will be able to utilise PV panels closer to the standard technologies used in other applications today.
He added that a target-driven market could also make it easier to match PV panel production to demand.
"If you put the panels on the roof of the car that may be the equivalent of one large solar module, 300 watts, if you manufacture a million cars over three years, you've got 300MW from that car production site. It doesn't take a lot of them before you've got gigawatts of capacity taken up.
"It's an extreme example [to think] that that could happen overnight of course and the car is just an example I've used of a mass-produced product. But if you've got policies in place in a number of different countries [for energy efficiency] then the numbers add up."
"It then becomes not just a niche part of the market but something with distribution channels and more bespoke solutions for the BIPV market. People used to go there with flexible thin-film panels because they couldn't compete on the residential rooftop, on large-scale ground mount. They were never set up to go specifically after BIPV. The product was never going to fit. Now if you say these are the specific applications where you'll be integrating PV, now you'll have specific supply chain or assembly chain that is supplying that. That's never been in place before."