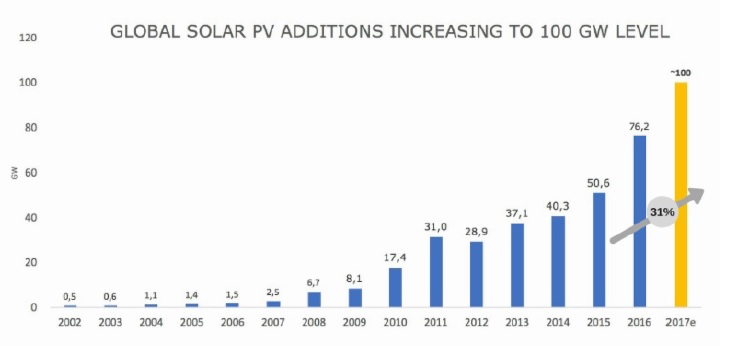 Solar trade association SolarPower Europe has updated its global solar demand forecast for 2017, expecting to reach the 100GW level for the first time.
SolarPower Europe said that with global demand reaching 100GW, compared to 76.6GW installed in 2016, annual will be more than 30% in 2017.
The trade group had expected only slight demand growth year-on-year, previously guiding installations could reach as much as 80GW in 2017.
The real driver for strong demand in 2017 has come from China.
The trade group said: "China alone has installed around 42GW in the first nine months of 2017 and is likely to add a total of over 50GW in 2017, which would account for more than half of the world's demand for new solar power capacities this year. This constitutes a 45% growth from the 34.5GW China installed last year."
However, SolarPower Europe noted that in its latest analysis estimates, Europe would also be a small contributor to the 2017 growth levels with installations expected to be around 10% higher than in 2016, with at least 7.5GW grid connected.
In 2016, the European market actually declined by around 20% from 2015, to 6.7 GW, according to SolarPower Europe.
James Watson, CEO of SolarPower Europe commented: "Solar is the fastest growing source of new energy and the most popular energy technology amongst Europeans. This serves as a reminder to European policymakers to raise their solar ambitions. On the EU level we need at least a 35% renewable energy target by 2030. If we take advantage of this opportunity, we will see more jobs and investments in solar across the continent, and in turn, solar demand will grow again in Europe."