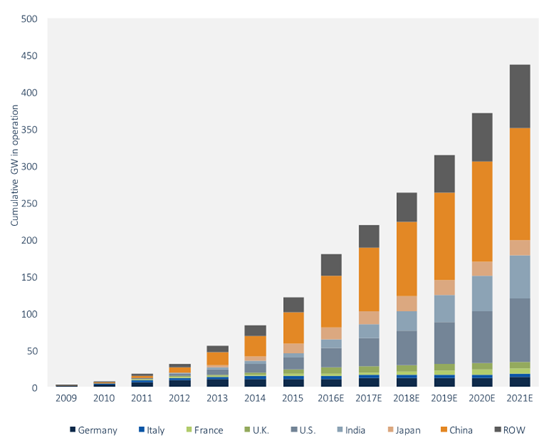 The global market for utility-scale PV and operations & maintenance (O&M) will reach 182GW by the end this year, GTM Research's latest report finds.
This figure represents a 54% annual increase in deployments over 2015.
The report also finds that such deployment is all recent in nature; with more than half of that addressable market being deployed within the last two years alone. Indeed, only 5% of the total global capacity has been operating for more than five years, GTM notes.
Forecasts estimate that by 2021, China will represent 35% of the global installed capacity for large-scale PV plants, with the US the second biggest market at 20%, followed by India at 13%.
"New construction markets like the US and India feature large plant sizes and consolidated ownership landscapes that result in very large portfolio sizes," says Cedric Brehaut, lead author of the report. "At the same time, portfolios are consolidating in mature markets like Italy and, to a lesser degree, Germany. This results in no less than 20 owners globally (excluding China) that own a net capacity of at least 500MW each."
With O&M an increasingly hot topic in the solar space, GTM Research also note that such vendors are divided into two distinct categories: local providers that focus on one key market, and global providers that seek to diversify their portfolio across multiple continents. Some of the largest O&M providers to date are SOLV – a division of Swinerton Renewable Energy – and First Solar.
According to the report, the global market for asset management and O&M services will reach 439GW by the end of 2021.