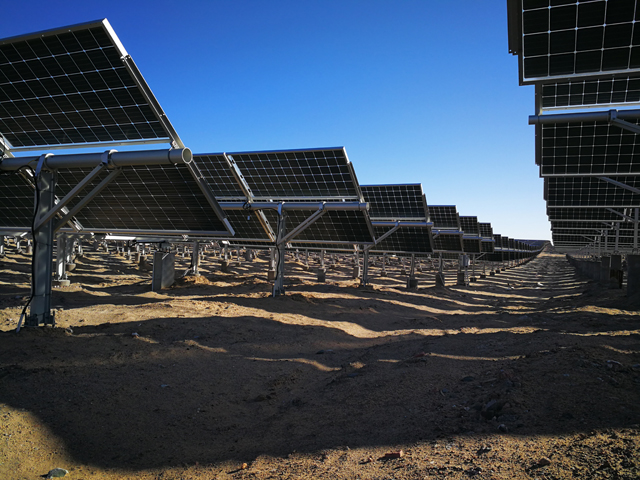 According to a revised forecast, GTM Research has tagged China as the key metric behind a slowdown in global solar deployments in 2018.
GTM Research's latest 'Global Solar Demand Monitor' report expects the global solar market to decline to 85.2GW in 2018, driven by China's decision to cap its two largest markets, utility-scale and Distributed Generation (DG) at the end of May, due to the market overheating and subsidy payment requirements by utilities running significantly ahead of plan.
The market research firm noted that it expected Chinese PV demand in 2018 to decline to 28.8GW, down from an initial annual forecast of 48.2GW. The sudden caps in China were said to have resulted in the third quarter of 2018, generating the lowest quarterly level of global PV demand since 2015.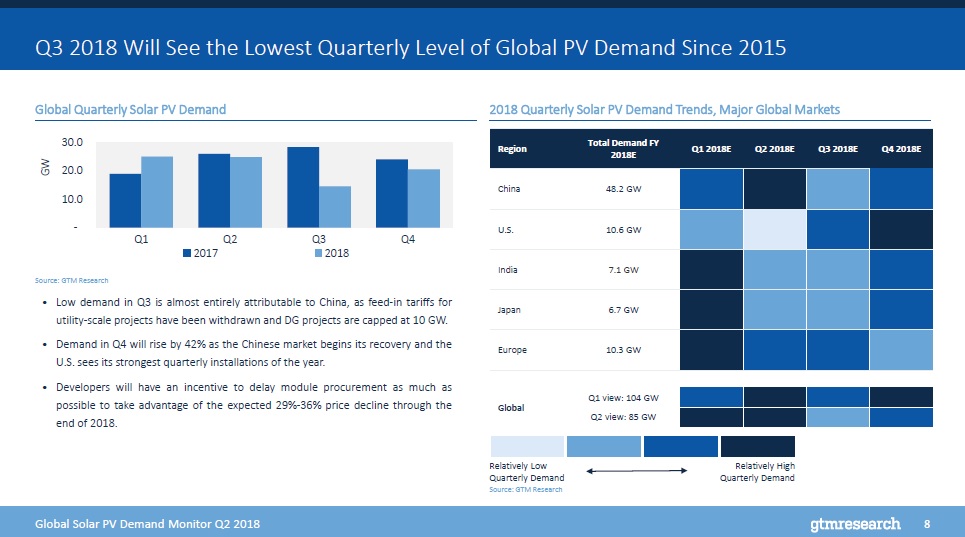 However, PV Tech recently reported official China PV installations figures for the first half of 2018, that new solar PV installations in the country reached 24.3GW in the first half of 2018.
China installation programs regarding 'Top Runner' and 'Poverty Alleviation', which are primarily carried-out in the second half of the year have not been curtailed, which led Rongfang Yin, vice president of Trina Solar Group, the second largest 'Silicon Module Super League' (SMSL) member, in an exclusive interview with PV Tech to highlight demand was still higher than many expected.
"There has been a lot of discussion within the industry on this and many expect PV installations to total around 30GW this year. In my opinion given the different markets including residential in my view we are looking at a 35GW to 37GW market," commented Yin.
Adding to the negative growth rates expected, GTM Research said that the Japanese market would continue its decline year-over-year.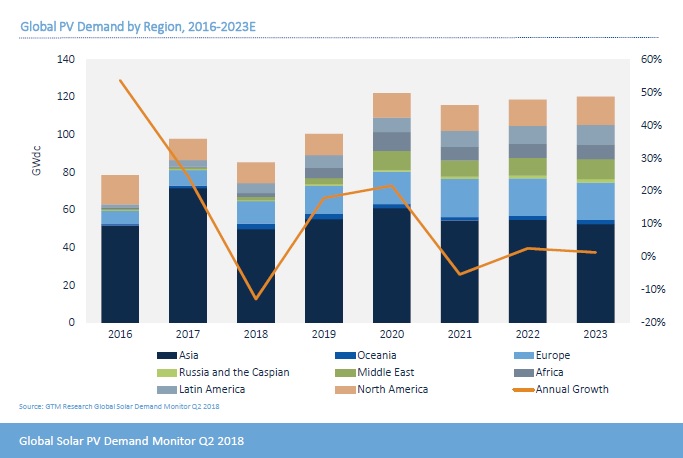 However, Asia in general would continue to account for at least 50% of the global annual installs through 2020. Three key Asian markets China, India and Japan, would still account for 20% of the global market through 2023.
Other regions such as North American and Europe were said be stable for the next few years, accounting for 16% and 12%, of installs respectively, through 2023.

Emerging markets such as the Middle East are expected to triple its share of global installed capacity from 3% in 2018 to 9% in 2023, driven by Saudi Arabia and the UAE, which are expected to account for 50% of the regional capacity additions through 2023, according to GTM Research.
Latin America would also account for an average of 7% of global installs through 2023. Mexico, Brazil and Chile are expected to account for 81% of the region's capacity additions.