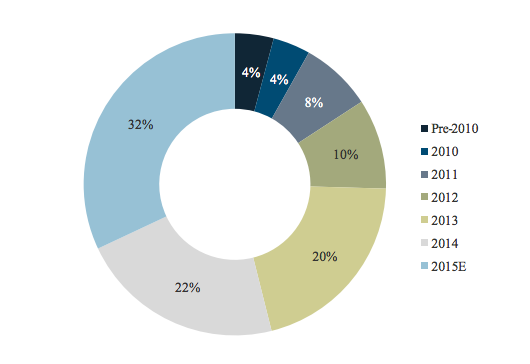 A new report from GTM Research and SoliChamba Consulting states that the global market for utility-scale PV operations and maintenance (O&M) will grow to 390GW by 2020 — almost triple the estimated 133GW expected by the end of 2015.
Cedric Brehaut, the author of the report, titled Megawatt-Scale PV O&M and Asset Management 2015-2020: Services, Markets and Competitors, said: "Just like the larger PV market, the global PV O&M market has been growing at a fast pace these past few years. And unlike the EPC business, it remains attractive even when new construction slows, as seen in Germany, where the addressable O&M market for megawatt-scale plants exceeds 11 gigawatts in 2015 despite a drop in new megawatt-scale plant activations."
Over half of the world's O&M sector has emerged over the last two years alone, with the report pointing out specific characteristics in markets where new projects stand as the primary O&M opportunity, such as the United States, as opposed to countries with older sites such as Germany and Spain.
The report separates operations, maintenance and asset management into three distinct services within the solar market and scans the competitive landscape for each of the segments. While a number of vendors provide these services, asset management has often remained separate from O&M in most cases.
Brehaut added: "With a single vendor providing both asset management and O&M, there is no duplication of supervision and reporting functions, so arguably this results in lower staffing costs for managing the same asset portfolio. But there are real risks that a 'one-stop shop' provider may not defend the interests of the owner as fiercely as would an independent asset manager."
The expected 390GW by 2020 will allow for a new wave of competition and vendors.