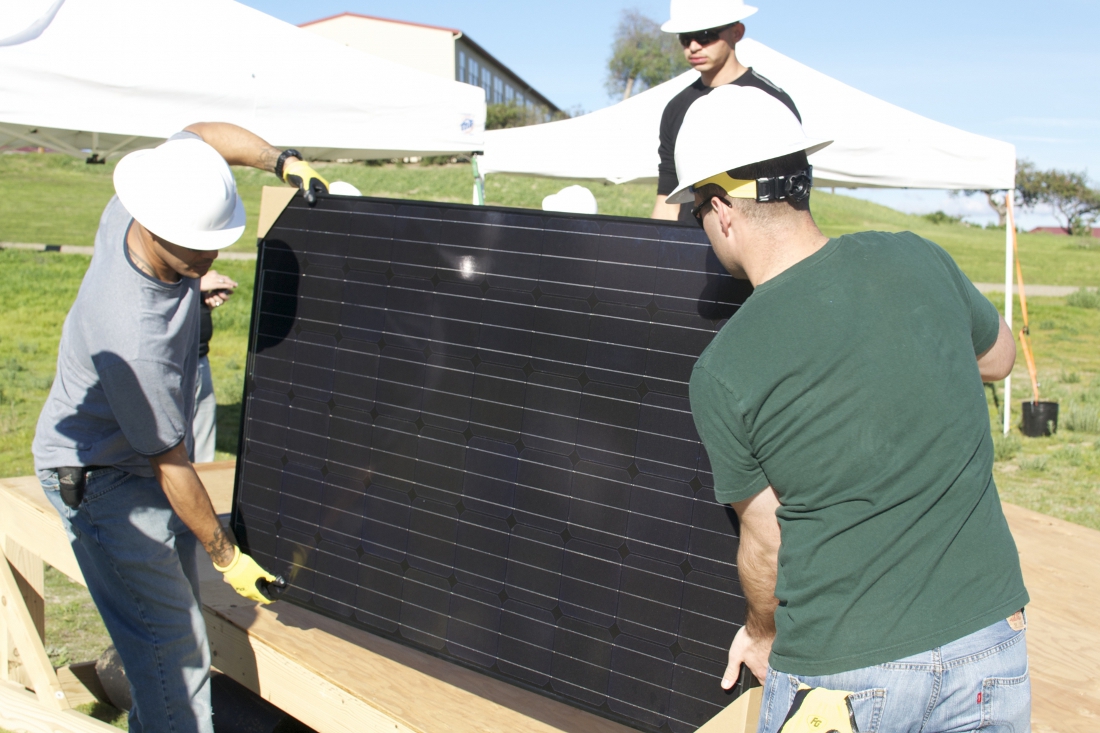 The road will be "bumpy", but solar in the US will continue outstripping predictions by traditional energy forecasters, reaching its next order of magnitude increase in installed capacity by 2030, according to an analyst at GTM Research.
Shayle Kann, GTM's senior vice president and head of research, issued an executive briefing document today assessing the US solar market, its opportunities for growth and factors that could hold it back. Kann said that while political support still has not woken up to the widespread public approval enjoyed by the technology, factors including falling costs and new market structures could drive US PV generation capacity to 250GW before 2030.
"I find it very difficult to conjure a realistic scenario that doesn't include solar achieving the next order of magnitude by 2030, if not earlier," Kann said.
From just 2GW in 2010, the US has raced on and is expected to reach 25GW by the end of this year. In other words, from representing around 1% of electricity generated today, by 2030 this portion could be at 10% or even 15%, according to Kann's projections.
Kann said that as this growth had progressed, born partly out of tax incentive measures implemented from 2008 onwards as a result of the global financial crisis, cost reduction efforts had "seemed impressive" at the time, but were dwarfed by subsequent progress between 2010 and 2015.
For instance, utility-scale solar cost around US$3.58 per watt in 2010, itself a drop of more than 63% from 10 years prior to that. As costs continued to "plummet", Kann said, a fixed-tilt utility-scale project now costs just US$1.45 per watt to deploy, as an average across the country.
Driven by incentives but approved by the public
According to Kann and GTM, four factors will spur solar's future growth in the US:
Electricity prices will rise, making solar more competitive. The US Energy Information Administration predicts a 0.6% annual growth in electricity prices through to 2040 in real terms, outstripping likely inflation figures, making relative gains through solar cost reduction even more pronounced.
Solar costs will continue to fall in the "near future", albeit more slowly than before
The Federal Clean Power Plan, put forward by the Obama administration this year, could bring development forward in states that lag behind – currently there is a huge discrepancy between leading states such as California and Hawaii and some of the others. For instance, SunEdison just announced the completion of New Hampshire's largest utility-scale array, which is just 942kW DC capacity.
Electricity market reforms, such as New York's Reforming the Energy Vision (REV), and similar ongoing efforts to recalibrate California's electricity market to allow for greater provisions of distributed energy resources, could open up new revenue streams for solar as a grid asset. Energy storage connected to PV plants could provide grid-balancing services, for example.
Kann believes that the US could install between 15GW and 22GW per year between 2016 and 2030, reaching 250GW by 2030 in the former scenario and by 2025 in the latter.
Opportunities – and barriers
From an industry point of view, Kann believes opportunities exist in investing in energy storage and load control, which will make it easier and more effective to integrate solar into the grid.
The GTM analyst also believes "radical cost-reduction opportunities" should be explored, including the use of targeted and competitive funding from the Sunshot Initiative and ARPA-E.
Thirdly and finally, the solar industry should make itself integral to many of the new market designs that are being planned or implemented across the country.
However, Kann warned of a risk that continued success for solar could be "derailed" by a "number of significant roadblocks".
First and foremost is the forthcoming expiration of the investment tax credit (ITC), the incentive scheme that applies around a one-third discount off the cost of installing solar and solar-plus-storage. The scheme is set to expire at the end of 2016. GTM-affiliated trade group Solar Energy Industries' Association (SEIA) and others have been campaigning for its extension, and Kann warned that the expiration could result firstly in a rush year for 2016 as developers race to install and could then be followed by solar's first "down year" in many in 2017.
Secondly, ongoing debate over the best way to compensate for and incentivise household solar, played out in net metering discussions around the US, could cause turbulence and erode the economic case for solar, Kann argued. Hawaii, one of the country's leaders in solar deployment, recently had to change its net metering rules, temporarily suspending the programme to new customers in order to put in place an interim rule that grid-exported PV power is paid around half the retail rate of electricity. While Hawaii is an unusual example in already having a high penetration of solar on its grids and is already at grid parity for rooftop PV, if other states followed suit, this could create a roadblock to overall PV deployment.
Finally, Kann said that one reason for solar's success could also hold it back one day. There could be value deflation as PV spreads, with revenues from solar projects dropping as generators sell power into wholesale markets at whatever price they can receive.
Currently, solar is also a non-dispatchable resource, generating variable power throughout daylight hours. While this would potentially change if energy storage were to be added to PV installations – and the ability to aggregate dispatchable and distributed power is already being written into electricity market reforms in California, for example – at present there is no ability for solar electricity to be fed into the system at strategic times to benefit from time-of-use pricing.
In the short term, this will make little difference, Kann said, as power purchase agreements and net metering are long-term mechanisms to fix prices at levels beneficial to PV system owners and operators. PV penetration on the grid is also not really high enough in most states for it to make a significant difference.
However, as solar becomes more and more mainstream, according to Kann, power produced is more likely to be sold at something approaching wholesale prices, meaning the industry will have to find ways to combat this "value deflation" effect.
"As solar penetration increases, the value new projects can extract from the grid may fall, which will put further downward pressure on the cost of solar in order to remain competitive," Kann said.
Overall, Kann said, while solar remains an incentive- and regulatory-driven technology, and despite its high public approval ratings, "there is no shortage of work to be done by the solar industry, electricity regulators, utilities and policymakers to ensure that the transformation at the edge of the grid produces a more affordable, efficient, resilient, and clean energy future".
This article has been amended from its original form to accurately reflect Shayle Kann's role at GTM.