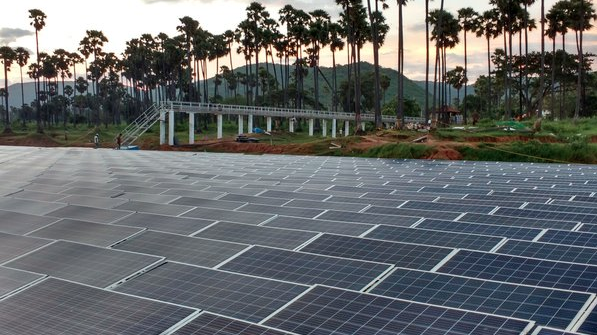 Greater Visakhapatnam Smart City Corporation Limited (GVSCCL) has inaugurated a 2MW grid-connected floating solar power project on the Mudasarlova reservoir in the Indian state of Andhra Pradesh.
The GVSCCL is a special purpose vehicle incorporated in 2016 to implement projects proposed under the Smart City Plan for Vishakhapatnam.
Delta Electronics India has supplied two 1MW DelCEN1000 central inverters to the site. Delta claims to have already more than 1.5GW of string and central grid-tied solar inverters installed around India.
Chandrababu Naidu, chief minister of Andhra Pradesh inaugurated the project on which work began in April 2018.
The project reduces 20% of water evaporation on the reservoir thereby protecting the area's rich flora and fauna. The project costs around INR 120 million (US$1.71 million) and saves INR 18.6 million in electricity costs per year, said a Delta release.