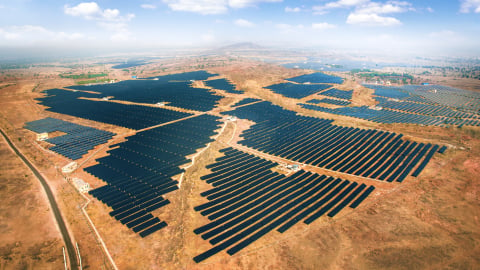 Azure Power has lined up the latest solar contract of a string this year, securing the government's backing for a major interstate transmission (ISTS) project.
On Thursday, the developer said it has been picked by the Solar Energy Corporation of India (SECI) to deploy 2GW of solar across the country, backed by a power purchase agreement (PPA).
The scheme, supported by the SECI's new letter of award, will seek to deploy annual 500MW PV batches at yet-to-be decided locations all across India, Azure said in a statement.
The firm expects all plants to be commissioned between 2022 and 2025. Their output has been contracted via a 25-year PPA with SECI, featuring tariffs of INR2.92/kWh (US$0.041/kWh).
The tariff, said Azure CEO Ranjit Gupta, is 8% higher than the "last discovered" figure from SECI for ISTS projects. "This opportunity is attractive to us for many reasons," Gupta remarked.
The PPA with SECI will offer Azure protection against curtailment, a long-running issue for Indian renewables. The deal allows the developer to override ISTS transmission fees.
In return for the long-term state backing to its 2GW push, Azure is required to support 500MW in domestic PV cell and module manufacturing capacity.
The firm explained it has already signed a tentative deal with a "leading" Indian panel maker to take over a majority stake of the 500MW component.
The 2GW contract win is the latest of a series for Azure this year, following the SECI's awarding of a smaller ISTS PV project – at 300MW of capacity – in late July 2019.
The developer has also scored victories at SECI utility-scale auctions, bagging tariffs of around INR2.50-2.54/kWh (US$0.035/kWh) for 370MW of PV at two tenders in September.
A question looming over India more broadly has been whether the country can reach its 175GW-by-2022 renewable target, amid analyst warnings that the goal lies beyond reach.