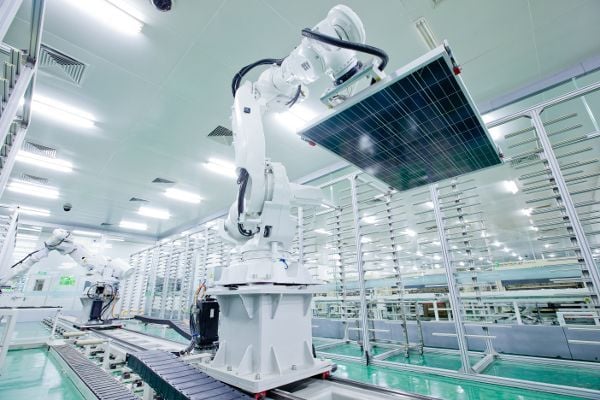 Leading 'Solar Module Super League' (SMSL) member, JinkoSolar is expanding production capacity of high-efficiency products to meet demand as the company is almost fully allocated for 2019.
Kangping Chen, JinkoSolar's Chief Executive Officer commented: "We continue to see strong demand from overseas markets and have secured the vast majority of our order book for the rest of the year. The global solar market continues to generate rapid and sustainable growth momentum as grid parity approaches, in particular for our high-efficiency mono products which are continuously in short supply. Our global distribution network allowed us to quickly meet growing demand for our high-efficiency mono products over the past few quarters as the market transitioned. We are accelerating the expansion of our high-efficiency mono production capacity and estimate they will account for over 60% of our total shipments for the year."
This is the third revision JinkoSolar has made to adding capacity for 2019. The SMSL plans to increase monocrystalline wafer production to 15GW by the end of the year, compared to previous plans to reach nameplate capacity of 11.5GW.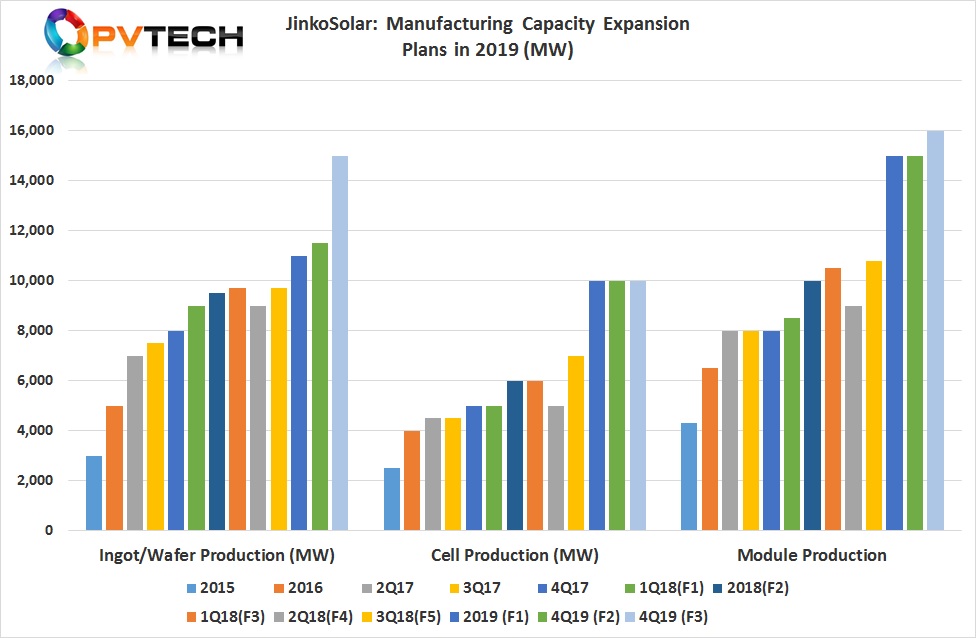 "Our new 5 GW mono wafer production facility in Leshan, Sichuan Province began trial production this month and will ramp up to full capacity by the fourth quarter of this year. This new production facility will serve as a benchmark for the industry with its cutting-edge technology and industry-leading cost structure. The additional mono wafer capacity will allow us to significantly increase the proportion of self-produced high-efficiency products and improve overall profitability," added Chen.
Although solar cell capacity has not been increased, JinkoSolar reiterated that it expected to have a total of 10.0GW of nameplate capacity at the end of the year, which included 9.2GW of PERC (Passivated Emitter Rear Cell) cells, including an unspecified capacity of PERC bifacial cells.

The company had raised US$160 million in May, 2019 in a ADS share offering to expand mono wafer and PERC cell capacities by migrating further in-house capacity to PERC.
PV module production is set to reach 16GW by year-end, up from previous plans to increase production to 15GW in 2019.

"This year, we also launched the latest addition to our premium Cheetah products, the "Swan" bifacial module with a new DuPont Clear DuPont Tedlar-based backsheet," also noted Chen. "This module uses lightweight materials, which alleviate a number of problems during the installation process and lower cost per kilowatt hour of electricity produced for our customers. We believe that demand for bifacial transparent backsheet products will grow rapidly as they become more mainstream going forward."
JinkoSolar said that downstream demand from China, notably in the second-half of 2019 could reach 40GW on an annual basis, which is contrast with a recent forecast from PV InfoLink, reported by PV Tech.
The company also noted that it expected European installations to hit 17GW this year, partially due to the cancellation of the minimum import price policy, resulting in a surge in demand from price-sensitive projects, according to the company.
With a module assembly base in production in the US, JinkoSolar said that US installations were expected to be in a range of 12GW to 15GW this year. Recent policy changes exempting bifacial solar modules from Section 201 tariffs in the US are expected to further accelerate medium and long-term demand and significantly increase the application of bifacial modules, JinkoSolar said.
Financial results
JinkoSolar reported first quarter 2019 revenue of US$867.5 million, a decrease of 24.6% (US$1.1 billion) from the fourth quarter of 2018 and an increase of 27.5% from the first quarter of 2018.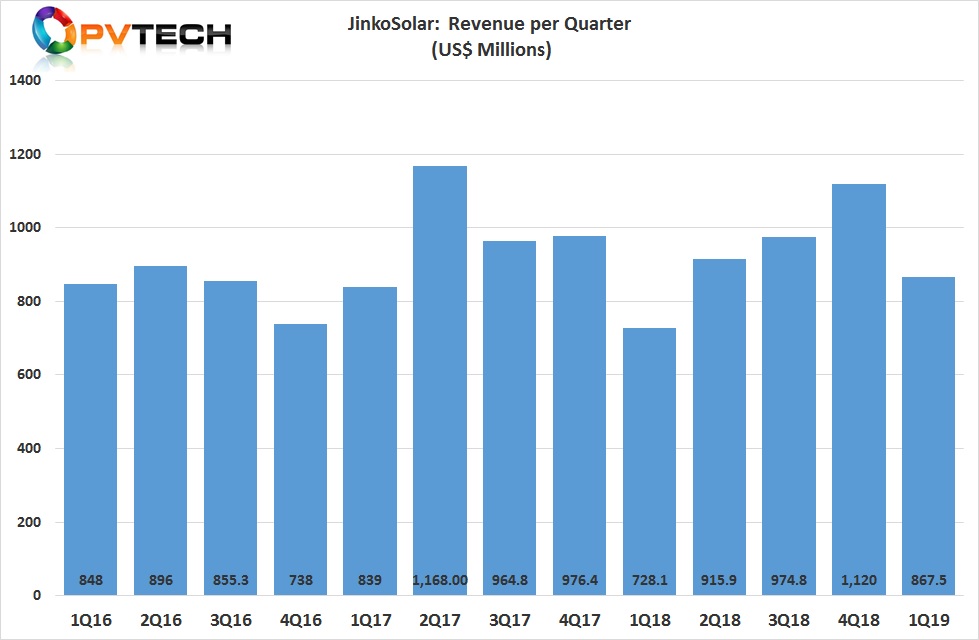 Gross margin was 16.6%, compared with 14.7% in the fourth quarter of 2018, and 14.4% in the first quarter of 2018. The sequential increase was said to be attributable to a higher proportion of self-produced high-efficiency mono products and further reductions in production cost in the first quarter of 2019
Income from operations was US$35.1 million, compared with US$34.5 million in the fourth quarter of 2018.
JinkoSolar reported module shipments of 3,037MW, an increase of 50.7% year-over-year and a decrease of 16.1% (3,618MW), sequentially.
Guidance
JinkoSolar guided second quarter PV module shipments to be in the range of 3.2GW to 3.3GW, while total module shipments in 2019 were expected to be in the range of 14GW to 15GW, unchanged from previous guidance.