'Silicon Module Super League' (SMSL) members JinkoSolar and Hanwha Q CELLS have both updated plans to start solar module assembly manufacturing in the US, post the US Section 201 trade case.
Leading SMSL, JinkoSolar which continues to add manufacturing capacity in China across ingot/wafer, cell and modules also tweaked expansion plans higher for 2018, when announcing second quarter results.
In its Q2 financial press release, JinkoSolar stated:
'As of June 30, 2018, the Company's in-house annual silicon wafer, solar cell and solar module production capacity was 9.0 GW, 5.0 GW and 9.0 GW, respectively.'
In Q1, JinkoSolar had guided full-year capacity expansion plans for in-house annual silicon wafer, solar cell and solar module production at 9.7GW, 6GW and 10.5GW.
The chart below highlights the Q1 forecast as well as the updated actual nameplate capacity at the end of the quarter.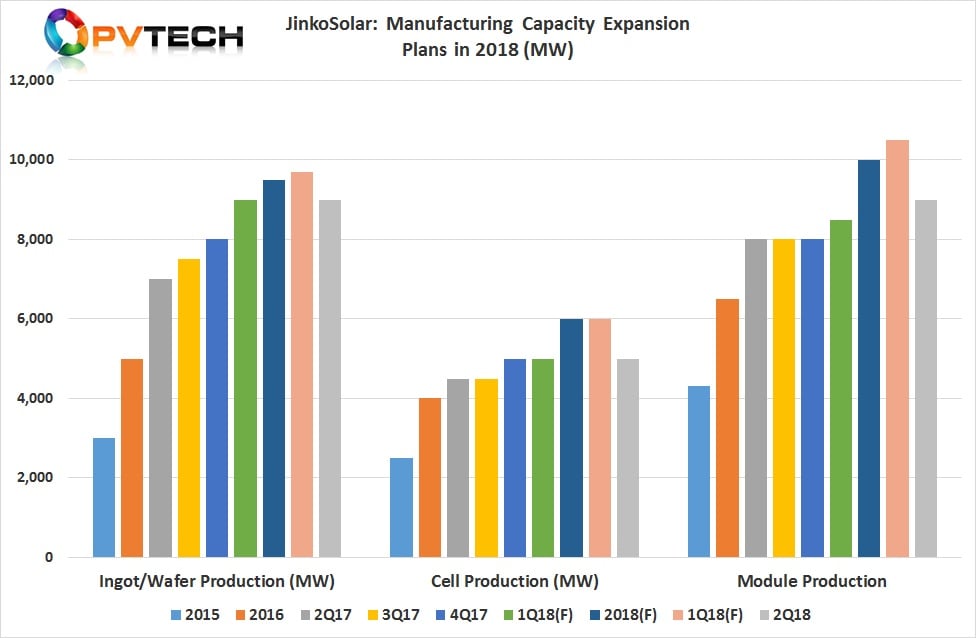 In reality, JinkoSolar did not add any new capacity in the first half of 2018, which should not come as surprise with market uncertainty at play in the US, India and a month before the quarter ended, China placed caps on installations.
However, in the Q2 earnings call, Kangping Chen, JinkoSolar's Chief Executive Officer noted (translated) tweaks from the Q1 guidance.
"Turning to the manufacturing capacity, our internal wafer cell and module capacity reached 9 gigawatts, 5 gigawatts and 9 gigawatts, respectively, at the end of the second quarter.
But we expect to reach 9.7 gigawatts, 7 gigawatts and 10.8 gigawatts, respectively by end of the year, of which approximately 5.7 gigawatts will be mono wafers and approximately, 4.2 gigawatts will be PERC cells."
As the chart below shows, solar cell capacity is expected to increase by a further and significant 1GW in 2018, especially in uncertain times and the capex spend required.

Module assembly capacity is tweaked upwards by 300MW, while Ingot/wafer production, which has been ramping hard in the last year, (a key to production cost per watt reductions) means the initial plans stated in Q1, remain unchanged.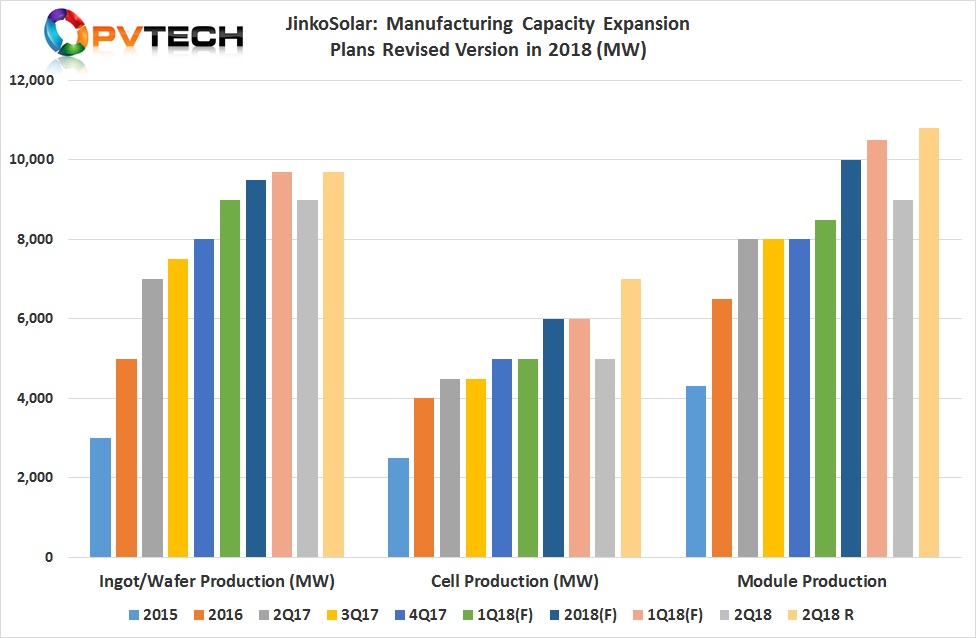 Somewhere in amongst the module assembly expansion plans is the expected 400MW assembly plant in Jacksonville, Florida, US.
Management noted in the latest earnings call that shipments from the plant would be begin in the fourth quarter of 2018. Back in March, the company stated that it would begin operations in October.

The two descriptions are of course different but interconnected as starting production operations ultimately leads to product shipments, therefore we have been given some fresh insight into modules leaving the factory gate near the end of the fourth quarter (less any glitches). The company is already placing job adds for administration and manufacturing, which are expected to be around 200 places.
This keeps in-line with JinkoSolar's key US customer for the Florida-made modules, NextEra Energy, which amended a previously unannounced supply deal with JinkoSolar that increased the deal to 2,750MW over a four year period starting in 2019. The SMSL had previously announced in January, 2018 that it had secured a 1,700MW supply deal over a three-year period.
On a grander scale is the planned 1.6GW-plus module assembly plant in Whitfield County, Georgia built and operated by Hanwha Q CELLS (Korea) for the exclusive use of modules to be made at the plant for SMSL, Hanwha Q CELLS.
It should be pointed out that Hanwha Q CELLS (Korea) is not owned by Hanwha Q CELLS the SMSL, rather it is part of Hanwha Group of Korea.
Hanwha Q CELLS (Korea) currently owns and operates cell and module manufacturing operations (3.7GW) in Korea, which are used for PV deployment in Korea and acts as a merchant module supplier to Hanwha Q CELLS the SMSL. A practice to be carried on when the Georgia plant is operational. Hanwha Q CELLS the SMSL has 4.3GW of cell and module capacity split between Malaysia and China.
On that point, Hanwha Q CELLS the SMSL said in latest earnings call (same day as JinkoSolar's) that Hanwha Q CELLS (Korea) would begin operations in February 2019.
Announced at the end of May, 2018 the production plant was expected to be completed in 2019, but no other information was provided.
Clearly, as previously noted, the start of operations, compared to the start of shipments is different but shipments could therefore be expected by May, 2019.
The other good news is that in June, jobs for the plant were posted.
So come 2019, at least 2GW of new solar module assembly should be operational in the US.