After first being identified in November 2019, the COVID-19 pandemic has progressed to having profound impacts across the world. At the time of writing, there have been more than four million confirmed cases across 187 countries and territories. It is a truly global crisis, with material and lasting effects.
The solar sector has been affected like any other industry, starting in earnest in late January and early February when manufacturing of modules, components and materials in China was disrupted by the spread of the disease and efforts to contain it. The extension of the lunar new year holiday, designed to quell what at the time remained a largely localised epidemic, meant that while solar manufacturing continued, it stood to be stymied somewhat. Investment bank Roth Capital first warned in late January that it had encountered reports of manufacturing delays, with supply chain and logistics also disrupted.
Attempts to quell the spread of the virus ultimately failed, and by late February the coronavirus was spreading out of control in Europe and the US, with Spain and Italy hardest hit. France, the UK and the state of New York were not far behind, and governments across the world enforced strict lockdown and shelter-in-place measures in a bid to contain the virus.
These measures, varying in severity as they are, have caused significant disruption to the solar industry. While the classification of engineers as key or essential workers in some jurisdictions has allowed for field operation and maintenance to continue, new project development or construction has been hit hard, with delays now commonplace. Spain, riding the cusp of a solar wave, shuttered construction sites for a period of 10 days in early April, however developers are now back on site.
Shelter in place
Likewise, residential solar installations have been particularly hard hit. Isolation is a central tenet to any nation's pandemic strategy, so welcoming contractors into your home to fix a solar PV system has been a non-starter for most markets. Indeed, there have been anecdotal reports in the UK of solar installers and contractors being stopped by police, probed as to the nature of their travel and whether it qualifies as essential.
As a result, install figures have plummeted. Enphase Energy chief executive Badri Kothandaraman told analysts during a Q1 2020 investor call in May that industry reports he'd seen projected that residential installs in the US had fallen somewhere between 30 and 50%. A recent survey by the UK's Solar Trade Association of its members revealed similar disruptions, prompting CEO Chris Hewett to implore the UK government to help support solar businesses.
Government support of business during the pandemic varies wildly, but it is certain that many thousands of jobs in the solar sector will be lost in the immediate aftermath. The Solar Energy Industries Association has repeatedly warned that up to 50% of jobs in the US solar sector – amounting to some 125,000 – could be lost as a result of the pandemic, while BloombergNEF has suggested between 16-30%. A recent survey of UK installers found that 90% had been severely impacted, with cash flow a principal concern.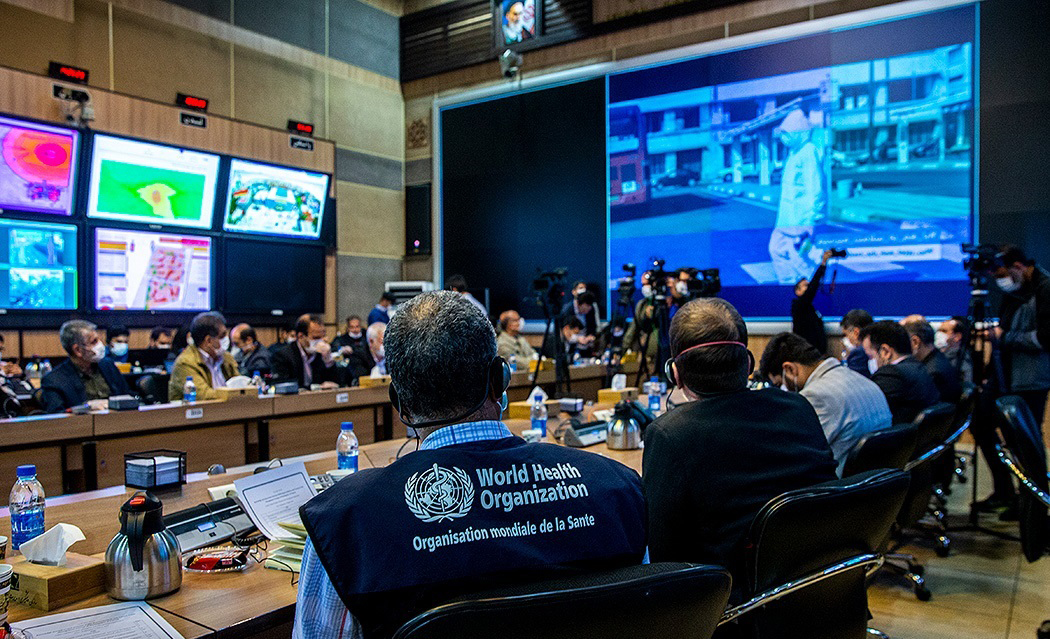 Meanwhile, employee safety has taken on perhaps unprecedented importance. Key roles have shifted to become home-based, with many companies in the sector speaking of completing years' worth of technology migrations in a matter of weeks. For those roles that cannot be conducted at home, stringent social distancing measures are now compulsory.
But the pandemic poses more complicated and penetrative problems than those witnessed by the supply chain and installation to date. Indeed, as some analysis has identified, the coronavirus looks certain to reverberate around the energy sector for years to come.
Seismic shocks
Analysis of the early impacts of the virus has been clear: the world is witnessing a once-in-a-generation shift in energy demand. Established economies, pushed into recession as industries have been shuttered, are experiencing the kind of collapse in power demand the International Energy Agency described as "seismic". A projected fall in power demand of 5% by the end of the year could see renewables provide more of the world's electricity need than ever before – as much as 40% in 2020 – but at a significantly cheaper price than was previously forecast. As pages 14-16 will attest, that slide in demand is moving the goalposts for merchant-based renewables in what could constitute a body blow for tens of gigawatts of prospective capacity additions in Europe alone.
What has become clear in the months since the pandemic's spread is that there will be no corner of the global economy left untouched by its impact. COVID-19 and the ensuing crises, whether they be logistical, economic or societal, will be felt for some time yet. It's therefore of little surprise that politicians and business leaders alike have placed great significance on the need for industries not to plot a return to the old ways, but identify a new normal.
As you'll read in the words that follow, the solar sector has proven itself particularly adept at this. Pandemic-proof manufacturing plans are now in place, while developers now have engineers back on site, albeit in safe, socially distant ways. There is also an increasingly popular school of thought that not only could the clean economy regain lost ground quickly but take a far more prominent role and become central to any recovery.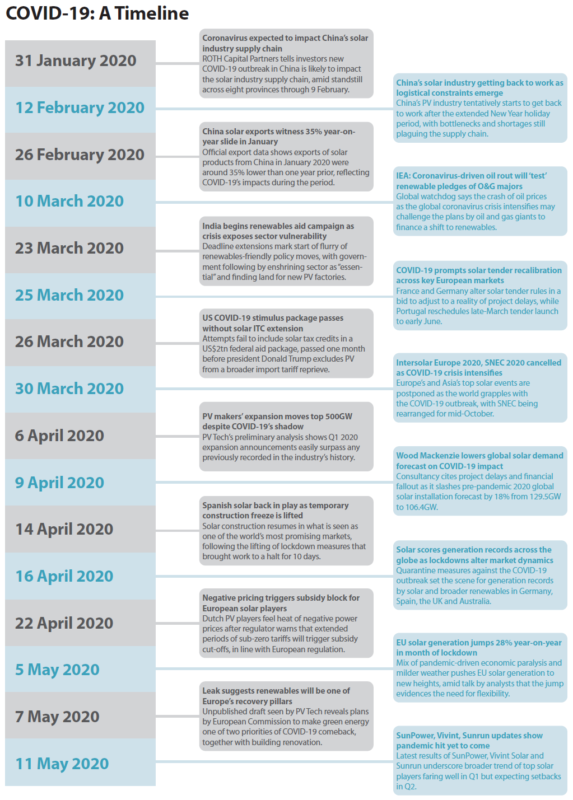 Coping with COVID
COVID-19's potential impact on the solar industry, right the way through from manufacturing to distribution to deployment, has meant the sector has had to learn to live with the virus, and do so quickly.
While the virus was first recorded in November, it wasn't until 23 January that the Chinese province of Hubei was placed under lockdown. This coincided with Chinese New Year celebrations which commenced on 25 January, with China taking the unprecedented step of extending the spring festival until early February in a bid to counter the virus' spread. That decision had a predictable knock-on effect on manufacturing, and official export data released in late February showed that exports of solar products in January fell by around 35% year-on-year, indicating the impact on the upstream industry. Around 4.45GW of solar products were exported in January 2020 compared to just over 6GW in January 2019.
Provinces affected by the virus at the time are home to various manufacturing hubs belonging to the likes of LONGi Group, Trina Solar, Q CELLS and JA Solar, providing a succinct indication as to the possible impact of the virus on solar across the globe. Investment bankers Roth Capital warned in late January of those impacts, stating that while most manufacturing facilities had been operational throughout the holiday period, they likely had "not been running at 100%".
This would be present not just in module assembly or manufacturing, but throughout the much wider materials and component sector. Roth also noted at the time of an emerging shortage of solar wafers and module-grade glass, driving component pricing upwards in the near term.
Actual reports of infection within factories were, however, minimal. In late March GCL System Integration confirmed that an outbreak at its facility in Jiangsu, China, meant a temporary partial shutdown was necessary. While the company did not provide specific details of the outbreak, nor the partial shutdown, it did state that "anti-epidemic measures" were put into place and production resumed thereafter.
Impacts earlier in the year have already started to tell. Of those manufacturers to disclose financial results by late April, almost all have confirmed the presence of COVID-19-related headwinds. JA Solar, which has four manufacturing operations in Hubei, reported that its production and logistics cycles had been "extended" as a result. Backsheet and high-efficiency module manufacturer Jolywood too reported a small loss in Q1 2020, down from a small profit recorded in Q1 2019, which it attributed to a number of issues created by the pandemic, including the delayed restart of production as a result of employees facing difficulties in returning to work on top of logistics and transportation restrictions.
"In this environment one of the biggest things has been remaining agile, remaining flexible to be able to adapt to the conditions that emerge"
Stymied logistics and transportation within China were felt further afield. Microinverter manufacturer Enphase Energy warned in February that while its contract manufacturing facility in China was steadily ramping back up to full capacity, it had seen "some indications" that outbound logistics from China had been constrained by the outbreak. This led to the firm exploring alternative freight options – air instead of sea freight – an option taken previously. Then, in early May, Enphase confirmed that while its manufacturing facility in Mexico had been deemed "essential" and thus could continue operating at full capacity, a slide in demand caused by collapsing installation figures and shelter-in-place rules in its key markets meant that the company would need to work alongside its supply chain partners to "optimise" its inventory in the future. Mass-producing components only for them to sit in warehouses is evidently not considered a wise use of resource at this moment in time.
SolarEdge meanwhile is extending that vigilance further, stressing at its last results disclosure that it was now keeping tabs on its customers' financial health to ensure that it would be paid for each order. CFO Ronen Faier told analysts in May that the firm was cautious of providing credit to customers that it was "a little bit afraid that we will we not be able to collect".
The lessons to learn here, according to Clean Energy Associates chief executive Andy Klump, are that when it comes to supply chains, reducing risk through diversification is critical. Relying on just the one supplier for a key component bears significant risk, with CEA actively encouraging people to consider working with not just two, but three suppliers across diverse projects to protect against any short-term collapse or delay.
John Zahurancik, COO at energy storage developer Fluence, concurs, adding that the company has experienced delays in shipping of parts that have accumulated. This has been "in the order of days and weeks rather than longer", Zahurancik says, and any changes are worked through to reduce the emergence of any critical gaps in supply. "In this environment one of the biggest things has been remaining agile, remaining flexible to be able to adapt to the conditions that emerge," Zahurancik says, lessons that have been taken by many within solar and storage development.
On-site safety
As the virus spread throughout the world, it quickly hit economies where not upstream manufacturing, but downstream development was at risk. A rapid escalation of infections and lockdown measures in response raised the prospect of widespread delays, and Wood Mackenzie lowered its global solar demand forecast for 2020 from 129.5GW to 106.4GW as a result.
Continuing development has been stymied by not just delays in the distribution and delivery of components, but also national lockdown measures and the classification of the solar workforce as essential personnel. This has differed by nation, with most European countries deeming O&M engineers as key workers – and thus allowed to continue being on site – with differing attitudes to ongoing construction. Spain enforced a 10-day shutdown in April before reopening construction works, which was quickly followed by the return to action of most developers. Delays such as these have proven costly, with French developer Neoen noting that the suspension of pre-operational testing at its 375MWp El Llano solar farm in Mexico was costing the firm as much as US$2 million per month in lost generation.
Most solar companies and utilities have been active throughout the pandemic. Iberdrola switched 95% of its staff to remote working as a protective measure, a feat enabled by a sweeping digitalisation of internal processes, the utility said. Worley, which is providing engineering, technology and technical review services for the under-construction Noor solar farm in Dubai, said it adapted its offering by conducting those remotely, holding regular project meetings via videoconferencing facilities after global travel restrictions limited staff movement. Meanwhile asset managers have been able to remotely monitor site performance largely unaffected by the pandemic, with staff able to do so from home. Project pipelines are continuing to gain traction, too. Solarcentury said that while permitting of new sites had slowed since the onset of the virus, it was still continuing, with most planning authorities now having completed their own migration to remote working. Public consultations are even managing to be held, albeit online.
It is the actual nuts and bolts construction of solar farms that has changed the most, however. Oil and gas major Repsol confirmed in April that it was amongst those developers back on site in Spain with a revamped development strategy. Construction teams had been capped at a maximum of four people, with each instructing to observe a safe distance of two metres. In addition, entry to construction sites is conducted in a phased manner to reduce any congestion, while protective clothing and even vehicles are disinfected before they can be shared.
Solarcentury has followed similar practices, allowing construction tasks in open spaces to continue while delaying those that require multiple people working in close proximity. Communal areas such as canteens and break rooms have been closed and, in the interest of preventing the virus' spread, recruitment procedures adapted to minimise new personnel appearing on site.
Of Fluence's development pipeline, Zahurancik says only two or three have experienced delays. The firm acted early to institute social distancing and health screening for those accessing construction sites. Anyone who exhibits symptoms is isolated. No protective equipment is shared and site safety meetings have become more regular. These additions haven't cost a considerable amount, but Zahurancik does suggest there is some cost associated with a loss of productivity. In essence, it's a ramp-up of safety practices already in place. "They're just additions to the safety practices at each site and I think we have to continue to be vigilant of those precautions. They do have some impact to the site in that you're adding some steps and procedures to follow, so there's some productivity impact but using those steps we've been able to move projects forwards," Zahurancik says.
Safe solar development under COVID-19
Adapted recruitment
Prevent the spread of the virus by recruiting locally as much as possible, favouring local experts over those usually asked to travel in.
Phased entrance and exits
Reduce traffic and congestion, especially around choke points, by offering strict windows for entering or leaving the site. This includes deliveries as well as construction engineers.
"Toolbox Talks"
Designated leaders can reiterate new site safety rules as teams arrive on site, stressing their importance and ensuring they are strictly followed at all times.
Construction squads
Limit the size of teams working together at all times, taking into account the manner of the job and the area they'll be occupying. If jobs require personnel to work in close proximity to one another, delay if at all possible
A tumbling power price
The virus has had such a wide-ranging effect on global economies that built solar assets, or at least those that own them, have been just as impacted by its spread. As lockdown measures have been enacted, economies have considerably slowed, with numerous industries all but shuttered. This has led to power demand tumbling, with established economies with strong manufacturing bases the hardest hit.
With demand low and supply steady, the wholesale power price in most European nations has fallen considerably. Countries such as Italy, Spain and the UK have witnessed power prices fall by anywhere from 20–40% since lockdown measures have been enforced. Spanish utility Iberdrola noted in May that its Q1 performance had been affected by a 37% fall in the power price in its home market, while The Renewables Investment Group (TRIG), which owns solar, wind and other renewables assets throughout Europe, said in April that its power price forecasts show a 25% reduction over the next two years. As a result, TRIG's net asset value (NAV) has fallen by around 5 pence per share. Likewise, other European asset holders such as Foresight Group and Bluefield Solar Income Fund have also seen the value of their assets drop, reporting drops of 5 pence and 6.7 pence per share respectively.
While most asset holders in Europe derive a large portion of their revenues from subsidies – TRIG revealed that just 25% of its revenue base comes from the actual sale of power – and are somewhat insulated from falling demand, that NAVs are falling consistently is a concern for investors. Matters are further complicated with a piece of European Union legislation that means in some markets, when wholesale power prices fall into the negative for six hours or longer, subsidy payments for power generated during that time are withheld. In addition, the UK system operator National Grid, triggered by significant low forecasts for power demand, was granted special powers by the country's regulator Ofgem allowing it to instruct distribution network operators to switch off embedded generation, including solar PV of all scales, without compensation.
Asset owners could also face such contractions for some time yet. Oxford, UK-based consultancy Aurora Energy Research has warned that some of its modelling shows that while a mild recession caused by COVID-19 could see power prices recover by 2022, a deeper recession would see the compression on power prices last until 2025 at least.
"…the energy industry that emerges from this crisis will be significantly different from the one that came before"
The International Energy Agency's 2020 Global Energy Review report compounds Aurora's analysis too. Power demand has already fallen by 5%, according to the IEA, constituting the largest fall in demand for electricity since the Great Depression of the 1930s. Describing the pandemic as representing an "historic shock to the entire energy world", Fatih Birol, executive director at the IEA, said: "Amid today's unparalleled health and economic crises, the plunge in demand for nearly all major fuels is staggering, especially for coal, oil and gas. Only renewables are holding up during the previously unheard-of slump in electricity use
"It is still too early to determine the longer-term impacts, but the energy industry that emerges from this crisis will be significantly different from the one that came before."
Indeed, the IEA's report suggests that renewables – benefitting from priority dispatch and lower operational costs – could deliver as much as 40% of the world's power demand this year, cementing the lead over coal it secured in 2019. But that lead will come at a cost, with the aforementioned collapse in power prices ripping the business models for new projects, especially those coming forward without subsidy support, from beneath their feet,. Felix Chow-Kambitsch, head of commissioned projects for Western Europe at Aurora, stresses that merchant-exposed renewables schemes will be "significantly affected" by the price contraction. Revenues of such projects could fall by as much as 50%, depending on the severity and duration of the pandemic and its impacts, implicating as much as 34GW of renewables developments within the seven countries profiled in its research.
In the face of an unprecedented situation, solar has been able to pivot adeptly and resume activity wherever possible in the short term. This, evidently, has only been possible through manufacturers', distributors' and developers' abilities to react to a constantly changing situation with all the necessary flexibility and agility. Against the context of a significantly different global energy market, it's this flexibility that looks set to become pivotal in the mid- to long-term, when, as you'll read on, solar and storage could become a central pillar to economies the world over.
The green new tomorrow
"It sounds really bad but I was a solar analyst the last time we had a global recession [in the late 2000s] and I kind of didn't notice," comes the answer of Jenny Chase of BloombergNEF (BNEF), quizzed over solar's prospects in a world fast careening into economic depression.
To be clear, the solar analyst does believe COVID-19's solar impacts may be significant. There is the drop in global growth forecasts for 2021, with BNEF itself now expecting 123GW where it had predicted 121-152GW before. There are hard-hit segments like US residential solar, facing job losses and bankruptcy risks as cash-strapped households postpone spending decisions. "We recently cut our forecast for US solar this year from 14GW to 11GW and residential is the main reason," says Chase, noting that BNEF currently thinks the sector will not meaningfully bounce back until 2022.
However, shift the lens to the utility-scale end and the analyst sounds decidedly more upbeat. "I don't think this is going to be a specific problem for solar," Chase says. "There is not really a supply issue, work hasn't completely stopped, the US is not as dependent on long-range migrant labour and I don't think funding will dry up." She concedes that across-the-board logistics disruption will delay timetables to some extent but adds: "I know developers will complain because that's what developers do but I admit I don't see anything that should stop projects from being built."
Attention is also turning to how China, the first to be hit by COVID-19 and among the first to see a way out, will fare on the downstream solar front this year. When the country acted in February to postpone its solar mega-auctions, BNEF trimmed its 2020 Chinese PV forecasts "substantially" right away. "It's not that these projects won't happen, they're just being pushed back because China responded," the analyst points out. "There is also whether China will do something else this year [to fuel growth], particularly if their manufacturers are hurting. But so far we haven't seen any sign."
India – already told pre-pandemic it was set to miss its 175GW-by-2022 renewable target – is "more of an unknown quantity", Chase says. The solar analyst explains that the COVID-19 outbreak has not yet convinced BNEF to change its forecasts of 11.6GW of solar new-builds in India in 2020, almost exactly flat on last year. She notes, however: "I think don't think many auctions have been explicitly delayed but we certainly expect this to happen. The other thing is that whereas with China the pandemic seems under control, everyone's got the suspicions that this is not India's case at all."
According to Chase, BNEF's position as of early May is that Southeast Asia and Australia should not see solar growth majorly dented by COVID-19. "Again, we haven't actually changed the forecasts for those places," she says. "We've actually increased Vietnam because of their new feed-in tariffs (FiTs) and [South] Korea could increase too as they've come up with residential incentives specifically because of COVID-19." Elsewhere, Brazil has been the only other country to see its BNEF growth forecast boosted, thanks to its generous net metering scheme. Asked about other analysts' warnings of Latin American renewables' vulnerability to the present currency chaos, Chase sounds sceptical.
"I think it's always been a risk," she says. "Currency fluctuations have long been an issue in places like Mexico and Brazil, they're always derailing deals and making banks more risk-averse – I don't see this as a specific COVID-19 factor as everyone's been hit." Quizzed over the talk of impacts for PV players having to fund purchases with a soaring dollar, Chase adds: "We expect modules will be even cheaper than we thought given lower demand and these are the main things people buy with foreign currency anyways. Honestly, I think people can sometimes overstate currency risks."
Solar players time-travelling from the earlier global recession of the late 2000s would find the industry changed beyond recognition. The transformation has been quantitative – worldwide installed PV capacity has boomed from 40GW in 2010 to 580GW in 2019, IRENA believes – but also qualitative in nature.
As even the optimistic Jenny Chase acknowledges, the looming crash finds the sector far more intertwined with the wider economy than it was a decade back. The link to the free market – a connection via consumer sentiment and power prices – has proved costly as the pandemic squeezed the global economy. Firms relying on household spending have been pushed towards mass layoffs while merchant ventures have seen revenues sapped by the power price plunge. Some in the latter group might, Chase believes, find sense in mothballing projects for a "couple of years".
For Europe's merchant solar star, the pullback has been clear. Spain, reports José Donoso of PV association UNEF, is currently seeing a retrenchment of banks, with low power prices stifling the appetite to grant loans and highly leveraged funding packages. How investment funds will factor the tumbling prices into their analysis remains to be seen but for now, the impacts on Spain's hitherto buoyant solar PPA scene have been noticeable, says the general director. "No off-taker" will currently accept the longer PPA timeframes and the €38-42/MWh prices Spain had seen until now, he adds.
On the other end, the solar financier view seems upbeat, however. Director Roger Font of Banco Sabadell does echo the predictions of a slow power price recovery – the bank expects "there won't be a return" to €50/MWh this year or next, he says – and accepts that a lower price curve will see less debt provided to solar projects. However, he brushes aside talk of merchant solar activity coming to a standstill. "I can't say we are seeing the [funding] taps being closed," Font says, adding that Sabadell has closed three renewable deals so far despite COVID-19, and expects more before the summer (turn to p.** for a full interview with Font).
However disruptive they end up proving, low prices might be a reality solar has to live with well after COVID-19 fades; according to UK-based Aurora Energy Research, full recovery in Europe may not arrive until 2025. An earlier comeback is both the prediction of BNEF's Chase – economic growth may arrive in 2022, she believes – and UNEF's Donoso, who expects prices to start bouncing back in the short- to medium-term. Until then, Donoso agrees that shaving O&M costs through technology and hedging risks through energy trading venues are both strategies firms can follow, but adds: "It does help but ultimately it's all about cash flow and that comes from power prices."
While it waits for the waters to calm, European solar finds itself in need of a growth driver that does not rely on a crashing economy. Already seen pre-pandemic as a key enabler of steep renewable targets, auctions are currently talked about as a critical stepstone for the sector to revive. In France – where installed PV must boom from today's 9.5GW to 35.1-44GW by 2028 – operators tell PV Tech Power of their success persuading the state not to fully delay tenders. Spain, where auction-free growth seemed a less-distant possibility pre-COVID, will need them now in the short-term, Donoso says. "If well designed, it is the only way there is right now to bring stability and steady growth."
COVID-19 no match for China's upstream dominance
Across the upstream-downstream divide, the Asian solar manufacturers that bore the initial brunt of the COVID-19 disruption will be largely fine in the long run, says PVEL CEO Jenya Meydbray.
Interviewed by PV Tech Power, Meydbray bases his assertion on three core dynamics, starting with demand. "I think solar demand will generally continue and that is what ultimately matters the most to keep things afloat," the CEO says. Like Chase, Meydbray believes utility-scale will be less impacted, pointing at the fact that US players are still building through the national quarantine. He acknowledges segments such as residential will see a near-term drop but believes certain dynamics – a rise in corporate responsibility, the oil sector crash – will see demand rise in the longer run.
Second in Meydbray's list is technology leadership. On this front, he expects solar makers to focus on innovation rather than the "same old 72-cell PERC lines". From Trina's 500Wp addition to LONGi's seamless soldering or milestones around busbars, product releases have followed one another and the pace is not likely to relent if demand holds, PVEL's CEO says, adding: "These announcements are all trying to one up each other and it's effective – talking to developers, they're all really interested." He can see n-type production rising in the post-COVID era. "Large-scale planning for n-type production is probably starting now, and investment and build-out will come next."
According to Meydbray, access to capital is the third – and "harder to gauge" – axis of solar makers' post-COVID future. On the one hand, governments will likely be out of money but on the other, low interest rates mean commercial debt will remain an option for financially solvent manufacturers. "With crises you tend to see a flight to quality. Weaker players may be hit disproportionately with access to capital," he says. "Those who've been less responsible with capacity moves will likely have strained balances, higher debt load. If they hit the pause button for long, they die."
COVID-19 and solar started off as a supply chain story and many wonder now what the long-term impacts will be for module prices. According to Meydbray, the US is distorted by tax policies and may see prices crash until PV players manage to use up the major inventories they built to qualify for safe-harboured investment tax credits. Quizzed over Europe, PVEL's CEO points at the campaign for a green COVID-19 recovery, a cause backed by heavyweights including German chancellor Angela Merkel. "It's an inflection point for solar but there's a time component too," he says. "We'll probably see a short-term price drop and come the second half of 2021, a resurgence of demand and prices."
Some like the Asian Development Bank have said COVID-19 is a chance to rethink the global reliance on Chinese manufacturers, but Meydbray remains sceptical. Pandemic-recovering countries will likely lack the cash to sponsor a new industry and even if they did, unseating China after its "painful and expensive" years building the full solar supply chain would take more than that, he says. Run by Chinese firms themselves, Southeast Asia's solar segment will continue the earlier growth trajectory, PVEL's CEO believes. "Look at LONGi's takeover of Vena Energy, the contract manufacturer for pretty much all other Chinese firms," he says. "Come 2021, they're all going to find an alternative. Vena was 7GW of a 30GW market – that gap needs to appear out of nowhere real fast."
Solar's chance as world dares to dream green new future
The latest headlines around a world that awaits the other side of COVID-19 make for sobering reading. The worst economic recession since last century's Great Depression. Some US$9 trillion of cumulative GDP losses worldwide. Nearly 195 million of jobs wiped out across the planet. While only drops in a sea of incalculable human and economic losses, solar's recent actions in the face of the emergency have offered some relief. At hospitals, greenhouses and isolated communities, PV panels have helped keep the lights on at a time of need.
Listen to global experts, though, and it soon becomes clear the industry could do much more if given the chance. Green energy body IRENA could be expected to say what it did in late April – the agency claimed investing in renewables could unlock a US$98 trillion global GDP boost by 2050 – but IEA's verdict was perhaps more surprising. The agency, attacked in the past for "underestimating" renewable growth, recently said renewables will be the only segment to grow following the "historic shock" the power sector is facing. The new decision of Total and other oil and gas majors – hardly solar enthusiasts until recently – to double down on green spending, even as COVID-19 decimates revenues, emphasises that faith in renewables' future role is becoming ubiquitous.
The mix of shuttered economies and sunny weather of April 2020 showed much of the world what a solar-powered reality looks like: abundant, cheap electricity fuelled by cleaner skies. And yet the so-called "postcard from the future" has a less-rosy side, documented by various analyses. The cannibalisation happening today because of lower demand – prompting a subsidy cut-off for Dutch PV players – may repeat in later years due to higher renewable supply. From the UK's ESO asking for powers to switch off embedded systems to Australian regulators warning they will have to disconnect solar if the grid is not updated, the COVID-era power market is already offering a cautionary tale around the risks from failing to adapt to high green energy uptake.
UNEF's Donoso believes the time has come for regulators to address the "elephant in the room". "Our power market was designed last century and continues to revolve around variable costs when renewables lack these," he says. "What will happen when we become fully renewable? I think COVID-19 has offered a little experiment of the years to come." Asked if reform on this front is likely in Europe, Donoso concedes EU authorities are now aware of the problem but are struggling to find a solution that benefits everyone. "It's complex but someone has to put this on the table – this model doesn't assign prices efficiently, it is incompatible with the energy transition," he says.
Whether or not along the specific lines of the market reform Donoso proposes, Europe's appetite for a renewables-powered COVID-19 comeback is clear. Documents leaked in early May, seen by PV Tech Power, show the European Commission is listening to the rising chorus: together with building renovation, green energy is reportedly one of the two recovery pillars the EU executive plans to focus on. As BNEF's Chase notes, whether the US and Australia will too embrace a green comeback is equally important. The latest actions of US president Donald Trump – insistence on solar tariffs, a clampdown on power equipment imports – suggest the road ahead will be bumpy.
Highlights such as Portugal aside, can IRENA's and IEA's talk of a green COVID-19 response materialise in a world where inwards-looking protectionism is spreading? PV Tech Power's questions on this front to either agency were met with silence. However, some of the signs do suggest that the post-COVID green new tomorrow the world is heading towards is a place where solar can prosper; the very premise is apparent in the closing remarks of various interviewees.
BNEF's Chase stresses she does not want to use the words 'silver lining' for a crisis that has claimed hundreds of thousands of lives so far, but adds: "My suspicion is that it won't affect deployment that much. It's true that residential solar firms may go bankrupt without help and I think the government should help workers because I generally think they should, but I don't think it matters to the overall buildout of clean energy."
For his part, UNEF's Donoso links his long-term optimism to his background. "Back when I worked as an economist, we used to look at two key questions: whether there's an objective need for a firm's products and whether the firm has competitive advantage," he says. "Going forward, there will be an objective need of clean, cheap electricity – and those are things solar can provide."