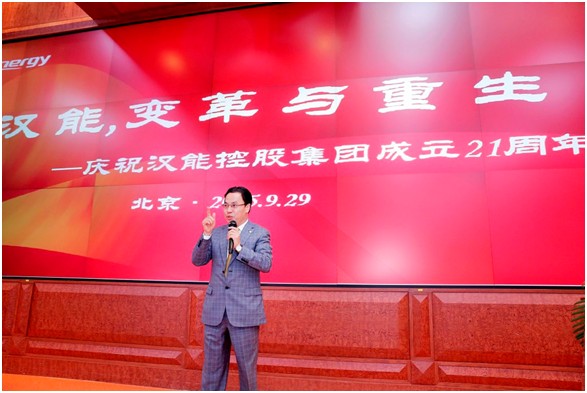 By any 'normal' metrics, PV thin-film equipment and module producer Hanergy Thin Film Power Group (Hanergy TF) remains in a dire financial position after reporting a non-cash loss of around US$1.58 billion in 2015 and its biggest customer and parent company, Hanergy Holdings and its affiliates failed to make due payments of around US$680 million.
No surprise then that its independent accounts firm raised a 'going concern' warning when signing-off Hanergy TF's 2015 financial report.
On paper, Hanergy TF claimed revenue of around US$362.9 million in 2015, more than a 70% decline from 2014. Revenue from Hanergy Holdings was a mere US$8.5 million, down 96% from 2014.
Yet the claimed revenue also includes US$248.8 million in relation to the sale of a-Si thin-film production plant for BIPV applications from Shandong Macrolink New Resources Technology Limited. Hanergy TF said it had provided 300MW of production line equipment (contract 600MW) to the customer in 2015 but had only received around US$20 million that was attributed as an initial down payment. Hanergy TF said that Shandong Macrolink had not made any further payments to the company since.
Extracting the Shandong Macrolink revenue claim, Hanergy TF sales in 2015 were less than US$100 million. Some of that revenue can be detected in its annual report, such as revenue recognised by external customers such as IKEA.
Revenue generated from CIGS thin-film module sales through IKEA in Europe, before the partnership was cancelled in November, totalled around US$15 million.
Another source of revenue came from PV power plant projects built and sold in China and the US totalling around US$55 million.
The dependence on its parent company for the vast majority of both business and revenue has been intrinsically tied to Hanergy Holding's via its majority shareholder and chairmen, Li Hejun. With Hanergy TF shares remaining frozen on the Hong Kong Exchange since May 2015, the current financial report of Hanergy TF continues to tell more about the private parent company than the public subsidiary.