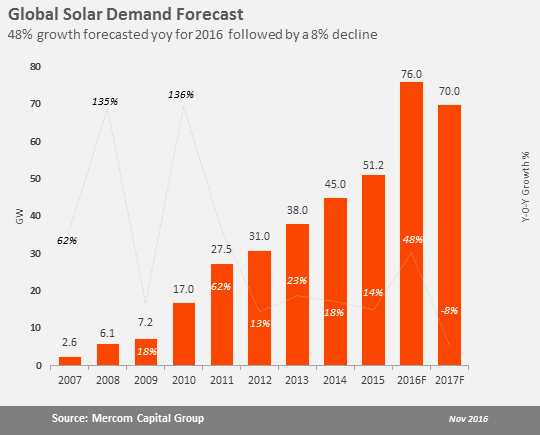 Global clean energy communications and consulting firm Mercom expects global solar installations to reach 76GW in 2016, according to a new report.
Raj Prabhu, CEO and co-founder of Mercom Capital Group, said: "Global solar demand will overshoot most forecasts made earlier this year due to an unprecedented level of activity in China. Record installations in China followed by a slowdown resulted in an oversupply situation, which led to a module price crash. Low module prices are helping demand recovery going into 2017."
Despite an expected slowdown, global solar demand outlook has improved for 2017, as drops in costly module prices have led to a rebound in China in anticipation of the next round of tariff cuts. Mercom notes in its report that solar installations are expected to hit 70GW.
After installing 15.1GW in 2015, China surpassed its 2016 installation goal of 18.1GW in the first half of 2016 with approximately 22GW installed as developers rushed to complete projects before the country's tariff deadline on June 30.
Due to unprecedented installation levels, China's National Energy Administration is predicting a 27% reduction in the country's solar installation target from 150 GW to 110 GW by 2020.
Mercom's expectations for the US solar market in 2016 is approximately 13GW. A large number of large-scale projects have been postponed to 2017 in the US due to the absence of an impending ITC deadline. In total, the US market is projected to grow about 78% year-over-year in 2016.
Utility-scale solar projects continue to spur the US solar market with an estimated pipeline of more than 30 GW. While the US Clean Power Plan could be struck down by the election of Donald Trump, the ITC extension will likely remain due to the bipartisan nature of how the plan was passed and the fact that the solar market employs over 200,000 individuals.
Japan and India will follow both China and the US' lead as the third and fourth largest markets this year. India has the opportunity to move up to the third in 2017 based on its current project pipeline. Japan is expected to install 10.5GW this year.
Europe continues to slump, as the UK, Germany and France are the only countries expected to install more than 1GW in 2016. In 2017, France and Germany are the only European markets expected to install more than a gigawatt of solar capacity. Australia is expected to install approximately 1GW in both 2016 and 2017.