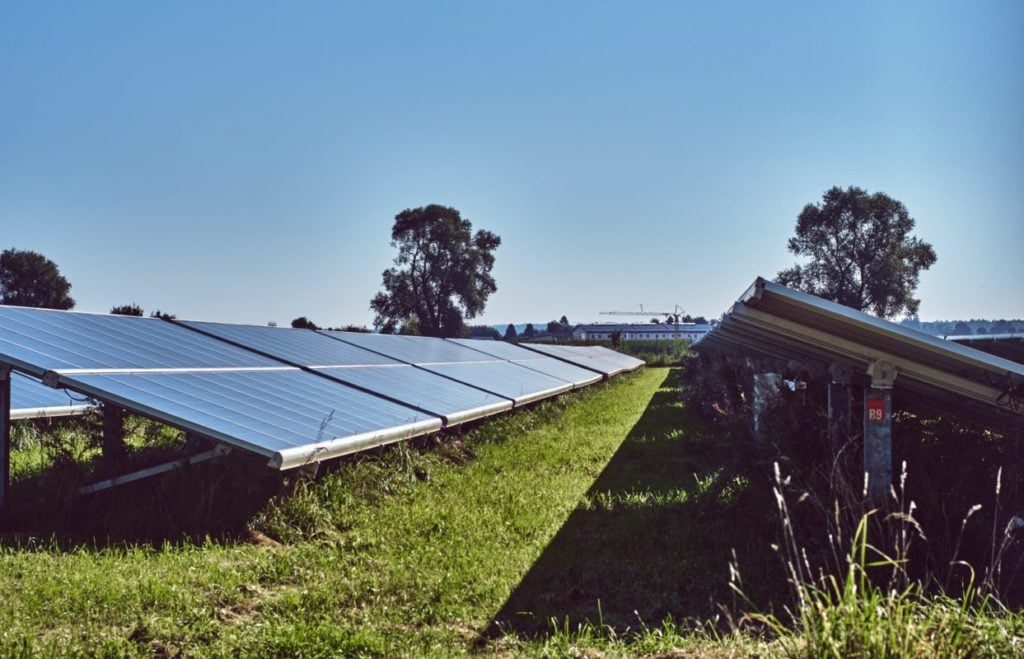 Multiple industries use technology to identify opportunities, spur growth and react quickly to any changes, and the renewables industry is no exception. Businesses in the renewable energy industry rely on different types of data and software solutions in their power transactions and project acquisitions. However, they have to consider strengthening their capabilities of using data and software in the near future in order to navigate the complex industry.
In its Renewables Industry Survey 2023, renewables advisory firm Pexapark examines what data and software solutions renewables companies are using and what they will use in the upcoming 12 months to support commercial decision making.
What types of data are renewables businesses using?
According to the report, data plays an important role in sales strategy, particularly pricing intelligence. Asked what data services they were using, 19% of the respondents said they had purchased off-the-shelf market reports focused on specific regions, legislative updates, and analysis of market liquidity, followed by futures prices (15%) and fundamental price forecast curves (13%).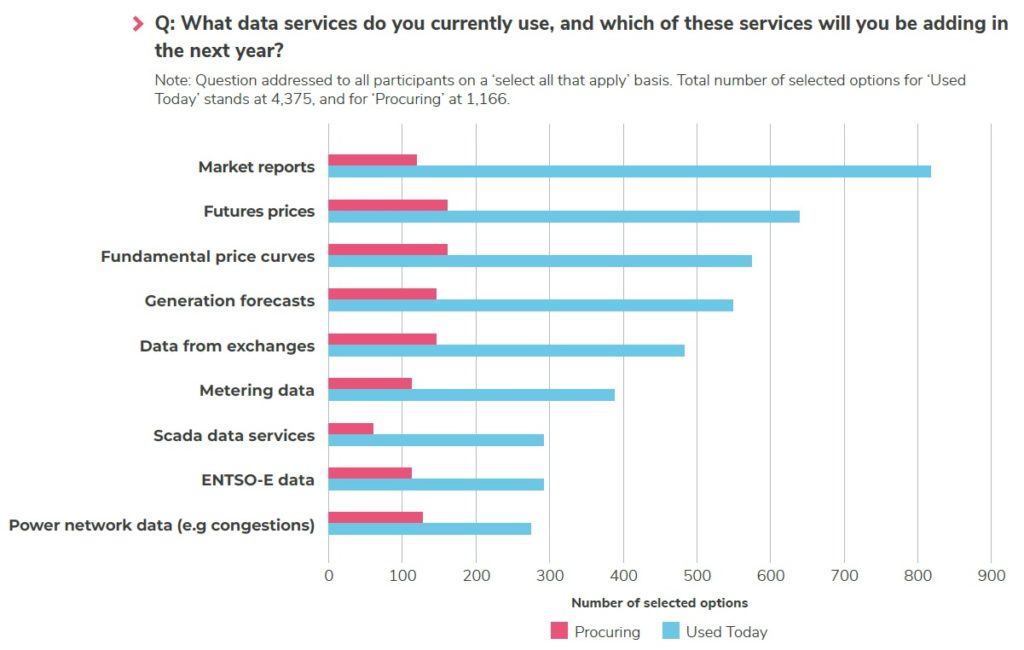 The report defines fundamental price curves as forecasts with a longer horizon, typically covering the entire lifecycle of a power plant.
However, renewables businesses will go for future pricing and fundamental price curves (14%) in the next 12 months. Pexapark said this result aligns with the fact that renewables companies deem price and market volatility the biggest risk onwards.
Therefore, managing price risk and using robust pricing models are essential.
Luca Pedretti, co-founder and COO of Pexapark, said data-driven analytics is a prerequisite for successfully deploying and managing new renewables capacity. Conversely, investment, operations and sales management will not be possible without access to abundant and structured data.
"Ideally, all key data sets, such as physical production data, pricing data, revenue data based on contractual arrangements and risk data, need to feed into a single centralised platform that would act as the foundation to devise commercial strategies," said Pedretti.
Challenges and benefits of using data
Although the importance of data can hardly be ignored by industry players, navigating a sea of data is no easy task. Pedretti highlighted that one of the challenges that industry players could face is data integration. In other words, accessible and well-managed data for analysis and decision-making can improve portfolio management.
"(But) investors active in the renewables space for years (or decades) are only now starting to streamline such processes. In one way or another, they build systems to have orderly access, while the next step is to enhance the skills to derive actionable insights," he added.
There are benefits of having a set of centralised data. For example, it's easier for renewables businesses to attract financing by showcasing such capabilities. This could increase investors' confidence as the market is getting more complex.
What software solutions do industry players use?
Aside from data, the report also delves into software solutions used by renewables businesses. Solutions most highly used include trading and portfolio management tools (12.8%), risk management tools (12.1%), and quantitative analytics tools (11.3%).
However, Pexapark added that the research team had not examined the level of sophistication when using the tools, adding that a portfolio management tool could only be a spreadsheet, for example.
In the next 12 months, 15.4% of the respondents will consider procuring power purchase agreement (PPA) tools, as renewables businesses learned that amid an energy pricing crisis and volatility, they have to move beyond publicly available indices, country pricing forecasts or anecdotal information.
Online PPA marketplaces and venues (13.4%) were the second most popular option. These tools bring together buyers and sellers and facilitate PPA dealmaking with simpler terms and the promise of a quicker turnover. With enhanced convenience, the deals could be as short as some months only.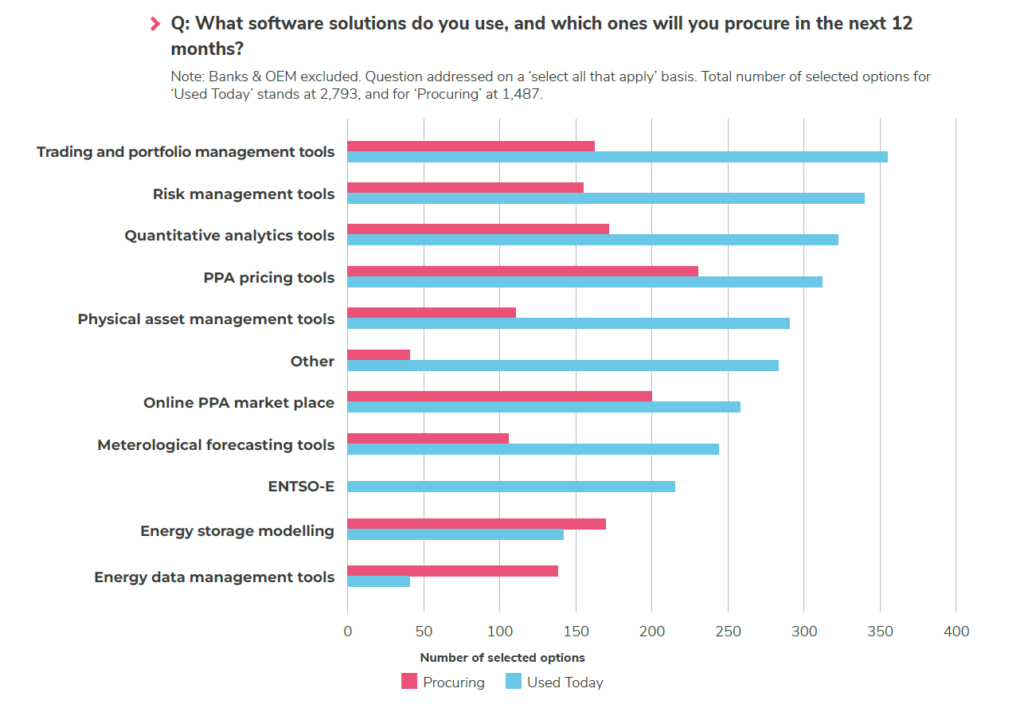 Therefore, there will be a more standardised PPA process with different aims. For example, some buyers could mirror short term procurement methods of corporates or address to the active sales management approach of sellers for the power that's left after signing big volumes through long-term PPAs.
Moreover, there is a significant increase in energy data management tools, as 9% of respondents said they would procure such tools in the upcoming 12 months, increasing only 1% nowadays.
As the importance of data and software solutions is gaining traction, renewables businesses need to strengthen their staff's data literacy and offer them adequate training.
Pedretti said he had seen a lot of renewables players investing in IT systems and talent to build an enterprise data infrastructure that served various business functions.
"Depending on the size and business model of the investor, some focus more on improving operations through better data and analytics, and others equally on both fronts."
He added that companies shifting to managing market risks on top of operational risks are creating new functions and roles, such as data scientists and quantitative and risk analysts, as part of their professionalisation efforts.
Quantitative and risk analysts typically devise their in-house spreadsheets to model pricing and risk, but businesses are now leveraging third-party tools to focus on the analytical side.
Lastly, Pedretti advised that businesses need to embrace changes.
"They need to introduce new processes and governance structures to harness the insights and, more importantly, to put them into action. Having the right data infrastructure is already a complex task, but following through and turning them into strategic actionable insights is even more challenging. "