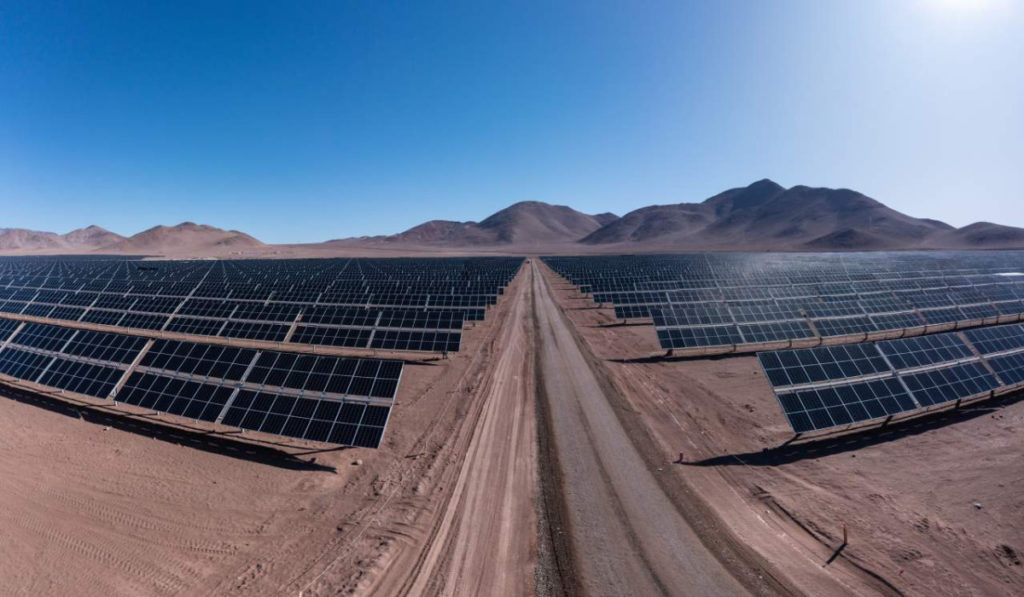 Solar and wind power increased their combined share of global electricity to 12% in 2022, but other clean energy resources dropped for the first time since 2011, according to energy thinktank Ember.
Ember's fourth annual Global Electricity Review revealed that solar generation grew by 24% in 2022, the fastest-growing electricity source for 18 years straight. The growth of solar capacity in 2022 alone would have been sufficient enough to meet the annual electricity demand of South Africa.
The global solar and wind generation in 2022 combined would have exceeded the total electricity demand of the European Union.
More than 60 countries now generate more than 10% of their electricity from solar and wind, up from last year's 50 countries. Solar and wind will have to maintain a high growth rate throughout the decade, for which urgent work will be needed towards the grid with faster planning permissions, grid connections, grid flexibility and market design.
Last year, solar and wind slowed down the growth of emissions from the power sector by 20%, if all the capacity added from both renewables came from fossil fuels instead.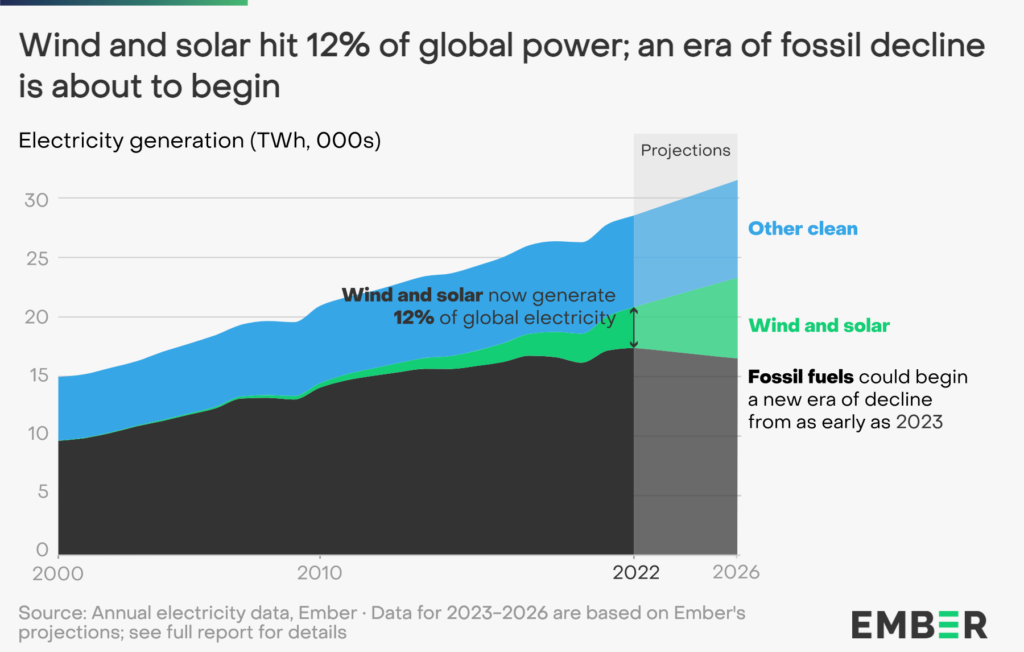 Both renewable technologies – solar and wind added 245TWh and 312TWh, respectively last year – met 80% of the global electricity demand growth in 2022, with more than 694TWh. This year (2023) could see the first year, outside of a recession, that clean power growth would exceed electricity demand growth, meaning 2022 could have hit "peak" emissions.
The accelerated shift to clean power in 2022 was driven by Russia's invasion of Ukraine with many governments improving their plans as fossil fuel prices rose and fossil fuel imports proved unstable. This in itself also drove faster electrification from the adoption of electric vehicles, heat pumps and electrolysers.
Solar and wind have both accelerated their growing share of the electricity mix across almost all regions in the past few years, while Latin America's surge of solar and wind slowed in 2022. Africa also slowed in the last few years and the Middle East is at a standstill. However, the lack of data transparency in the latter region rendered it difficult to estimate changes in 2022, according to Ember.
Overall, the EU generated 22% of its electricity from solar and wind last year, with seven countries generating a third or more of their electricity from these renewables, including Germany (32%), Spain (33%) and the Netherlands (32%). The emerging solar market of Poland passed the global average of 12% of the electricity mix from solar and wind in 2022, along with Hungary.
In North America, with 15% the US is above the global average, while Canada is well below with only 7% of solar and wind share from the total electricity generation.
Asia is the region with the best generators of solar and wind with three of the five biggest generators. With nearly a third of the world's solar and wind electricity generation, China produced 1241TWh in 2022, representing 14% of the country's total mix last year.
China's growth in installed solar capacity last year was primarily driven by its rooftop policy which accounted for a fifth (55GW of 268GW) of all solar capacity installed globally last year. The scheme – which will run for three years – nearly doubled the 29GW capacity added in 2021.
Even though China generated the most electricity from solar with 418TWh – representing 4.7% of its electricity mix – Chile has the highest percentage globally with 17% (14TWh), followed by the Netherlands with 15% (18TWh) and Australia with 13% (33TWh).
"In this decisive decade for the climate, it is the beginning of the end of the fossil age. We are entering the clean power era. The stage is set for wind and solar to achieve a meteoric rise to the top," said the lead author of the report and senior electricity analyst at Ember, Malgorzata Wiatros-Motyka.
"Change is coming fast. However, it all depends on the actions taken now by governments, businesses and citizens to put the world on a pathway to clean power by 2040," added Wiatros-Motyka.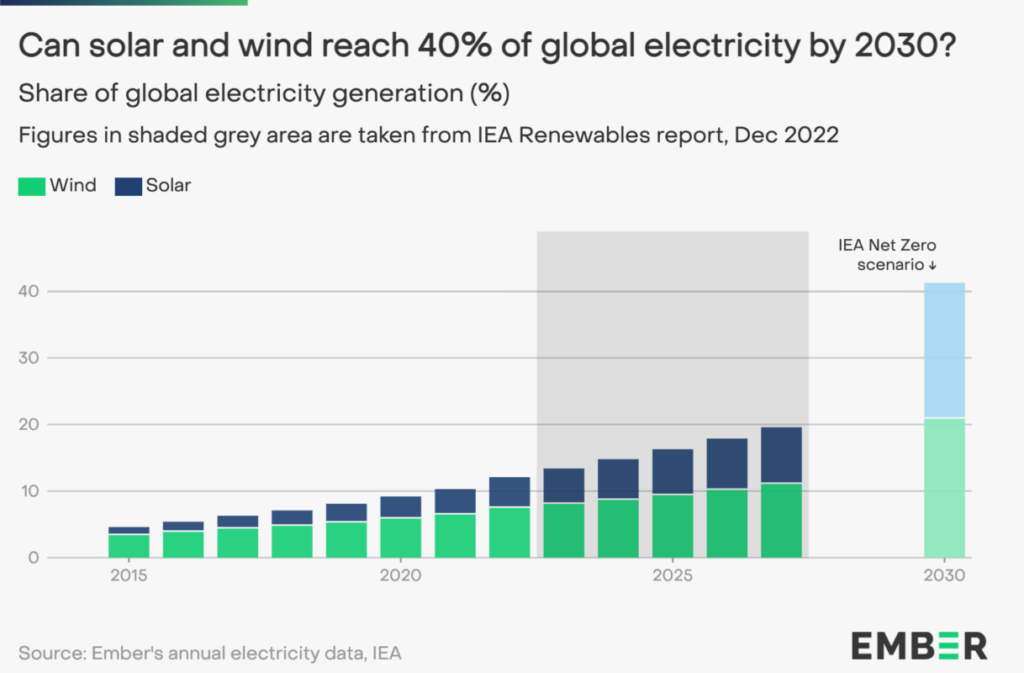 As the biggest CO2 emitter – with a third of the world's total energy related emissions in 2021 –, the global electricity sector will need to decarbonise first by 2040, in order to keep on track for 1.5 degree Celsius of warming under the Paris Agreement. Solar and wind will be the leading technologies towards this change, as both already offer lower costs than fossil fuels in many countries.
This will require that both solar and wind's share climb from 12% recorded last year to 41% in 2030, however, the International Electricity Agency's latest renewables report put it to 27% by 2027. Solar would require to maintain its growth rate in 2022 (24%) to ensure the viability of this feature.