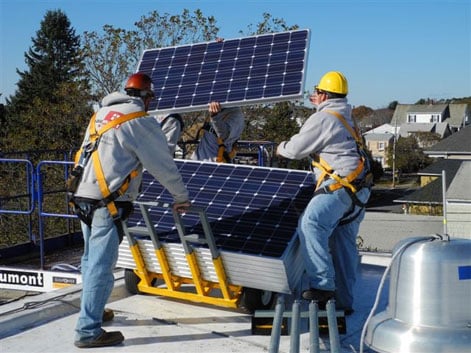 New York utility ConEdison has proposed a pilot programme to provide rooftop solar to low-income customers, subject to approval by the New York State Public Service Commission (PSC).
The plan aims to build commercial solar arrays on ConEdison company-owned building rooftops to provide clean, low-cost energy that could give access to a marginal sect that has little access to the state's emerging rooftop solar market.
The plan's viability comes from its proposal to charge no upfront cost, thereby allowing users to grab savings of up to 7% of their monthly bill, or US$60 annually.
The pilot programme is intended to run on an already established model known as community distributed generation (CDG), which the PSC initiated to open "opportunities for participation in solar and other forms of clean distributed generation to utility customers that would otherwise be unable to access that generation directly", according to a filing. However, ConEdison revealed that to date, CDG is still falling short of accommodating those in the low-income bracket.
To this end, the utility has proposed this shared solar pilot programme to allow participation in clean energy. It would work by providing access to solar energy, and making solar credits available to subscribers. Furthermore, ConEdison plans to conduct a competitive procurement process for third parties to construct up to 11MW of solar over five years on more than 40 of its facility rooftops at the estimated cost of US$33 million, that could serve between 3,000-6,000 customers.
Programme specifics
The value of the solar credit available to enrolled customers varies, but according to ConEdison's calculations, a customer who signs up for a standard 300kWh of solar energy per month could save around US$5 a month off an electric bill of about US$80. As a selling point, customers would never pay more in a given month within the shared solar programme than they would have without participating.
Con Edison's plan is to initially build 3MW of generation to serve 800 to 1,600 low-income metered customers. The company said it has already identified eight properties – four in Queens, two in Brooklyn and two in Westchester County – that could potentially house solar panels for programme use.
The programme would not only make solar available to customers who previously had no access due to housing restraints or lack of funding, it would also contribute to the state's renewable energy target. If the programme is approved by the PSC, ConEdison will submit a detailed implementation plan within 120 days of commission approval.