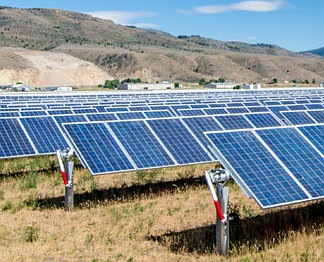 Solar tracker manufacturer NEXTracker has said it is expanding its manufacturing presence in Brazil to capitalise on the expected PV project boom in the Latin American country.
The company will start producing PV trackers in Brazil that are compliant with the country's local content rules.
The move has been made possible as a result of NEXTracker's recent acquisition by OEM giant Flextronics, which already has a manufacturing presence in Brazil.
The company will produce the trackers at Flextronics' manufacturing base in São Paulo State.
Local production means NEXTracker's equipment will comply with rules set out by the Brazilian Development Bank, which are seeking to establish a local PV manufacturing base by the end of this decade. Developers and EPC firms using NEXTracker products will be able to access local development bank credit.
"Brazil represents the next frontier in Latin American solar deployment, and opening a NEXTracker Brazil office with Flex positions us to serve this very important market," said NEXTracker CEO Dan Shugar.
PV wins new contracts in Brazil
News of NEXTracker's Brazil expansion follows the latest round of renewable energy auctions in Brazil last week, which saw PV win through with 1,115MWp of project contracts.
The average bidding price for the 33 successful PV bids in the auction was BRE297.75 (US$78.1) per MWh, down from the starting price of BRL$381.00. In Brazil's previous reserve auction, in August, the average price bid for PV was BRL301.79/MWh (US$83.19/MWh).
As before, US renewable energy firm SunEdison was one of the big winners in the auction, scooping contracts for around 138MWp of capacity across four separate projects.
Brazil's federal energy planning authority (EPE) recently doubled its forecast for installed capacity to 7GW by 2024, owing to the result of the country's initial solar auctions.