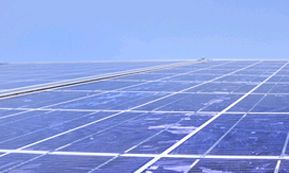 Germany-based PV systems integrator Phoenix Solar has reported a return to operating profit for the first time since 2010, with earnings before interest and taxes (EBIT) at €0.6 million (US$0.64 million), up from losses of €1.6 million last year.
The firm also posted a 16.6% increase in revenues in 2016 to €139.2 million, with the majority of this coming from sales in the US.
Gross margins also grew to 12.6%, up from 8.4% in 2015, which the company partly attributed to investments made in its global supply chain during 2016. Phoenix said it was able to achieve this despite "massive downward pressure" on system prices in all its markets.
The firm's solar system deployment also rose to 153.7MW last year, roughly a 50% increase from 98.7MW in 2015.
Phoenix expects the revenue growth to continue with €160 to €190 million for 2017, with another positive EBIT of €1.0 to €3.0 million.
Sales in the US market grew 11% to €108.7 million, but the firm claimed sales were held back by an eight-month construction delay on one of its large-scale projects. EBIT in the US was €4.6 million, more than double last year's.
Phoenix also grew in the Middle East, more than doubling revenue to €20.7 million from €8.4 million, having secured a strong market share in Turkey. The firm had also established a wholly-owned subsidiary in Ankara, Turkey. EBIT in the Middle East came to €0.6 million in the year.
The company generated a small loss of €0.2 million in the Asia Pacific region, while revenue grew slightly to €9.0 million.
Phoenix also made a small profit of €0.4 million in a weak European market, where the industry has been hindered by uncertainty around government policies. Despite tough conditions, Phoenix said it would maintain its presence in its European subsidiaries and has made "modest investments". The firm sees strong future opportunities in both France and Greece.
Tim Ryan, Group CEO at Phoenix Solar AG, sid: "Our revenues grew at a reasonable rate in 2016 and for the first time in several years we are able to report a positive EBIT result, with cost controls, supply chain efforts and absolute discipline on project margins being the main contributors."