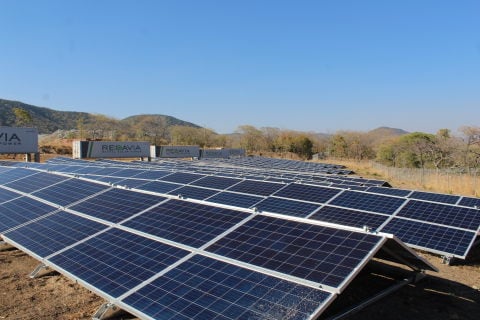 Redavia has commissioned an eight-container solar farm at Shanta Gold's New Luika mine in the Chunya district of Tanzania, which it claims to be the largest in the country.
The initial one-container project, which began operations in 2014, quickly paid dividends to Shanta Gold, with the site generating around 100,000kWh of electricity and saving 28,000 litres of fuel per year.
A need for Shanta Gold to expand its underground plans led to the gold producer contacting Redavia about leasing an additional seven containers at the site.
With eight now operational in total and boasting a capacity of 674kW, Shanta is now set to generate more than 1 million kWh per year and save 219,000 litres of fuel.
Toby Bradbury, CEO at Shanta Gold, said: "This is an exciting moment for us as we are now in a position to obtain our energy efficiency, cost and CO2 reduction targets thanks to Redavia. We could already see significant benefits since inception, but this solar expansion will make us a true role model within our industry."
Erwin Spolders, CEO at Redavia, added: "Shanta Gold was committed to not only make reasonable cost choices, but also become eco-friendlier in key facets of its operation. We are very proud that we became their trusted partner to help them achieve their financial and environmental goals."
A yet to be built 30MW solar PV project in Tanzania was one of the winners of Access Power's US$7 million Access Co-Development Facility (ACF) in June.