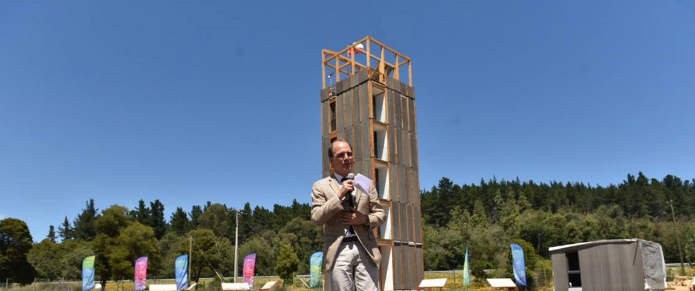 LONGi's bifacial modules added to Chilean timber tower
3 April: An experimental modular timber construction near Chile's capital of Santiago now features LONGi's bifacial solar technology.
Some 15 units of the firm's 60-cell mono-PERC bifacial modules have been installed at the Peñuelas Experimental Tower.
The modules, added by ICG and Fleischmann, are split between a 1.5kW north-facing cluster and a 3kW flat installation.
The Peñuelas tower, inaugurated by the Chilean government last November, has been billed as Latin America's tallest timber construction.
Sungrow's Vietnam shipments break 1GW mark
2 April: Shipments to Vietnam from inverter specialist Sungrow have gone past the 1GW threshold, the company has said.
At a recent event, the firm said it had reached an approximate 40% share of the Vietnamese market since it first set up shop in early 2018.
Growth to date has seen Sungrow's inverters fitted into the 100MW Dak Lak project, a two-plant scheme under construction since last October at a US$94.6 million.
"Ample sunlight" and support from the FiT programme make Vietnam one of Southeast Asia's "most anticipated solar hubs," Sungrow said.
SolarEdge in monitoring milestone
2 April: Another solar player marking a milestone this week was SolarEdge, whose PV monitoring systems have broken the 1 million mark.
The figure, accomplished within seven years of sales, is twice the PV monitoring numbers recorded only two years back, SolarEdge explained.
According to the firm, the million PV sites its portfolio has grown to span represent today 14TWh in produced energy and 6.5 billion tonnes worth of CO2 emission savings.
Hevel's 15MW PV duo enter operations in Altai
1 April: Two PV plants developed by the Hevel Group in the Altai Republic have started producing power, pushing the firm's PV count in the Siberian territory up to seven.
Phase three of Maymin SES (5MW) and Ininskaya SES (10MW) both came online in recent days, adding their names to Hevel's Kosh-Agach SES, Ust-Kansk SES, Ongudaysky SES and others.
The new duo brings Hevel's Altai PV portfolio up to the 55MW mark. According to the firm, the projects have required over 6 billion rubles (US$92 million) of investment to date.
Tender issued for 1.7MW solar-plus-storage in Indian archipelago
30 March: Rajasthan Electronics & Instruments Limited (REIL) has released tendering documents for the construction of a 1.7MW solar-plus-storage installation on the Andaman and Nicobar islands.
EPC firms will have until 4 May to table bids for a project that will deploy 1MW on Havelock Island and 700kW on Neil Island, both featuring a PV and a storage component. The islands both lie to the east of the Andaman and Nicobar cluster, a territory part of India.
According to REIL, the eventual winners will also be responsible for developing two transmission lines, set to link both projects to the 11kV nearest station.