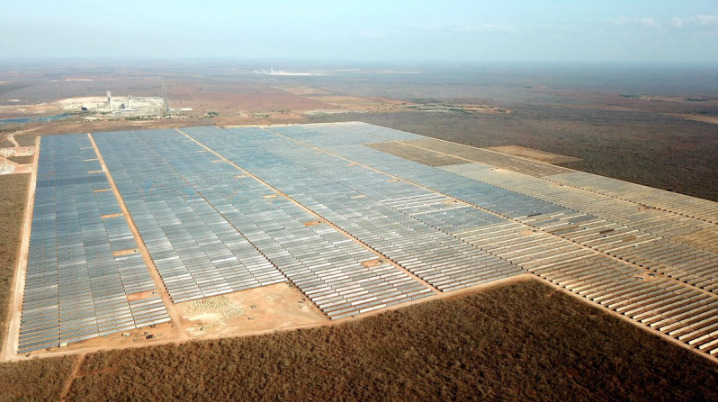 Scatec Solar and its partners Equinor and Apodi Par have grid-connected the 162MW Apodi Solar plant in Ceará, Brazil, Scatec's first PV project in the South American country.
The Apodi Solar project was awarded in the auction process held by ANEEL, the Brazilian Electricity Regulatory Agency, in November 2015. The project holds a 20-year power purchase agreement (PPA) with CCEE, the Brazilian Power Commercialization Chamber. The plant is expected to provide about 340,000 MWh of electricity per year, providing energy for more than 170,000 households.
In October 2017, Scatec Solar established a 50/50 Joint Venture (JV) with Equinor to build, own and operate large-scale solar plants in Brazil. The JV is responsible for operation and maintenance as well as asset management of the solar plant.
The Apodi Solar plant is owned 43.75% by Scatec Solar, 43.75% by Equinor and 12.5% by the holding company Apodi Participações formed by the Brazilian companies Z2 Power, Pacto Energia and Kroma Energia.
"We have successfully realized our first solar power plant in Brazil and yet again confirming our strong track record as an independent solar power producer. We see significant potential for further growth in Brazil and other parts of Latin America, and we will soon start construction of a new 117MW solar plant in Argentina in partnership with Equinor", said Raymond Carlsen, CEO of Scatec Solar.
"This is a strategic milestone for Equinor. Apodi was our first step into the solar industry. With the plant now in operations and through our excellent collaboration with Scatec Solar, we are complementing Equinor's portfolio with profitable solar energy. Apodi adds to our portfolio in Brazil, a core area for the company," said Pål Eitrheim, EVP of New Energy Solutions in Equinor.
Earlier this month Norwegian oil, gas and renewables multinational Equinor ASA acquired a 9.7% stake in Oslo-headquartered PV developer Scatec Solar ASA at a total purchase price of approximately NOK700 million (US$82.4 million).