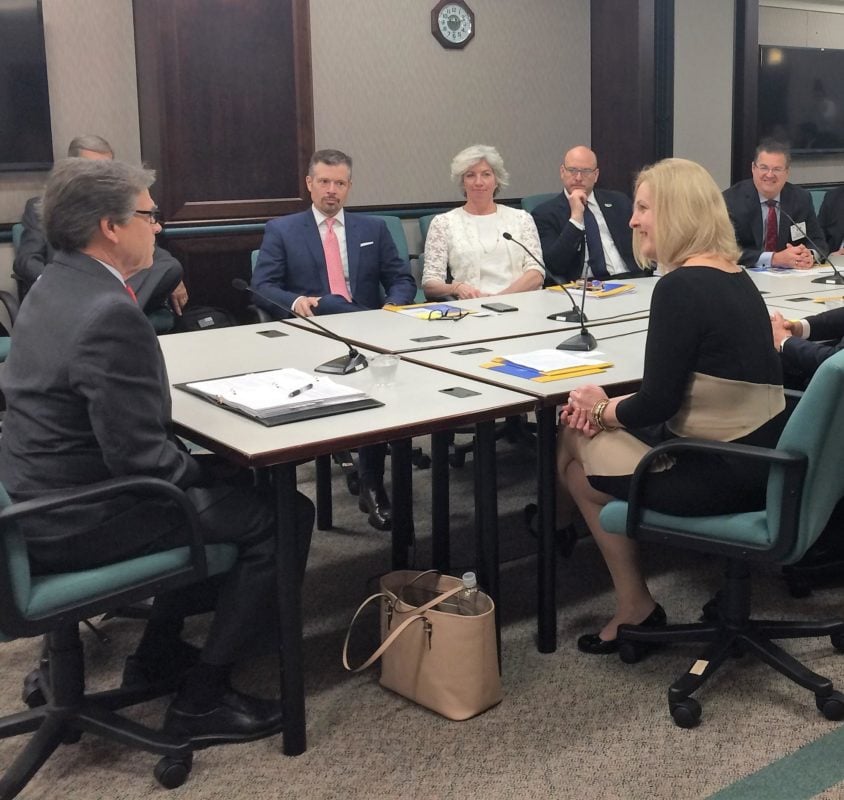 The SEIA has told PV Tech it is confident that Energy Secretary Rick Perry is not targeting the solar and wind power sectors.
But after Perry sent a memo to his chief of staff authorising a 60-day review of the grid to investigate how certain federal subsidies boost one form of energy at the expense of certain base load energies such as nuclear and coal, many industry observers believe him to be attacking renewable energy.
Without mentioning solar or wind specifically by name, Perry wrote that he had "concern about how certain policies are affecting, and potentially putting at risk, energy security and reliability" and "diminishing the diversity" of the electric generation mix.
The memo instigated an analysis of the government's current policies – many of which are pro renewable energy policies and subsidies put in place by the Obama administration – and their respective effect on the long-term reliability of the grid.
President Trump has been vowing to undo much of these policies since his campaign trail; most recently proposing to cut funding of the Department of Energy's (DOE) Office of Energy Efficiency and Renewable Energy by 25% for the remainder of the fiscal year. Therefore, the investigation, that requires the DOE to present an implementation plan within two months on how to address such policies that are threatening to "undercut the performance of the grid well into the future" in Perry's words, might not be a surprise.
Business as usual
However, the Solar Energy Industries Association (SEIA) recently met with Secretary Perry to introduce the association and its mandates, and asserts that he is not targeting wind and solar power, but it is merely business as usual.
"Everyone wants to come in and take a fresh look at what's going on in their sector and their department," Christopher Mansour, vice president of federal affairs at SEIA told PV Tech. "This is obviously a big issue in terms of making sure that the electric grid is working properly – it's just something under his jurisdiction as Secretary of Energy.
"We look at this study for an opportunity for us to present a very positive case about why solar has provided some really important benefits to the grid and that going forward, solar is going to be a really strong and 'good citizen of the grid' so to speak. We are still less than 2% overall generating capacity in the US, and obviously a higher percentage in some states than in others, so there are obviously issues that have to be addressed with renewables and forms of energy that are on the grid," he added.
Further, the SEIA feels that his former position as governor of Texas, where he led the expansion of renewables across the state, should shape policies he puts out in respect to clean energy.
"He has been a chief executive, and he made decisions that really helped the renewable energy industry in Texas," explained Mansour. "Everybody kind of looks at their current position in terms of their past experiences and I think that is going to help shape his attitude towards the renewable energy industry.
"Solar had not been as big when he was governor, so we wanted to bring him up to speed on where solar was in Texas, and also where it was in the US in general. So it was a great opportunity."
The case for DOE renewable energy programmes
Mansour also detailed how whilst introductory in nature, SEIA members of the board of directors took the opportunity to put forward the case for DOE programmes and specific federal policies; the latter of which have been flirting with disaster ever since Trump energy advisers released a memo targeting them in favour of the US coal industry.
"We tried to give him a sense of the size and scope of solar industry in general, but we also raised some specific federal policies and programmes that are important to our industry; chief among those is the ITC, and as well as some of the DOE programmes and funding for those programmes and particularly the National Renewable Energy Lab (NREL) and also the SunShot programme.
"Part of what we did is we introduced those programmes and then members of our board were able to give concrete examples of how they have been able to commercialise ideas and products that have been developed by NREL, for example. One of the projects SunShot works on is to work with state local governments to help cut the red tape around permitting solar projects particularly for homeowners or businesses. One of our members made the point that in California that with the help of SunShot, the state has reduced the permitting time in from being weeks and months to getting a permit simply over the counter at the local clerk's office. So there were specific examples like that that were very important."
The case for Rick 'oops' Perry
Overall, the nation's largest solar advocacy association seemed impressed with Perry and his approach to the renewable energy landscape. While Perry did not go into any specifics of future plans, he was nevertheless "generous with this time" and "very well informed about renewable energy in general solar in particular" – coming a long way from loftier times when he forgot the name of the Department of Energy.
"Our board members were very, very pleased with the tone, tenure and substance of the meeting," added Mansour.
Mansour also mentioned that Perry was very interested in energy storage, asking for a show of hands as to who was involved in that industry, calling it a "game changer".
The grid review memo by Rick Perry can be viewed in full here.