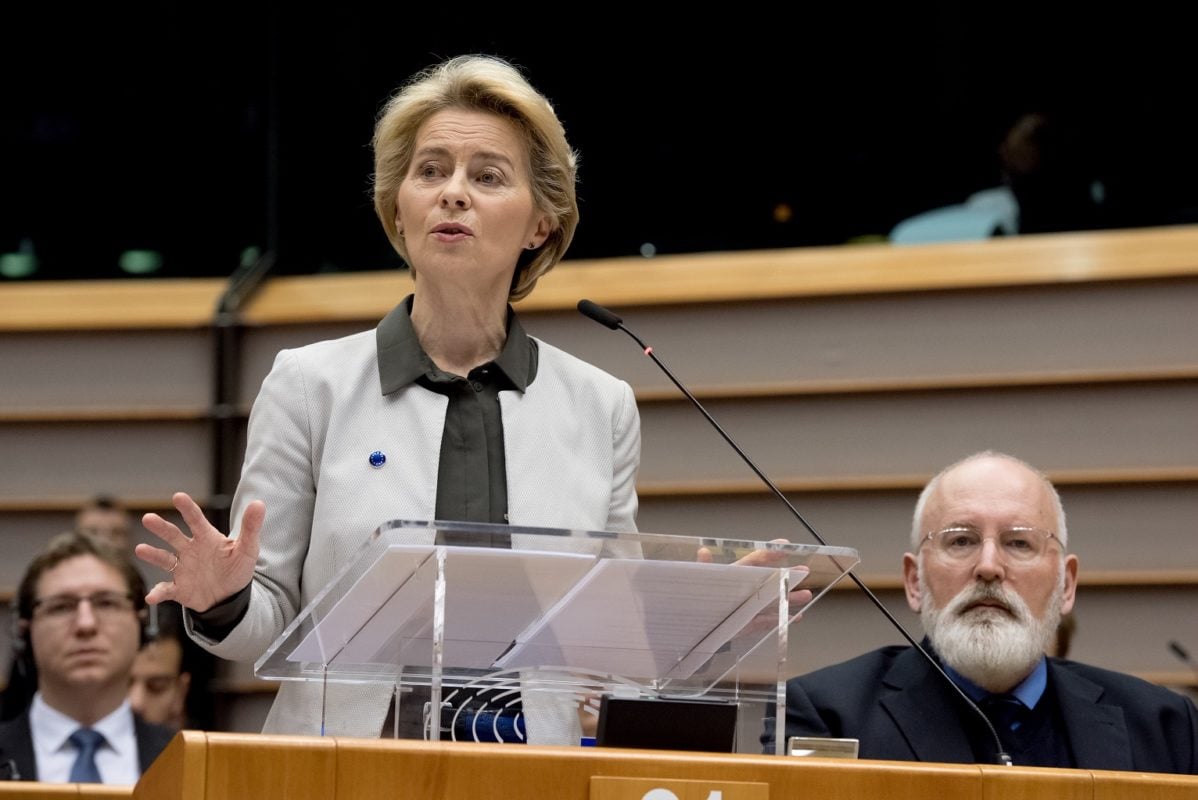 The EU's new plan to lead the global fight for a greener and fairer economy has been warmly received by the solar industry, which has put itself forward as a key climate change ally.
Walburga Hemetsberger, CEO of PV association SolarPower Europe (SPE), said solar is "primed" to help deliver the European Green Deal presented by the European Commission in Brussels on Wednesday.
The roadmap by Ursula von der Leyen – who was chosen this summer to head up the EU executive – would see the EU bloc become climate neutral by 2050, push its 2030 greenhouse gas emission cut target from 40% to 50-55% and mull carbon taxes for climate-intensive imports.
The plan pledges to "transform" every EU sector, from energy to farming and transport, to bring them in line with green principles. The document does not mention solar PV – where it describes offshore wind as "essential" – but does anticipate proposals the industry has long called for.
For instance, EU policymakers promise to adopt a green "industrial strategy" by March 2020, a victory for SPE and the other bodies making the demand for months. The strategy, SPE policy director Aurélie Beauvais said, is a "golden opportunity" for European industries.
Deal to bring PV funding support, rooftop opportunity
SPE also lauded the Commission's pledge of a Green Financing Strategy next year that will set out how funding will be channelled towards renewables and all other areas. The EU's 2030 climate and energy targets alone will need €260 billion (US $289 billion) in extra annual funding, according to Brussels.
The European Green Deal proposals also indirectly touch on an area PV bodies have longed campaigned about. SPE believes the Commission's promise of a "renovation wave" for buildings could herald the roll-out of PV across EU rooftops, 90% of which lack installations.
The association – which in the past has called for building 'solar skins' to help decarbonise EU cities – recently urged the new EU Energy Commissioner, Estonia's Kadri Simson, to ensure on-site renewables, energy storage and other technologies become part of Europe's cityscape.
"As the EU building stock accounts for 36% of the region's CO2 emissions and approximately half of the total EU energy demand, climate-oriented renovations are necessary to achieve net-zero emissions by 2050," said SPE policy advisor Miguel Herrero Cangas.
Spanish PV reaps EU money after meteoric 2019
Brussels' bid to raise the bar with climate ambition lies now in the hands of MEPs and EU countries. The Commission's carrot for Poland and the other usual EU green skeptics, which could rally against the various proposals as they are tabled, is a €100 billion new fund for fossil fuel-reliant countries.
Whatever the European Green Deal's ultimate success, solar's willingness to play a central role in the plan follows a strong 2019 for the industry. According to SPE's own stats, Europe-wide deployment doubled between 2018 (8.2GW) and 2019 (16.7GW), returning to levels unseen since 2012.
At 4.7GW of all 16.7GW, Spain led 2019 PV additions and has become a byword of subsidy-free potential, as has Italy. Germany, 2019's second installer at 4GW, is witnessing a similar shift as its politicians pave the way for major growth via a 98GW-by-2030 new solar target.
Deployment going forward will benefit from the EIB's renewed support. The EU bank, which recently voted to end fossil fuel lending, has in only days announced backing for Spanish PV projects including IM2's 218MW pipeline, subsidy-free 300MWp Talayuela and a 436MW new push by Natixis.