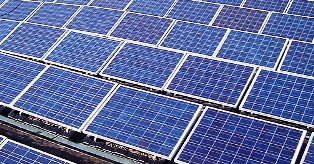 Solar has emerged as the overwhelming winner of Germany's latest auction, securing all contracts where onshore wind bagged none.
The entire 210MW contracted earlier in April went to 18 solar bidders, split between Saxony-Anhalt (five bids, 59MW), Brandenburg (five bids, 59MW), Schleswig-Holstein (three bids, 48MW), Hesse (three bids, 10MW) and Mecklenburg-West Pomerania (two bids, 33MW).
PV players also dominated on the bidding front, submitting 109 bids for the development of 719MW worth of projects across the country.
The solar projects were contracted at average prices of €0.0566/kWh, with individual figures ranging between €0.045/kWh and €0.061/kWh.
The joint tender is the latest in a series where solar emerges as the sole winner. Last November, the industry reaped again all contracts, with average prices at a slightly lower €0.0527/kWh.
Solar's bullish performance follows an also-oversubscribed industry-only tender in March, when Germany awarded 505.2MW in contracts across 121 bids from EnBW, OneSolar Energy and others.
The next planned tenders for the industry will have to wait until November – the date of a fresh 200MW joint auction – and December when a 500MW solar-only is scheduled.
See here for a glance of Germany's auction results in full