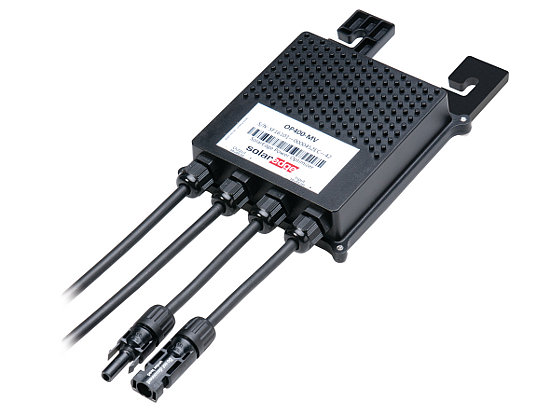 PV inverter manufacturer SolarEdge Technologies has reported a record third quarter of 2017 as it gains market share across a growing geographical footprint.
SolarEdge reported revenue of US$166.6 million, compared to record revenue of US$136.1 million in the previous quarter. This is a 22% increase from the prior quarter and up 30% year over year.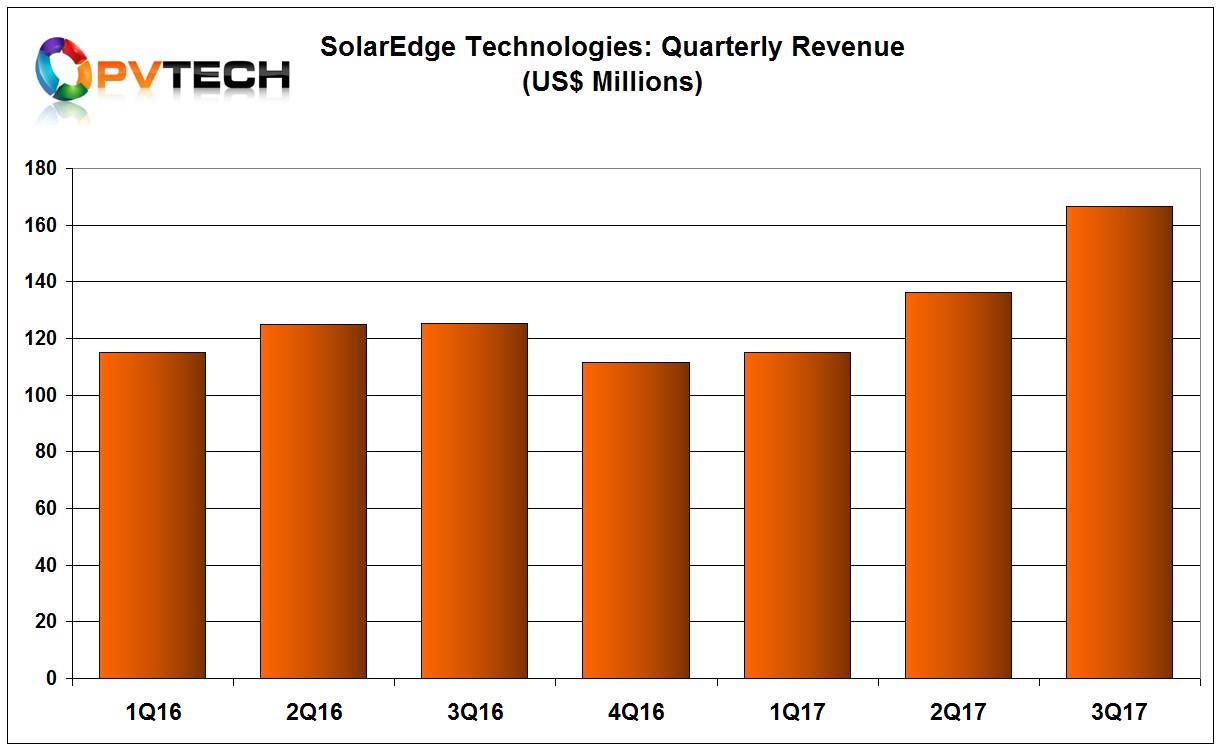 "We are happy to report another record quarter, in revenues, profitability and cash flow generation. On the operational side, we shipped more than two million optimizers this quarter, and have now shipped more than 20 million optimizers since initiating sales in 2010," said Guy Sella, Founder, Chairman and CEO of SolarEdge. "Sales this quarter from outside the United States were 51% of our revenues, resulting from our continued investment in global sales. We continue to generate increasing cash flow from operations which enhances our financial strength and allows us to continue to invest in new products and development of new markets."
Key to the records was the continuation of expanding its geographical footprint as it further penetrated Germany and the Netherlands markets and strong momentum in the Australian market in the reporting quarter, minimising the impact from its key customer in the US, Tesla which recently reported a major decline in its residential rooftop installations.
Management noted in the latest earnings call that it was also gaining traction in Japan (commercial) and India, further broadening its geographical footprint.
As a result, SolarEdge shipped a total of 676MW (AC) of inverters in the reporting quarter, which included 2,041K of power optimizers shipped and 90K of inverters shipped.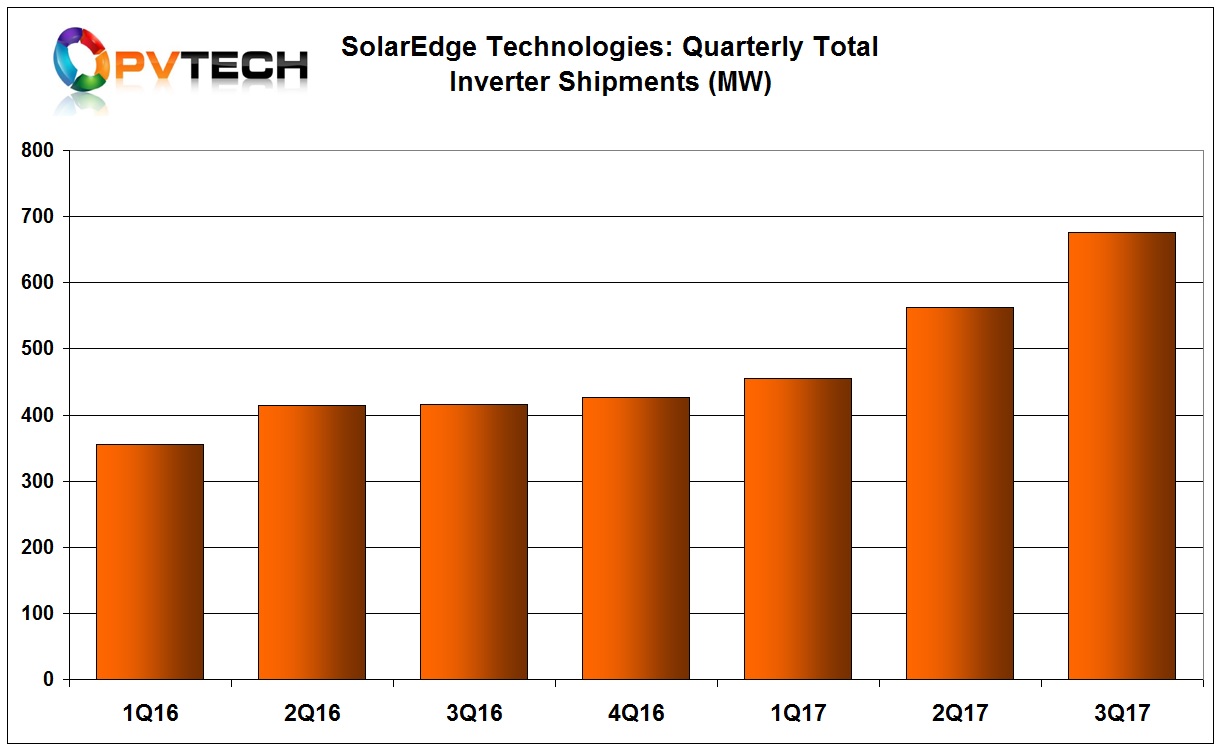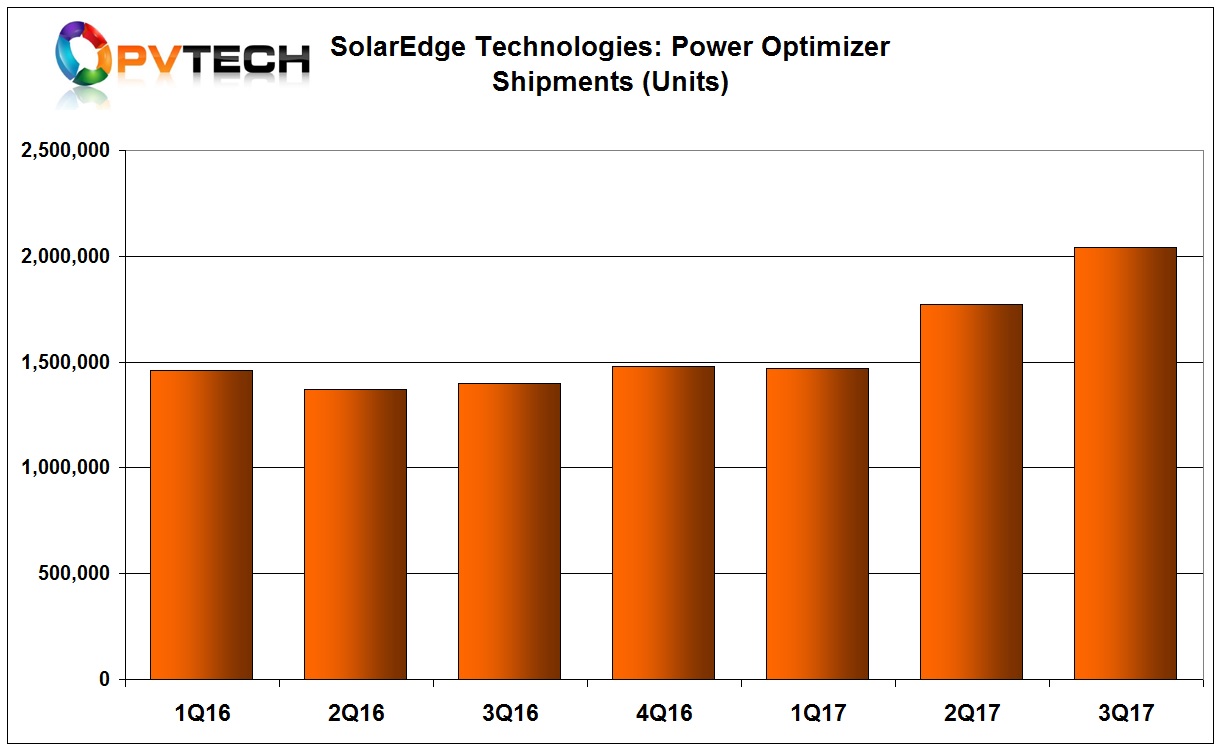 The company reported a GAAP gross margin of 34.9%, up from 34.6% in the prior quarter and up from 32.6% year over year. Margins were supported from stable inverter ASP's in the quarter, according to the company on the earnings call.
GAAP operating expenses were US$32.7 million, an increase of 17% from the prior quarter and 38% year over year.
GAAP operating income was US$25.4 million, up 33% from US$19.1 million in the prior quarter and up from US$18.2 million year over year.
GAAP net income was US$28.0 million, up 24% from US$22.5 million in the prior quarter and up from US$15.6 million year over year.
Guidance
SolarEdge said that it expected fourth quarter revenues to be within the range of US$175 million to US$185 million, indicating continued strong momentum in product shipments and revenue generation.
However, SolarEdge also guided gross margins to be within the range of 33% to 35%, indicating component shortages and the need to use a higher level of air freight continued to pressure margins in the fourth quarter.