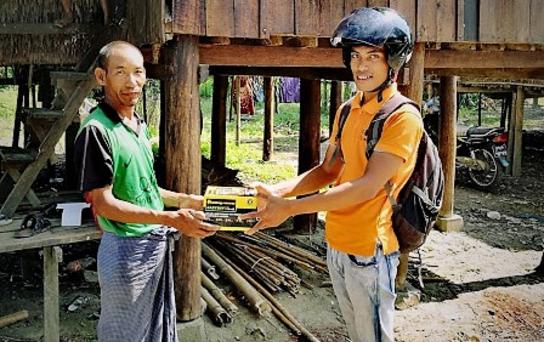 Singapore-headquartered Off-grid PV provider SolarHome has installed 1,000 household pay-as-you-go (PAYG) solar systems in rural Myanmar.
A company release said the firm is growing rapidly having recently closed a pre-Series A round of equity funding led by Uberis Capital and debt funding from Kiva. Its installation rates have ramped up from 100 systems per month to 500 per month at present, with a team of 50 installers and sales people.
The firm said its 1,000 intallations are the equivalent of bringing lighting to 4,900 people and enabling 1,670 children to extend their study hours, 200 rural shop-owners to increase their earnings by keeping the store open after dark, and 120 fishermen to pursue productive night fishing by using the detachable electric torch provided with SolarHome's systems.
The company uses a rent-to-own model, allowing consumers to use solar while circumventing the high upfront costs of a solar system, which is seen as a key barrier to small-scale solar uptake.
Deputy CEO of SolarHome, Mila Bedrenets, said: "Our traction in the last few months has been consistently exceeding our expectations. The market's capacity is enormous, with 27 million households living off-grid in Southeast Asia, spending an estimated US$3 billion on legacy energy solutions. In the next year, we plan to bring affordable renewable energy to over 40,000 households in Myanmar."
Work recently started on a 220MW project in Myanmar, but most opportunity remains in the off-grid sector at present.